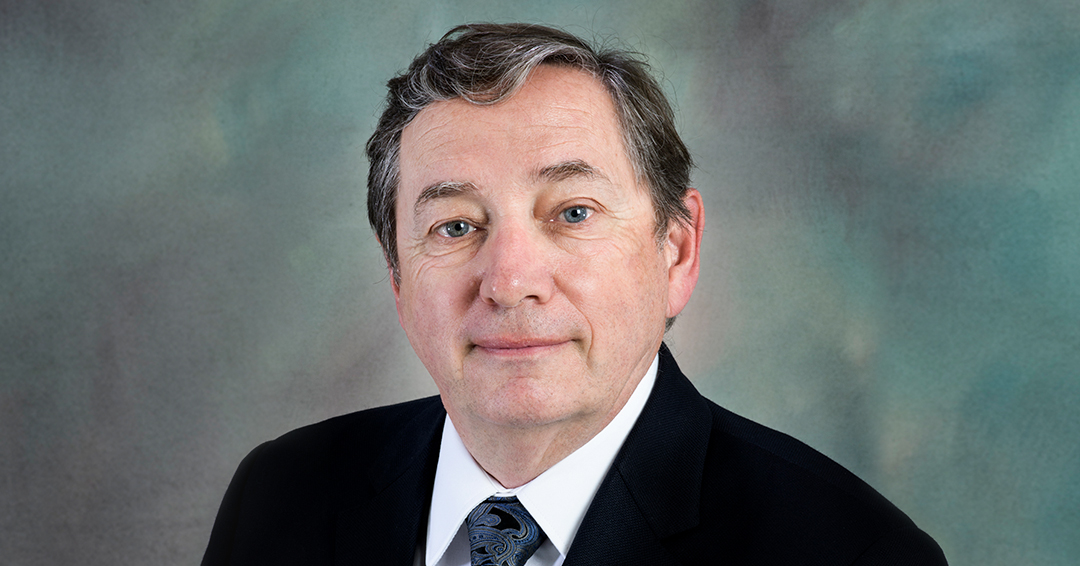 I am pleased to announce the appointment of Jean-Pierre Farmer, MDCM, as Associate Vice-Principal and Vice-Dean, Health Affairs, Faculty of Medicine and Health Sciences (FMHS), McGill University. In the coming months, Dr. Farmer will replace Samuel Benaroya, MDCM, who held the position for a remarkable eight terms. Dr. Benaroya, the first person to serve in this position, has been a pillar of the Faculty and instrumental in many of its successes, including, notably, the opening of Campus Outaouais, a capstone achievement amongst many initiatives involving productive collaborations with our academic health network, in Montreal and throughout the McGill Réseau universitaire intégré de santé et de services sociaux (RUISSS) territory. We take this opportunity to thank him for his leadership and vision and wish him well on his next endeavours.
Dr. Farmer, Professor in the Departments of Pediatric Surgery, Neurology and Neurosurgery, Surgery and Oncology at McGill, is recognized as a leader in the field of pediatric neurosurgery. He holds a BSc (Honours Neurophysiology) and MDCM from McGill, where he also completed neurosurgical residency training, receiving the Penfield/McNaughton Award, followed by a pediatric neurosurgery fellowship at New York University Medical Center.
Dr. Farmer has held numerous leadership positions in the FMHS and at the McGill University Health Centre/Montreal Children's Hospital (MUHC/MCH). He was inaugural Neurosurgery Program Director at McGill from 1999 to 2003 and was Associate Dean for Postgraduate Medical Education and Professional Affairs from 2004 to 2007. It is under his leadership that all Quebec medical schools joined CaRMS.
Dr. Farmer was appointed as Director of the American Board of Pediatric Neurosurgery from 2002 to 2012. Currently, he is one of two physicians on the Comité d'enquête à l'éthique et à la déontologie du Collège des médecins du Québec and is the Chair of the Accreditation Committee of the Fédération des médecins spécialistes du Québec (FMSQ), overseeing the educational content for the Federation's webinar series.
In 2007, he was appointed Pediatric Surgeon-in-Chief at the MUHC and as the inaugural Chairholder of the Dorothy Williams Chair in Pediatric Surgery. His tenure as Chairholder has since been renewed three times. He has also served as Director, Division of Pediatric Neurosurgery, since July 2014. He spearheaded the establishment of the first intraoperative MRI suite for children in Canada (2009) and the first surgical robot in Quebec for children (2020) at McGill.
In 2011, Dr. Farmer successfully advocated for the establishment of the academic Department of Pediatric Surgery at McGill University, recognizing pediatric surgery as a distinct discipline in the Faculty. He was appointed inaugural Chair of the Department 11 years ago. As department chair, he oversaw the development of research, continuing professional development, education and quality assurance activities. He also helped establish six endowed chairs through philanthropic endeavours. In collaboration with division directors, he recruited 26 surgeons and promoted 17 surgeons to higher academic ranks. The 2019 cyclical review of the department recognized its stellar academic profile with, amongst other accomplishments, an average output of 150 peer reviewed publications per year.
Despite demanding administrative mandates, Dr. Farmer has performed approximately 5,000 brain and spinal cord surgeries in children, published 165 surgical innovation manuscripts and has been a visiting professor on 85 occasions over the last 32 years.
Dr. Farmer has been recognized numerous times for his clinical, teaching and research work, including: The Pfizer Leadership award of the Montreal Children's Hospital Foundation in 2010, the CPD Prix d'excellence  (2013) and the Prix d'excellence (for interdisciplinary care)(2020) from the FMSQ, the Grand Prix d'Excellence from the Collège des médecins du Québec in 2016, the "Manuscript of the Year" award from the journal Neurosurgery in 2020, and the Best Surgical Teacher Award from the MCH Council of Physicians, Dentists and Pharmacists in 2022. He was named "Personnalité de la semaine" by La Presse in October 2015 and April 2016.
As Associate Vice-Principal and Vice-Dean of Health Affairs, Dr. Farmer will oversee the Faculty's collaborations with the McGill hospital/CIUSSS network and facilitate the integration of medical education in the clinical environment in collaboration with Faculty leadership, directors of professional services, and clinician and support staff. He will also be responsible for supporting all FMHS schools in their respective missions. He will facilitate health care delivery, teaching, research and technology assessment across seven Quebec regions. His past experience, equipoise and consensus building abilities will help the faculty face upcoming challenges. In addition to taking on these new responsibilities, Dr. Farmer still wishes to continue to contribute to clinical, educational and research activities.
Please join me in congratulating Dr. Farmer on his appointment to this pivotal portfolio and wishing him every success in this new role.
David Eidelman, MDCM Vice-Principal (Health Affairs) Dean of the Faculty of Medicine & Health Sciences