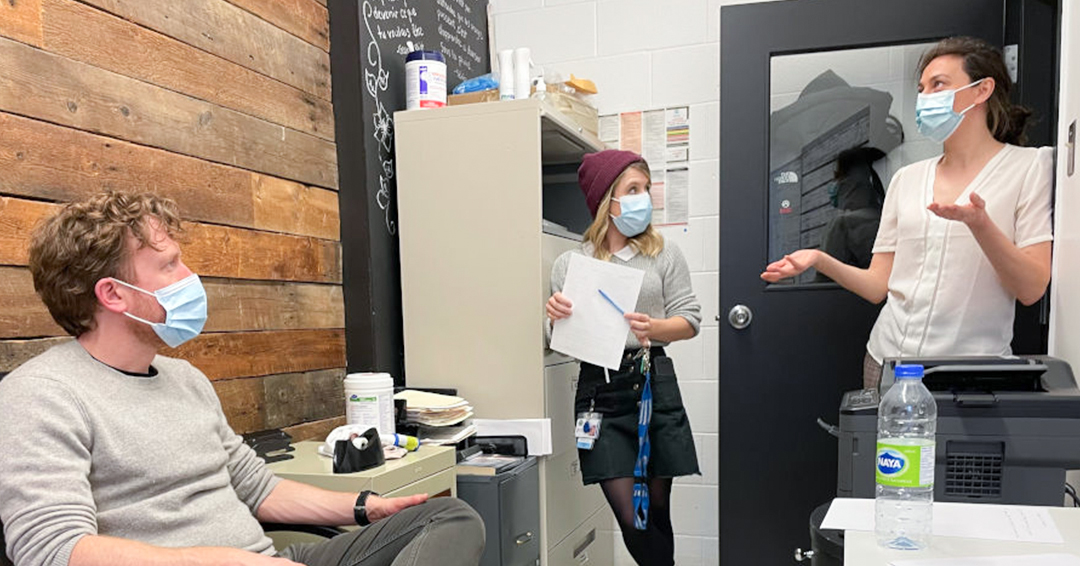 Study demonstrates direct benefits of PRISM program on those experiencing homelessness and mental illness
Pierre-Luc hit rock bottom. The 35-year-old was living on the streets and struggling with his mental health, unable to find housing, hope or a path forward.

"I'd lost my bearings. I couldn't function," he recalls. "I couldn't find the help I needed."
But help found its way to Pierre-Luc—and it came through a team from CIUSSS West-Central Montreal. Thanks to an innovative program called PRISM, he was able to get support from a nurse, psycho-educator and psychiatrist while living at Welcome Hall Mission in Montreal.
The team from our CIUSSS helped Pierre-Luc get back on his feet and find a way to a better future. Today, he lives in his own apartment, takes medication for his mental health, and has reconnected with healthcare services through the CLSC de Côte-des-Neiges. Pierre-Luc has even fulfilled his long-time dream to sing for musical tracks that he posts online.
"They helped me rebuild my life," he says of the PRISM team. "Without them, I'd still be in the streets."
Pierre-Luc's trajectory illustrates the life-altering impact of PRISM (Projet réaffiliation itinérance santé mentale), a program for those experiencing homelessness and mental illness that was launched in 2017 at the Jewish General Hospital in partnership with Welcome Hall Mission.
Its benefits are now borne out by research. A study led by Dr. Vincent Laliberté, a psychiatrist affiliated with the JGH who heads the PRISM program, shows that a high proportion of participants who go through the program end up housed and connected with healthcare and community services.
PRISM operates in three shelters in Montreal, including Welcome Hall Mission, and has helped hundreds of people since its inception a decade ago. Of the 579 users in Dr. Laliberté's study, 63 per cent were housed after being discharged from a PRISM shelter—52 per cent in permanent housing and 11 per cent in temporary settings.
In addition, 85 per cent were engaged in an outpatient or community services support, according to the research, published in the journal Psychiatric Services of the American Psychiatric Association.
"The impact we've had on these people is really exceptional. The results are very encouraging," says Dr. Laliberté. He explains that PRISM's major benefit is to deliver care directly where the participants live. At Welcome Hall Mission, they have a dedicated dormitory with eight beds and individual lockers, three meals a day and the sustained support of the PRISM team. One cold day in January, several PRISM participants gathered to watch TV in a lounge area, which was lined with shelves filled with books, puzzles and board games.
"The vision of PRISM is to deliver services where people need them," Dr. Laliberté says. "Instead of being in a hospital, which can be a break in people's lives, PRISM is in the community."
Equally important, PRISM gives participants a break from day-to-day survival on the streets, offering them the opportunity to focus on their future. During their stay, which typically lasts two to three months, they can turn for help to Psycho-educator Lorrie Marcotte, who is at the shelter full time with the Mission's Case Worker Jocelyn St-Gourdain, as well as Dr. Laliberté and Nurse Laure Coquatrix, who are there two days a week.
Ms. Marcotte's hands-on support translates into anything from accompanying participants to a library to helping them obtain a social insurance card or deal with legal problems. She also takes steps to help people reconnect with health and social services in the community.
"Just being there for them sends the message there's someone they can count on, even in tough times," Ms. Marcotte says. "That's something they didn't have a lot in their lives. They've experienced so much trauma that it's easy for them to feel abandoned. What I like is that they allow me to support them. They're the ones making all the effort—I'm just there to accompany them."
The PRISM team lets each participant to go at his own pace and "gives people back a voice and the power to take action in their lives," says Catherine Roberge, who oversees the PRISM team in the Mental Health and Addiction Program Directorate.
"It's inspiring to see how, despite society's stigma toward people experiencing homelessness, we have a team that believes in every person they meet, and sees their potential for recovery," says Ms. Roberge, Program Manager for Homelessness and Addiction for our CIUSSS.
The team's impact is best summed up by those who have benefitted from it, such as Pierre-Luc. Sitting with Dr. Laliberté in a consultation room at Welcome Hall Mission one day recently, a smile lit up Pierre-Luc's face as he talked about how his life has turned around. "What happened to me should inspire anybody," he said. "It shows that there's always hope. You just have to know that help is there for you, and be willing to accept it."