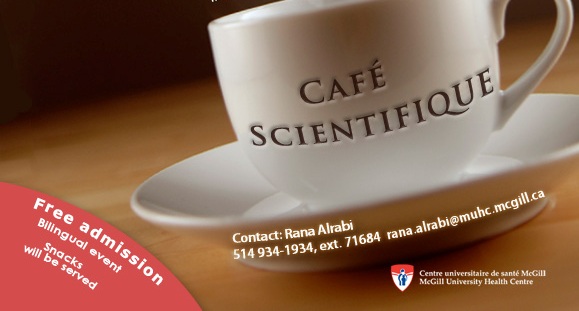 On World AIDS Day, the McGill University Health Centre (MUHC) invites you to its up-coming Café Scientifique about the latest findings on HIV/AIDS.

HIV/AIDS: are we winning the battle?
Research is advancing, but where are we in the fight against this global epidemic …

This evening will address the progress that has been made in Canada and internationally in responding to this epidemic, and the challenges that we face today and will face tomorrow.

Are you interested in the topic and want to learn more? Book this date!

Tuesday, December 1, 2009 @ 6 p.m. at Café des beaux-arts,1384 Sherbrooke West (Metro Guy-Concordia)
Join us to exchange with our brightest specialists during an informal discussion. Our panelists are researchers and physicians who fight against HIV/AIDS every day:

Dr. Julian Falutz
Director, HIV Metabolic Centre, MUHC

Immune Deficiency Treatment Centre

Senior Physician, Division of Geriatrics

Dr. Nitika Pant Pai
Assistant professor of Medicine, McGill University

Division of Infectious Disease and Immunodeficiency and Clinical Epidemiology

Medical scientist at the Infection and Immunity Axis at the Research Institute, MUHC

Dr. Jean-Pierre Routy
Division of Hematology and Immunodeficiency Service, MUHC

Researcher, Infection and Immunity Axis at the Research Institute, MUHC

Associate Professor, McGill University

The discussion will be moderated by Ms. Sue Smith, host of Radio Noon on CBC Radio.

Free admission – Bilingual event
Come one, come all!

Visit the webpage .

Find Café Scientifique on the MUHC FACEBOOK page !

For any questions or comments about the Café Scientifique, please contact Julie Robert by email: julie.robert@muhc.mcgill.ca or by tel. (514) 934-1934 ext. 71381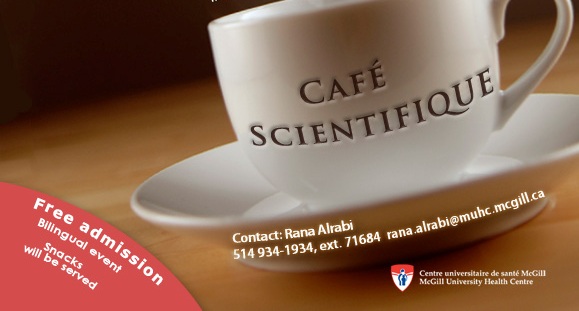 A l'occasion de la Journée mondiale du SIDA, le Centre universitaire de santé McGill (CUSM) vous invite à son Café Scientifique au sujet des dernières recherches sur le VIH/SIDA.

VIH/SIDA : Gagnerons-nous le combat ?
La recherche progresse, mais où en sommes-nous dans la lutte contre cette épidémie mondiale…

Cette soirée abordera les progrès en recherche réalisés au Canada et au niveau mondial pour faire face à cette épidémie ainsi que les défis actuels et ceux de demain.

Vous êtes intéressé par le sujet et vous souhaitez en savoir plus ? Ã votre agenda !

Le mardi 1er décembre @ 18h au Café des beaux-arts, 1384 Sherbrooke Ouest (Métro Guy-Concordia)
Venez échanger avec nos experts dans le domaine au cours d'une discussion informelle. Chercheurs et cliniciens, nos intervenants combattent le VIH/SIDA au quotidien:

Dr Julian Falutz
Directeur, clinique métabolique du VIH

Centre de traitement de l'immunodéficience

Gériatre, CUSM

Dre Nitika Pant Pai
Professeure adjointe en médecine, Université McGill

Service des Maladies infectieuses et d'immunodéficience et d'épidémiologie clinique

Scientifique médicale et chercheuse des axes infection et immunité, Institut de Recherche du CUSM

Dr Jean-Pierre Routy
Service d'Hématologie et d'immunodéficience, CUSM

Chercheur de l'axe Infection et immunité, Institut de Recherche du CUSM

Professeur agrégé de l'Université McGill

La soirée sera animée par Mme Sue Smith, animatrice de l'émission Radio Noon, Radio CBC (88.5 FM)

Entrée libre – Evénement bilingue
Venez nombreux !

Cliquez ici
pour visiter la page.
Retrouvez le Café Scientifique sur la nouvelle page FACEBOOK du CUSM !

Pour plus de renseignements sur le Café Scientifique n'hésitez pas à contacter Julie Robert par courriel: julie.robert@muhc.mcgill.ca ou par tél. (514) 934-1934 ext. 71381