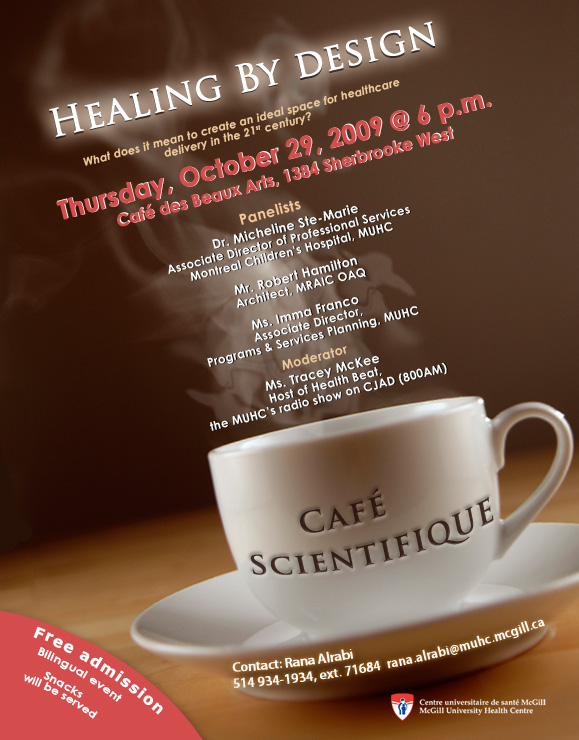 When we think of health care, we think of doctors, nurses, and a hectic way of life. What about the buildings that house this army of care and the equipment that they use for daily complex procedures? What goes into the design of new hospitals and innovative treatment areas that are meant to cater to our health needs today, and tomorrow?

On Thursday October 29th at 6:00 p.m., we invite you to join us at the Café des Beaux Arts, 1384 Sherbrooke Street West, for a stimulating, interactive conversation and a drink in a relaxing atmosphere as a doctor, an architect and a planning administrator share what unites them: their commitment to the future of health care.

The event is free, snacks will be offered.

For more information, please contact:

Rana Alrabi
Strategic Planning and Public Affairs

McGill University Health Centre

Tel.: 514-934-9134 extension 71684

rana.alrabi@muhc.mcgill.ca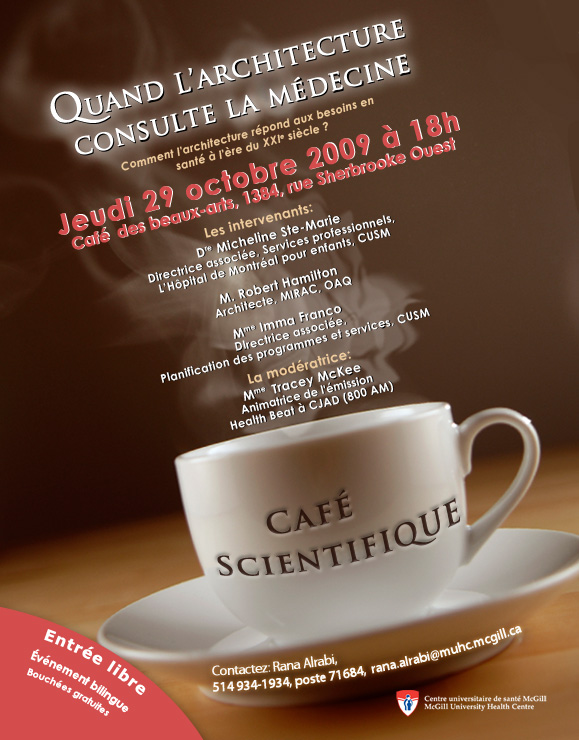 Nous associons souvent les soins de santé aux médecins, au personnel infirmier et à une vie trépidante. Qu'en est-il des édifices qui logent ces professionnels de santé qui assurent les soins et l'équipement auxquels ils ont recours pour réaliser leurs complexes interventions quotidiennes? Quels aspects interviennent dans la conception des nouveaux hôpitaux et des nouveaux secteurs de traitement qui visent à répondre à nos besoins en matière de santé, tant aujourd'hui que demain?

Le jeudi 29 octobre 2009 à 18 heures, vous êtes invités à vous joindre à nous pour une conversation stimulante dans une atmosphère détendue au Café des Beaux Arts, 1384, rue Sherbrooke Ouest. Vous partagerez avec une médecin, un architecte et une administratrice du domaine de la planification sur ce qui les unit, soit leur engagement à l'égard de l'avenir des soins de santé.

Cet événement est gratuit, une légère collation sera servie.

Pour obtenir de plus amples renseignements, n'hésitez pas à communiquer avec:

Rana Alrabi
Planification stratégique et affaires publiques

Centre universitaire de santé McGill

Tél. : 514-934-9134, poste 71684

rana.alrabi@muhc.mcgill.ca