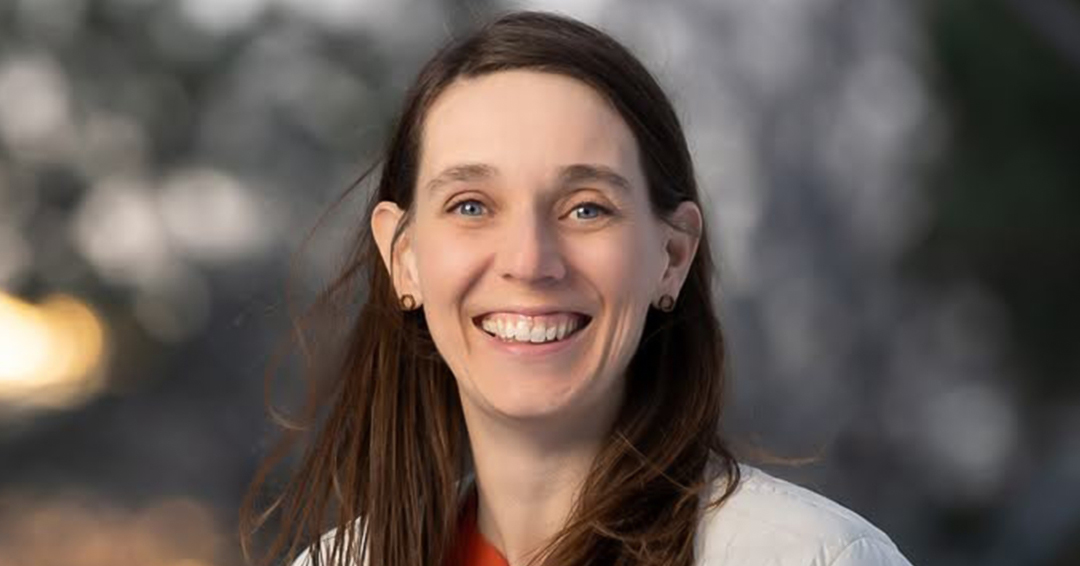 Osler Fellow Robin Coombs (PGME'12) recognized with JD Boudreau Award in Physicianship for going "above and beyond"
A teenage girl lies in the ICU, struggling. It's late at night and her mother tries to offer comfort by singing to her softly. Robin Coombs, a first-year medical student at the time, is completing her rounds with a peer and can hear the mother's voice in the quiet unit. Coombs recognizes that, while the girl may be an adolescent, she is still her mother's baby. Both her and her fellow student's eyes well up.
"I just remember how devastatingly sad that was," says Coombs (PGME'12), now a part-time lecturer in the Faculty of Medicine and Health Sciences. Although the two students had left the hospital in the middle of the night, her classmate came back to her apartment. "We had tea and went over what we had just been through."
Coombs wants medical students to know that a physician should not feel immune to the emotions brought on by situations like these. "It's not as if we're training them to be anything but people," she says, regarding the MDCM students she teaches and the half dozen whom she mentors in the Physician Apprenticeship course.
"It's okay for patients to realize that what they're telling us is sad. And it's okay for us to have those reactions."
A preceptor for the Longitudinal Family Medicine Experience and a communication skills facilitator at the Steinberg Centre for Simulation and Interactive Learning, Coombs has been an Osler Fellow for the last three and a half years, providing a forum for six undergraduate medical students to explore such feelings.
Coombs was recently given the JD Boudreau Award in Physicianship for her work as an Osler Fellow. The six fourth-year students who have been meeting with her since they began their MDCM studies said in their nomination letter that she has played a crucial role in their development, offering a space where they could share all manner of questions and approach difficult topics.
One of those students, Jethro Beattie-Booth, says the Physician Apprenticeship course offers a meeting place where they are not being graded or needing to prove themselves. "Robin has created a space where we can confide in people who've gone through similar experiences."
He says those experiences might include concerns about encountering a patient who's suffering emotional or physical anguish, or how to take some distance while also keeping in mind the patient's needs.
Those traits, doctors relating well to patients, empathizing with their difficulties and reflecting on their interactions with people were what Course Director Dr. Barry Slapcoff (BSc'83, MDCM'87), an assistant professor in the Department of Medicine, sought to emphasize when the course was launched in 2005.
"We wanted to give value to the idea of what a lot of doctors in many fields already had: the human quality that people bring to their job and that it should stand side by side with the skills and knowledge that people are requiring in medical school."
While the course does not evaluate students, it does steer them toward a place where they can feel they can be honest, says Coombs. Some of that comes from the atmosphere she has created, inviting them over for supper, pre-COVID, and going on outings and having Zoom meetings and outdoor walks during the pandemic. She has also wanted to hear about things other than medicine. "I don't want the students to lose their sense of self." A recent get-together welcomed the news from one of them that they had their first song drop on Spotify. "Everybody was very supportive and excited to be learning this news."
The Boudreau Award recognizes a current or recent Osler Fellow who consistently demonstrates excellent mentoring qualities and the attributes promoted by the Physicianship Program and the Physician Apprenticeship course. Don Boudreau, MD, FRCPC, has been involved at the Faculty level for over three decades as a respirologist, associate professor, former Associate Dean, and, until recently, Interim Director of the Institute of Health Sciences Education (IHSE).
"Dr. Boudreau is well known both nationally and internationally as an exceptional physician, educator and scholar. He both studies practical wisdom in medical education and exemplifies it, as anyone who has spent time working with him will attest," says Prof. Elizabeth Anne Kinsella, Director of the IHSE.
Slapcoff adds that the Physician Apprenticeship course has always integrated the ideas that the doctor is a professional and healer, and that this starts on Day One in medical school. "If there's one person who embodies that more than anyone, it's Don." He says people like Robin Coombs carry on this tradition.
In their nomination letter, students wrote that "Coombs went above and beyond what is expected of an Osler Fellow." As examples, they mentioned her coaching on simulation procedures and accompanying them on a visit to a palliative care facility. They appreciated how (prior to the pandemic) she welcomed them into her home, which was made all the more lively by the presence of her two young children. "She has offered us an example of how a physician can maintain family and work-life balance while taking on the high demands of medicine." She, like the other Osler Fellows, was also in attendance at the students' White Coat Ceremony, "Donning the Healer's Habit," to mark their transition to a more active role in the clinical encounter.
Coombs is honoured by the award. She is technically the second recipient, after Dr. Preetha Krishnamurthy, M.D.,C.M., and Dr. Rob Primavesi, BSc'81, MDCM'85, shared the first edition. She has also appreciated meeting the dozens of other Osler Fellows in the different seminars and workshops in which she's been able to participate. She says it's taught her a lot about common ground between the specialities. "No matter what kind of medicine we are practicing, we all have the same challenges."