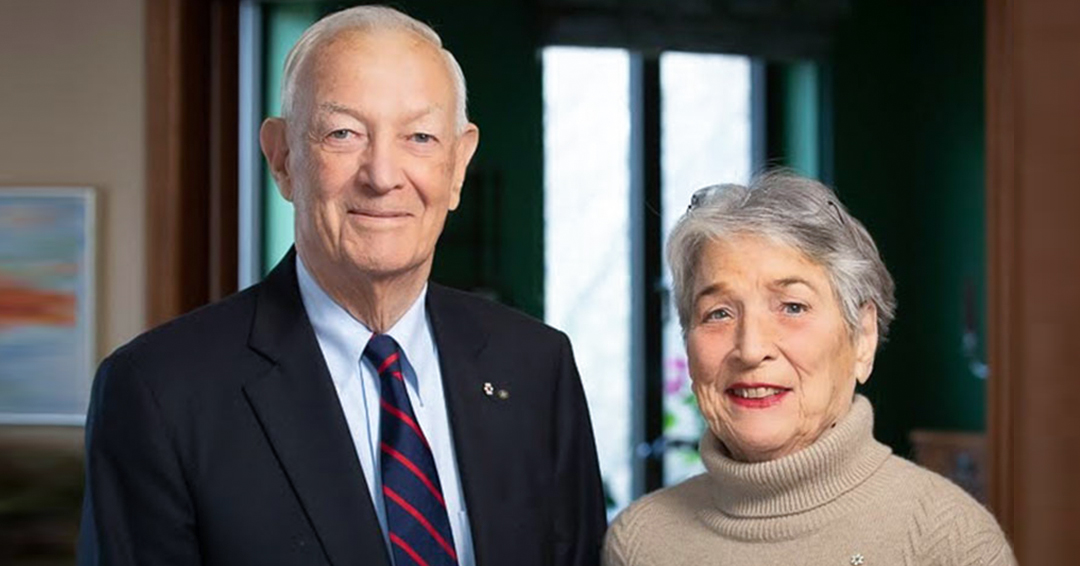 Legacy donors Donald Boudreau and Sylvia & Richard Cruess talk about making provisions in their wills for Medicine's future students, researchers and teachers.
Dr. Don Boudreau remembers the life-changing impact philanthropy had on him early in his training. When he came to McGill, his position was made possible by donor generosity.
"I was practicing in Latin America and had been in Nicaragua for two years. I was accepted at McGill for a residency outside of the usual funded positions," he said. "Had there not been this type of donor support I may not have been at McGill."
Now Boudreau, interim director of the Institute of Health Sciences Education (IHSE) at the McGill Faculty of Medicine and Health Sciences, is paying it forward with a planned gift.
With this decision, Boudreau joins the ranks of faculty members who are choosing to remember McGill in their wills.
Husband and wife Dr. Richard (Dick) Cruess, CC, OQ, Professor of Surgery and Dean of Medicine Emeritus, and Dr. Sylvia Cruess, OC, Professor of Medicine Emerita, (pictured above) have also earmarked bequests for the university.
"We were just so grateful for our careers, for having worked in institutions that allowed us to do the things we wanted to do," says Dick. The couple came to Montreal from Columbia University in New York City to intern at the old Royal Victoria Hospital (RVH) in 1955. They fell in love with the place, and, in 1963, they returned—this time to stay.
Dick says that his years as Dean of Medicine made clear the difference bequests could make. He cites the James Edmund Dodds Endowment Fund, which was established in memory of Dodds from the residue of the estates of his daughters, Lileda Hardy and Margaret Ruth Dodds, BA'32, MA'34, and led to chairs in both Pediatrics and Obstetrics and Gynecology.
In her work, Sylvia, an endocrinologist, who served as director of the Metabolic Day Centre and as Vice President (Medical) at the RVH, also saw how this type of philanthropy could make a real difference. "One endowment allowed us to attract a very high-profile leader for our nutrition unit who came from Toronto to take the Chair and established the nutrition centre at the Vic," she remembers.
Dick's experience at the helm of the Faculty also taught him the importance of unrestricted gifts. "The best things that I ever did were not planned ahead of time in a logical methodical way. There was an opportunity to jump, and if I could find enough money to make the jump, I would and there would be a kind of magic that happened," he says.
The Cruesses are leaving unrestricted bequests to the IHSE, which they were instrumental in founding. "It seemed most appropriate for us. It is a show of gratitude to the people we worked with and to our university," says Dick.
Don Boudreau, who decided on a planned gift about five years ago, compares his bequest to naming sons, daughters, brothers and sisters in a will. "McGill has been a home for me, a family home; my profession is a family, doctoring is a family, and my academic work and community, are a family, as well."
He feels a special kinship for the métier of medical and health sciences education. "It's not so much that I'm giving to McGill. I'm giving to the medical profession. I'm giving to doctoring," he says, adding that it's his vision of what doctoring is—mentoring, humanitarian work, bedside manner—that he is donating to, with McGill being the vessel, "one that's honourable and noble."
To achieve his philanthropic vision, Boudreau is dividing his bequest between the Osler Library of the History of Medicine, the Physician Apprenticeship Program, which he helped create, and the IHSE.
"There are some things, some diseases that are going to disappear. But medical education has been with us for 3,000 years and it will always be around. We will always need to turn out physicians and nurses and other health care professionals. It's a subject that's not going to go away," says Dick on the importance of the IHSE.
Thanks to legacy donors such as Don Boudreau and Dick and Sylvia Cruess, the learners of the future can count on help from the leaders of today.
What will your legacy be?
McGill is celebrating its 200th anniversary with the goal of securing 200 legacy gifts. For more information, please contact us.