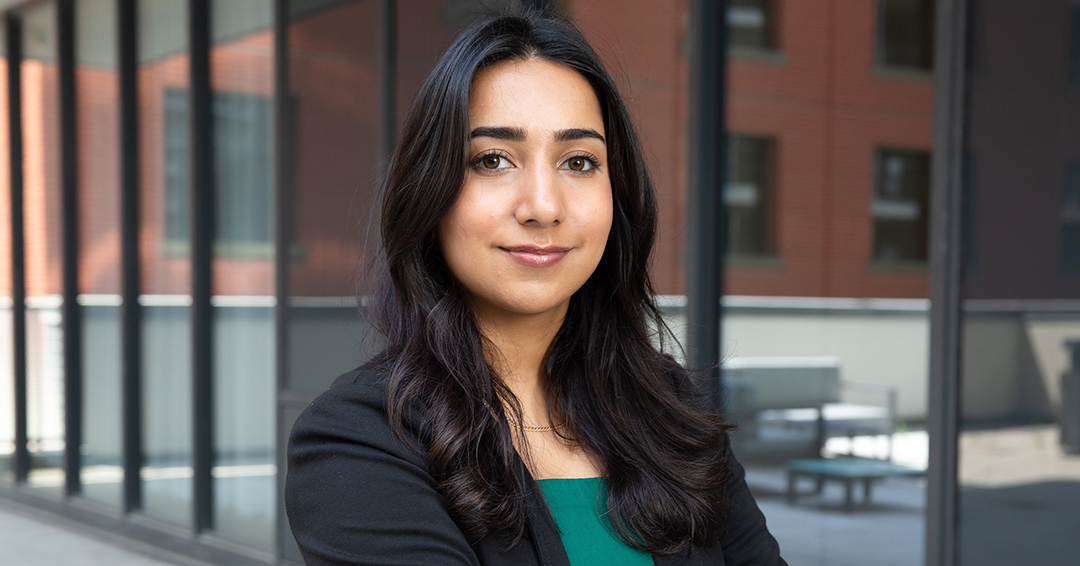 FemTherapeutics: In a COVID pivot, a start-up with McGill roots applies AI to an unmet need in women's health.
Vaginal prosthetics known as pessaries are a critical tool for the maintenance of pelvic health in women. They are used as a first-line treatment for pelvic organ prolapse, a common condition that occurs when the muscles of the pelvis weaken, causing organs to drop into the vagina. But these devices are badly in need of an upgrade. Their failure rate is high, and the designshave changed little in the last 70 years.
At Montreal-based FemTherapeutics, cofounder and Chief Operating Officer Inara Lalani (BCom'20) is helping lead efforts to harness the power of new technologies—such as 3D printing andartificial intelligence—to bring pessaries into the 21st century.
An outdated device
The FemTherapeutics story began in 2018, when Lalani and six other students came together as a team in the Montreal Surgical Innovation Program. Jointly delivered by McGill University(Department of Surgery), Concordia University (John Molson School of Business; Department of Computer Science & Software Engineering) and the École de technologie supérieure (ÉTS), the cross-disciplinary, graduate-level program seeks to teach and stimulate entrepreneurship as well as support the innovation of novel surgical and medical devices.
After brainstorming hundreds of ideas for surgical or clinical needs within the area of gynecology, Lalani's team honed in on vaginal pessaries as a key area in need of improvement.
Pelvic organ prolapse, the primary condition for which pessaries are used, is prevalent among women who have reached menopause or undergone at least one vaginal birth.
However, in approximately 40 per cent of cases, pessaries are discontinued within a year due to the pain and discomfort caused by incompatible shapes and sizes.
Through their research, Lalani and her teammates discovered that this high rate of failure could be attributed to a decades-long drought in innovation. "Vaginal pessaries had not changed since the 1950s, and we saw that there was a clear need to improve on that design," Lalani said.
The team put their heads together to come up with a solution: 3D-printed pessaries that would be custom-designed to fit patients' unique anatomies.
The FemTherapeutics team pitched their idea at various competitions in 2019. It was a hit, winning a string of prizes in just four weeks, including top prize in the Annual Surgical Innovations Pitch Competition. At McGill, it took second place in the McGill Dobson Cup and also received  the Steinberg Centre SimnovationPrize at the 2019 McGill Clinical Innovation Competition (CLIC), a tradition inspired by the vision and generosity of Dr. Raymond Hakim (MDCM'76).
With these accolades, the team's efforts quickly evolved from an academic project to a full-fledged business venture. "Without that support, things would have likely just ended with the Surgical Innovation Program," Lalani said.
Leveraging artificial intelligence
In the years since, the group has faced ups and downs. Like many others around the world, they shifted to working remotely when the pandemic hit, cancelling in-person activities, such as cadaver studies at local hospitals.
Although this period was challenging, the team took it as a chance to pivot, Lalani said. When it first formed, the company had focused on building a device that could accurately scan each patient'svaginal canal to build a blueprint for a custom vaginal pessary. But the lack of access to cadavers meant the team had to put this part of the project on hold. Instead, they turned to existing datasets of medical scans taken with computed tomography and magnetic resonance imaging to build an artificial intelligence model based on pelvic bones. Because pelvic bones differ much less among patients than the muscles of the vaginal canal, this could accurately represent a patient's vaginal canal using only 10 to 15 points ofmeasurement with basic tools.
Ultimately, this led to a larger shift in FemTherapeutics' business model, according to Lalani. The company went from hardwarecentric to software centric. Now, their focus is on using AI to build personalized therapeutics for women. Eventually, the team hopes to apply the technology they built to expand their pipeline beyond pessaries to include other health needs for women, such as vaginal stent customization. "When we built the business, we were focused on one clinical need," Lalani said. "But over time, it's evolved. The vision of the business is to build a pipeline of products in the women's health space."
These developments have earned the company additional accolades, such as the Bourse+ StartUp Montréal award this April, and interest from investors around the world. "We are really pleased with the traction we've received to date," Lalani said. "We were recently selected by the 2022 CIX Selection Committee as a CIX Top 20 EARLY company for 2022, which is a very notable recognition for Canadian startups."
This November, the team is set to test their custom pessary in their first patient as part of a pilot clinical trial with five to ten participants who will be monitored for four weeks. Following that, there will be a larger trial with 40 patients each at three sites, two in Canada and one in the United States, which will last three months—after which the company plans to file for regulatory clearance.
As to when will these devices hit the market, that could be as early as 2024—good news for women's health.