McGill researchers to lead new task force designed to facilitate and coordinate collection of samples and data from COVID-19 patients across Quebec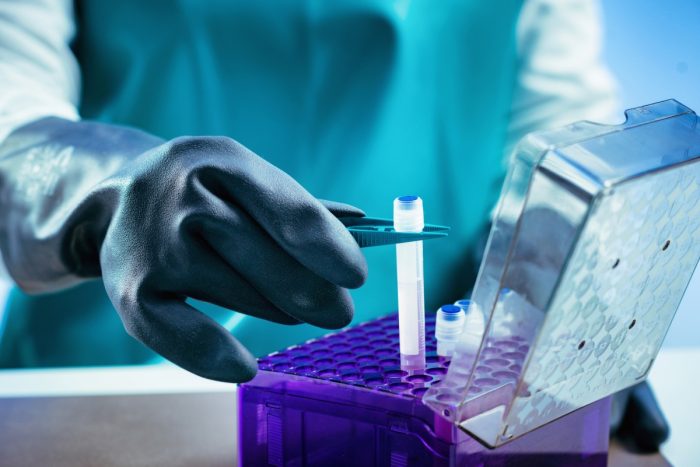 Source: McGill Reporter
On March 27, the Fonds de recherche du Québec (FRQ) and Genome Québec announced the launch of the Québec COVID-19 Biobank, a Province-wide initiative to enable the collection, storage and sharing of samples and data related to the COVID-19 crisis. The task force that has been mobilized to take on this role is led by McGill's Dr. Vincent Mooser, with additional medical and scientific expertise from McGill and several other Quebec institutions. The Biobank will begin operations on April 1.

More research is critical to better understand COVID-19 infection and transmission, to identify at-risk individuals and protect them, to improve treatment of this disease and for hospitals to be able to decide who will need admission and ventilation. This type of research requires samples and data from infected individuals. All such data collection must take place in an appropriate legal and ethical framework that fully respects the privacy of individual patients.
Quick action required to curb spread
The decision made by FRQ to create a Québec-wide Biobank for COVID is due to the importance of acting quickly to curb the spread of the disease. This extremely complex task will require the coordination of disparate data systems, the establishment of new standard operating procedures, and the securing of physical and digital infrastructure. All of this needs to take place in an extremely compressed period of time and during intense pressure on healthcare systems.

"Having access to high-quality data and samples is a fundamental necessity to respond to the COVID-19 crisis," said Dr. Mooser, from the McGill Genome Centre and Department of Human Genetics at McGill and Chair of the Biobank Task Force. "Assembling this network is a vital task in order to meet the primary needs of the Quebec health community and to build up national and international collaborations, so that we all can find effective treatments and vaccines against this lethal contagion."

"The Biobank will help catalyze and facilitate the coordination of research on COVID-19 not only in Quebec, but nationally and internationally," said Rémi Quirion, Chief Scientist of Quebec and Chair of the FRQ. "The Biobank will also stimulate precision health research at an unprecedented scale in Quebec, which in turn will support health, research, and innovation throughout the Province."
Network of major Quebec hospitals
The Québec Biobank for COVID-19 will create a network of major hospitals in Quebec including the MUHC, the Jewish General Hospital, the CHUM, Sainte-Justine Hospital, Sherbrooke University Hospital Centre, Laval University Hospital Centre, Chicoutimi Hospital (affiliated with Université du Québec à Chicoutimi) and the Montreal Heart Institute.

The initiative will be run by a task force composed of the following members (role and affiliation in brackets): Dr. Vincent Mooser (Chair, McGill University), Dr Carole Jabet (FRQS Representative, FRQS), Dr. Michael Chassé (IT and AI, University of Montreal), Dr. Simon Rousseau (Network, McGill University), Dr. Daniel Kaufman (Scientific projects, University of Montreal), Dr. Yann Joly (Ethical, Legal and Social Issues, McGill University/Centre of Genomics and Policy), Dr. Dan Auld (Operations, McGill University), Dr. Brent Richards (Collaborations with CLSA/CARTaGENE, McGill University). The activities of this Task Force will be overseen by a Governance Committee with one senior representative from each partner institution. McGill-affiliated Hospitals will be represented on this Committee by Drs Donald Vinh (MUHC), Bruce Mazer (MUHC-RI) and Brent Richards (Jewish General Hospital).

To meet its primary objective, and as a matter of extreme urgency, the Quebec Biobank for COVID-19 will capitalize on the existing infrastructures and strengths in the Province, more specifically:
The existing biobank of the Quebec Respiratory Health Research Network (Réseau de Recherche en Santé Respiratoire du Québec [RSRQ]), and the Québec-wide networks in respiratory and infectious diseases.
The Clinical Research Centers (CRCs) at the partner institutions
Population-based cohorts (CARTaGENE and CLSA)
Existing consent forms and protocols already approved by local Institutional Review Boards for collection and analyses of patients admitted in certain hospitals
IT and AI capabilities in the various institutions and in the Province (MILA)
Génome Québec/Canada infrastructure and network
Canada Foundation for Innovation funded infrastructure and networks, such as CGEn
Other national and international networks
March 30 2020