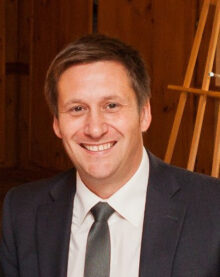 It is my pleasure to announce the appointment of Mr. Francis Desjardins to the position of Senior Human Resources Advisor, Faculty of Medicine, McGill University, effective January 11, 2016.

Francis succeeds Shakir Ladha, who has provided invaluable counsel and support as interim Senior Advisor over the past year. Shakir has been instrumental in guiding the HR Office, balancing the Faculty's HR budget and supporting the successful rollout of our Administrative Excellence Centres (AECs) during this transition period. I take this opportunity to thank Shakir, sincerely, for his outstanding and ongoing contributions.

Appointed by a joint University-Faculty selection committee, Francis Desjardins will lead the Faculty's HR team, managing its day-to-day operations and assuming responsibility for all HR matters. Reporting to the undersigned, he will work closely with senior Faculty members, providing counsel that is aligned with the University's and Faculty's missions, priorities and policies. He will continue developing  the Faculty's HR vision, goals and strategies, act as a coach and ensure continued support of the AEC implementation. He will provide advice to academic and non-academic staff on complex HR issues, such as workforce planning, recruitment, retention, labour relations, employment law, performance, training, compensation, succession planning, organizational analysis and teambuilding.

Francis brings to the Faculty close to 20 years of HR experience gleaned in large national and multinational corporations. In his most recent position at Sleeman, he was responsible for providing strategic HR counsel across the company's Canadian operations. His expertise spans the range of HR competencies, with an emphasis on strategic partnering, project management and change management. He has designed and implemented national labour relations strategies, supervised performance management, employee recognition and engagement initiatives, as well as provided leadership training. Francis holds a Bachelor's degree in Industrial Relations from University Laval and certifications in a number of specialized areas, including consulting and training.

Please join me in welcoming Francis Desjardins to the Faculty and to McGill, and in wishing him and the HR team success, as they continue building on their excellent work.

Pascale Mongrain, CPA-CA, Lawyer
Executive Director, Faculty of Medicine

January 8, 2016