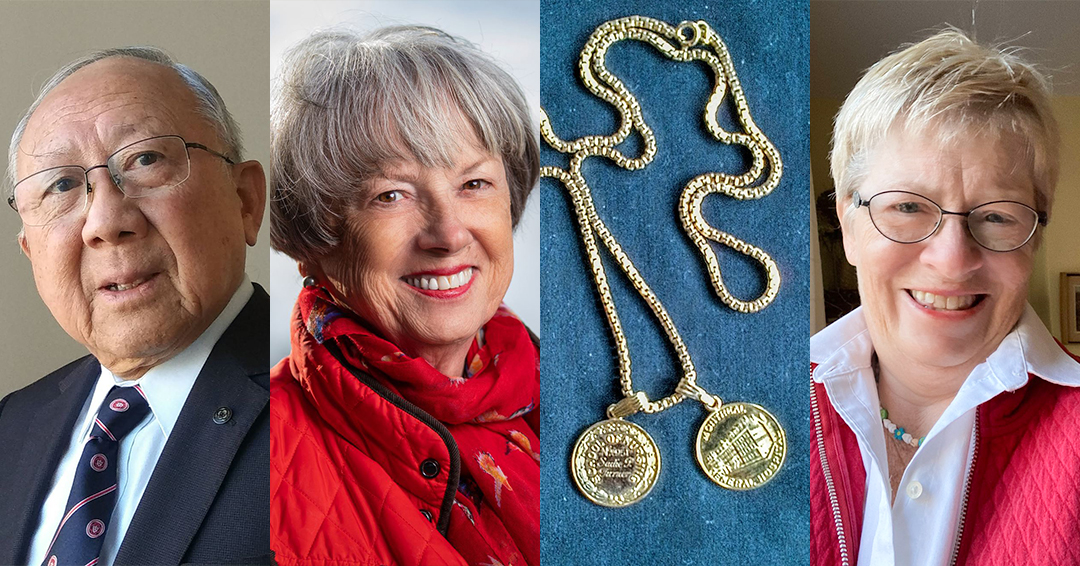 On this bicentennial year and for National Philanthropy Day, we speak with four members of our alumni community who have paid it forward with nearly 200 years of combined giving to continually raise the bar in medical and health sciences education.
National Philanthropy Day, celebrated throughout North America on November 15, provides an opportunity for the McGill Faculty of Medicine and Health Sciences to recognize some of our most loyal supporters. The alumni whose stories we touch on below have donated annually for nearly 200 years combined. Their generosity has opened doors for generations of students, researchers and teachers. While their experiences and motivations for giving vary, each shares a sense of pride and a commitment to giving back.
Express elevator to medical school
Wing-Hong Pang, BSc'65, MDCM'69
Despite coming from a family of health care professionals, Wing-Hong found his way firmly on the path to medicine in his early years at McGill. As an undergraduate Science student, he had a job in a laboratory at the old Royal Victoria Hospital. During a staffing shortage, though, he was called upon to take over as the elevator clerk. His new duties involved bringing pregnant women up to the eighth floor to deliver their babies, sometimes in the middle of the night. He remembers that once the winter weather was so terrible that pregnant women had to be transported up University Street by Ski-Doo. While that job turned out differently than he had imagined, he credits it with making him realize what it could mean to be a doctor, serving people in the community.
Wing-Hong is now a retired pediatrician who remembers his time at McGill as the place where he became a physician, a husband, and a lifelong friend to many, which is why he has made an annual gift to what is now the School of Medicine through The McGill Fund every year for the past 41 years. On behalf of generations of McGill-trained doctors, thank you, Wing-Hong!
Life at the summit
Chauncey Fitzsimmons, BPhysTher'69, BSc(PT)'79
As a new grad, Chauncey heard two callings, physiotherapy and adventure. She set out for London, England, to work at the Royal Free Hospital, managing an outpatient department. London and then Dublin, where she provided rehabilitative services to children, served as her home base as she explored Europe on her time off. Realizing that she preferred working one-on-one with clients to administrative work, Chauncey built a successful career providing hands-on treatment for 38 years before retiring in 2007. With typical flair, she decided to mark her retirement with the challenge of a lifetime: climbing Mount Kilimanjaro. She teamed up with her daughter, who had just graduated from a physical therapy program. To prepare, Chauncey climbed up and down Mount Royal and Mont-Tremblant with a weighted backpack and special hiking boots. After a year of training, Chauncey and her daughter left for Tanzania, where—in a test of strength and endurance—they were able to reach the summit in nine days. At home, Chauncey continues to distinguish herself, as a loyal supporter through The McGill Fund of the School of Physical and Occupational Therapy (SPOT). Thank you, Chauncey, for helping SPOT students, researchers and teachers reach new heights!
From mother to daughter, from nurse to nurse
Sadie Miller, BN'66
When Sadie came to Montreal to study, she was following in the footsteps of both of her parents, Cecil H. Turner, MDCM'32, and Sadie Mildred Payne Turner, a proud graduate, circa 1926, of the Montreal General Hospital (MGH) School of Nursing. Sadie trained at the same School as her mother, before completing her education with a bachelor's in Nursing from McGill.
As a reminder of how her life has paralleled that of her mother, with whom she shared a name and a profession, Sadie has a gold chain linking together two medallions. For decades, students of the MGH School of Nursing (or Training School for Nurses, as it was known in Sadie's mother's time) received medallions delicately inscribed with their names. They came attached to a pin that could be affixed to one's clothing, but Sadie transformed hers and her mother's into pendants so that they could remain side by side forever.
Sadie is a loyal donor to the Ingram School of Nursing via The McGill Fund. Thank you, Sadie!
To creating the conditions for success
Susan Jane Laschinger, BScN'73, MSc(A)'81
Susan credits her parents, Elsa and Gordon Laschinger, who invested in education for their four children, with instilling in her the importance of education and the willingness to take chances. These early lessons motivated Susan to pursue two degrees at what is now the Ingram School of Nursing—and to  'say yes' when a unique opportunity presented itself. Shortly after she graduated in 1981, one of the Nursing professors left McGill just as a new semester was about to begin. Susan agreed to fill this position to help out and to further her career. It was an unexpected change in direction as, at the time, she wanted to be a clinical nurse specialist. Not long after Susan had completed her contract, Professor Joan Gilchrist, Director, McGill's School of Nursing, met Professor Alice Baumgart, MSc(A)'64, the Dean of Nursing of Queen's University while waiting to board a flight. Professor Baumgart mentioned that Queen's was seeking candidates for a new tenure-track position. Professor Gilchrist suggested Susan, who got the position. Although Susan's path to teaching was helped along by a chance encounter, she had a very rewarding thirty-year career as a tenured professor. The reason Susan continues to donate to the Ingram School of Nursing via The McGill Fund every year is because she wants others to benefit from opportunities like the ones she had to learn, grow and take chances.
Thank you to Susan and to all the Faculty of Medicine and Health Sciences alumni, faculty, staff, parents and friends who harness the power of collective giving, year after after year, to shape future-ready students… to create opportunities that open doors… to foster innovation that drives progress… and to power research that changes lives!