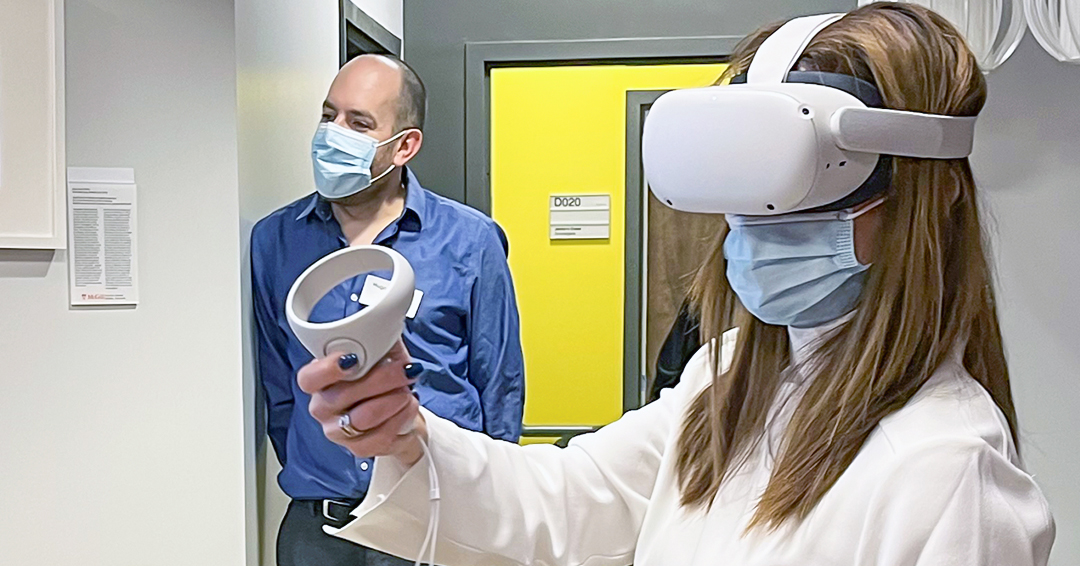 Professor Jason Harley, PhD, Director of Research at the Steinberg Centre for Simulation and Interactive Learning (SCSIL) in the Faculty of Medicine and Health Sciences, welcomed over two dozen faculty member researchers from the McGill community to the Centre's inaugural Simulation Research Retreat on October 6, 2022.
The retreat brought together academics and clinicians from McGill and its affiliated hospital network who are interested in simulation education research with the goal of building a research network to foster collaboration and share experiences and insights.
"Research is an important priority for the SCSIL because it drives educational innovation in simulation training and supports the development of simulation scholars of all levels," said Prof. Harley. "Our Centre has unparalleled opportunities for the non-invasive collection of rich multichannel data in a range of authentic simulation training environments, including standardized patients, cadaveric labs, high-fidelity manikins, distance learning and more. Conducting or participating in simulation education research at the SCSIL is about contributing to evidence-based healthcare professional training, including technical and non-technical skills. And that is key because better training supports better patient outcomes as well as a more effective and safe workplaces for everyone."
After a tour of the cutting-edge facilities, participants learned about new policies to support research at the SCSIL and listened to presentations that highlighted current simulation research projects by Prof. Harley, Dr. Junko Tokuno and Prof. Marie-Eve Bolduc. Next, during breakout sessions, they discussed the challenges and opportunities that exist with respect to simulation education research. The event concluded with a welcome opportunity to mingle with colleagues during a networking reception.
Professor Elizabeth Anne Kinsella, PhD, Director of the Institute of Health Sciences Education (IHSE), remarked, "There are so many exciting aspects of simulated education, from virtual reality of everything from homelessness to surgery, to simulated assessment and intervention, to simulated patients, to virtual approaches, to teaching and learning. Research in the area of simulation education, however, is in its infancy. There is so much we need to learn about how to integrate good pedagogical design as we use simulated approaches to teaching and learning. It's incredible to see the innovation and leadership of those at the SCSIL in forging a program of educational research that can inform future practice. We are delighted at the IHSE to be building collaborations with our colleagues at SCSIL in our shared mission to advance research-informed education in medicine and health sciences at McGill and beyond."
For more information about conducting research at the SCSIL, please visit the Research section of the website.