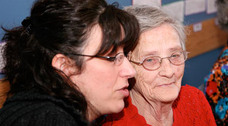 January is Alzheimer's Disease Awareness Month, and for the occasion, Véronique Bohbot, PhD, will present new scientific results on memory systems impairment related to Alzheimer's disease. Learn why everyday attempts to understand, maintain or change may not be as simple as they first appear.

Join us for this exciting hands-on experience !

This conference is in English; the French one is presented Tuesday, Januray 28, 2014.

Speaker

Véronique Bohbot is a neuroscientist at the Douglas Institute and a professor at McGill University. She is an expert in the field of memory and navigation. She specializes in aging and healthy cognition linked with the hippocampus, which is one of the first brain regions affected by Alzheimer's disease.
WhenThursday, January 23, 2014
5:30 PM: wine and cheese

6:00 PM: lecture and questions

7:00 PM: coffee break

7:20 PM: interactive workshop

8:00 PM: end

Where
Douglas Hall, Douglas Pavilion

6875, LaSalle blvd.

Montreal, Quebec H3H 1R3

How to get to the Douglas
Parking is 5$

This event is sponsored by the Molson Knowledge Exchange Fund.
Information and registration
Admission is free but advanced registration is required

Emmanuel Roy

Tél.: 514 761-6131, ext. 3408

info@vebosolutions.com
January 22, 2014