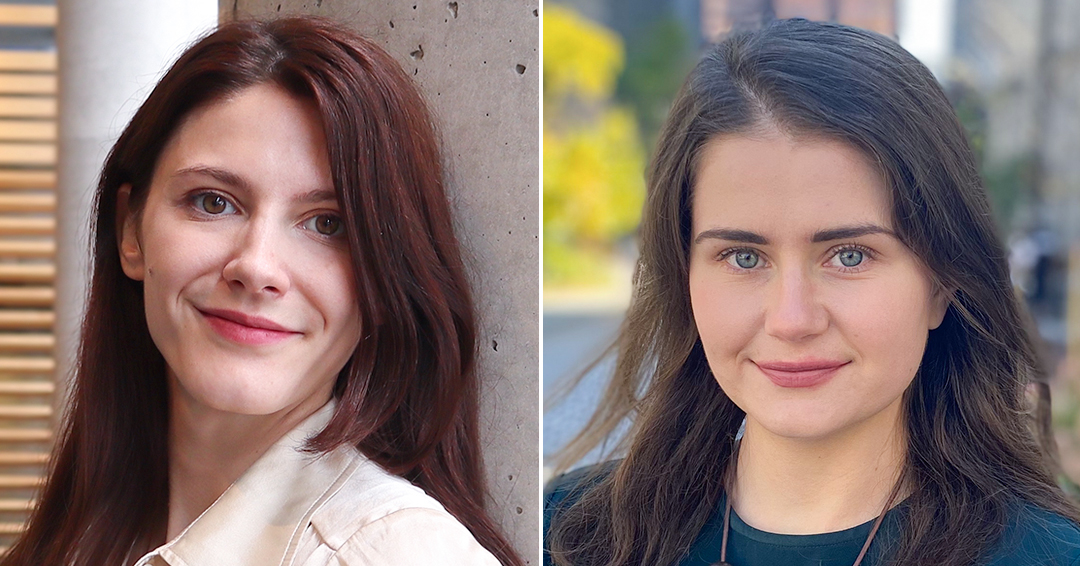 Two Ukrainian members of the McGill community have teamed up to provide much needed mental health services to those displaced by the war in Ukraine
A McGill psychiatry resident who was born in Ukraine and a recent Master of Neuroscience graduate with Ukrainian heritage have teamed up to provide mental health services to hundreds of Ukrainians displaced by war. Darya Naumova and Dasha Sandra launched the Ukrainian Wellness Program earlier this month. It will provide Ukrainian refugees with free support groups, individual and group psychotherapy, and community-based activities at Ukrainian community organizations in partnership with McGill University, Ukrainian National Federation (UNF), Ukrainian Canadian Congress (UCC), and RIVO Network. The program received over $143,000 in funding from the UNF Foundation and the Joyce Foundation.
Why was it important for you to launch this initiative? 
Darya: Long before the war started, I have been involved in research on the experience of migrants navigating the Quebec healthcare system. The war brought this topic closer to home for me as I now watched Ukrainians, including my family, go through displacement and immigration. From my work, I knew that access to mental health services was challenging in general, but for migrants in particular. Watching the war unfold and millions of people displaced, I had a hunch that mental health was going to be a huge need for Ukrainians arriving to Quebec. As a mental health professional in training, my first instinct was to use my skills, knowledge of the system, and connections to fill the gap in mental health support for Ukrainian displaced persons.
Dasha: I felt powerless when the war started, and wanted to do everything I could to help. Donating to charities was the first stop, but it never felt like enough. I noticed people I knew in Canada were severely affected mentally from just reading the news and thinking about their family back in Ukraine. It made me realize that those who were actually fleeing the war zone were likely to suffer from many more potential psychological difficulties. I was helping run a free mental health program for older adults at the time, and realized I had access to resources, an understanding of the system, and skills that could be useful in helping Ukrainians; this was my way to contribute in a meaningful way.
What are your priorities in running the Ukrainian Wellness Program? 
Dasha & Darya: We want to provide as much mental health support and as many resources to the Ukrainians in Quebec as we can. Ukrainians continue to arrive in Canada through the CUAET program, but lack access to mental health services because of their unique immigration status; their mental health needs also shift as they spend more time in Canada. Our goal is to provide different types of mental health resources to fill the gap in mental health access, but also to address the various stages of needs that adults and children have throughout the adaptation period. For example, we provide community-based support groups led by Ukrainians for those that have just arrived, but also individual and group psychotherapy through our partners at McGill's Ukrainian Aid Initiative and RIVO for those that need higher level of psychological support. By providing these resources early, we hope to offer newcomers the skills to deal with lived traumas and ongoing stressors. By taking care of their mental health, displaced Ukrainians will have a chance to focus on transitioning to a new life in Quebec.
How will this program help people? 
Darya & Dasha: Our program is primarily geared towards providing mental health services, but the benefits from participating in it don't stop there. We offer various types of group activities that are recurring over weeks and months; attending them provides an opportunity for the participants to foster new friendships and create deep bonds over shared overcoming of war-related challenges. We also hope that participation in this program will help Ukrainians better integrate into the local community. Lastly, we believe that our experience of mobilizing the community and building a local solution can be used to inform development of community-based mental health resources for other migrant populations in Quebec.
What is the most rewarding thing about running this program? 
Darya: For me, it's seeing people connect with their community, seeing them supported in one of the hardest periods of their lives. The space that we offer allows the participants to share their difficulties and burdens with others who are going through similar things and to know they are not alone. From personal experience, I know that being in a new country, with a foreign language, away from your loved ones is hard enough. Going through all of that while witnessing your homeland being assaulted and worrying about your loved ones' safety is a thousand times harder. If through our program we can lessen these challenges even a little bit, I will consider it a huge success.
Dasha: I come from a research background, and in that line of work we usually only see the results of our research and findings years, sometimes decades, down the line. With this program, I get to see the fruits of our work every week when I hear women mentioning that they were able to be much more functional after having attended our group sessions, or meet Ukrainian children coming in to talk to their peers in their language for the first time in months. The impact of the program feels very concrete, and it makes all the effort put into running it extremely rewarding.