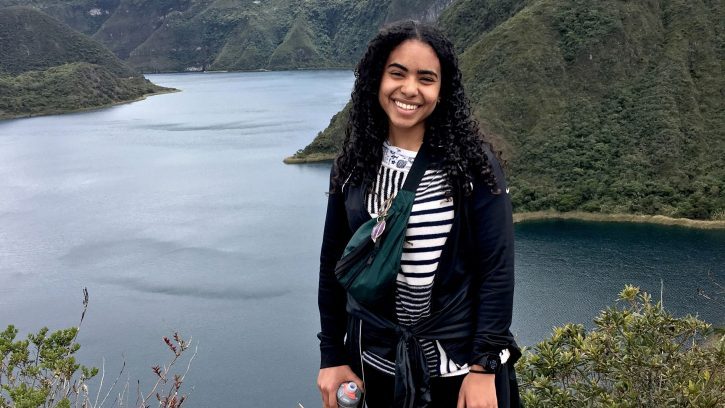 McGill students have a range of global learning opportunities. Many spend a semester on exchange at one of over 160 partner universities abroad. Others broaden their horizons through international internships or overseas field-study courses. In this Q&A, medical student Nardin Farag shares her experience working on a project in Ecuador through the McGill Global Health Scholars program.
Where did you go, and what program did you participate in?

Last summer, prior to beginning my first year in medical school, I had the opportunity to work on a project alongside community health workers in indigenous communities in northern Ecuador for two months to understand the challenges in implementing micronutrient programs. I applied to this project through the Global Health Scholars program, which offers a variety of projects during the summer.

Why did you decide to go abroad, and why did you choose this experience?
I have always loved travelling, especially when it gives me the opportunity to really be in touch with another culture. I had done humanitarian trips before, but I wanted to participate in something that was more health-related and especially ethical. While I was beginning to understand the gaps in health existing around the world in marginalized communities by taking an introductory course in Global Health, I was encouraged to dive a bit more into Global Health. Going on-site with supervision from a faculty member (Dr. Alison Doucet) was the perfect opportunity to do that.

What was the most interesting or rewarding thing about the experience?
The project consisted of conducting semi-structured interviews and focus groups within the communities and in healthcare centres in order to understand why micronutrient deficiencies were still very prevalent in children less than 5 years old, especially in indigenous communities, even if there are micronutrient supplements available. While these interviews provided a lot of insights, the true learning for me was through the relations built with the community health workers with whom I was working, eating the food with the local population, the small conversations during supper or even in the car with the healthcare workers during outreach interventions. One of the most rewarding parts of this project was being able to present the results alongside the community health workers to the regional health authorities — which listened to us and wanted to make changes and work on partnerships with the indigenous communities to improve children's health.
What was the most challenging aspect or moment of your time abroad?

This project was truly a milestone in my undergraduate education. I got to be in an environment where my personality and my "open-mindedness" were constantly challenged, especially when it came to working ethically in another language than English and when it came to making sure I was putting the rights of the indigenous communities first in every step of the project. Moreover, seeing the challenges that indigenous populations were experiencing helped me to better understand the need to raise awareness.

Any particular anecdotes that you'd like to share?
For one, there was that time I wanted to print something in the middle of the afternoon, and since there is rarely public transportation in the community and only a few taxis that pass during the day, I had to walk for an hour, up and down the mountain, in order to print a few pages. That happened a couple of times, when I needed to buy something immediately or needed to take a bus to another city. It made me realize the challenge of going from one place to another when there is little access to public transportation.

Also, while most of what we did was work, I also got to enjoy the beautiful nature in this part of Ecuador. What is amazing with bonding with locals is that you get to explore places that tourists don't go to. One day, one of the partners in the community acted as "my personal guide" and we biked for hours through the mountains. There were absolutely no tourists and it was the best sightseeing I had done in my entire life.

What did you take away from this experience?
I believe that this experience will help me shape my professional career and helped me in learning to be non-judgemental. While this project was not easy to go through, since I was away from my friends and family, in an environment very different from Montreal, when I look back I am truly grateful to have been able to learn so much from the people I was with.

What advice would you have for McGill students who are thinking of going abroad?
If you want to learn about Global Health, what my professor, Dr. Madhukar Pai, would always say is that you don't fully understand what Global Health and health inequities are unless you have the opportunity to go on-site and see it yourself. After this experience, I can say the same. Travelling gives you the drive to put your thoughts into concrete actions and helps shape your personality. I think that we are extremely lucky to have such a program open to undergraduate students. It provides amazing opportunities to build partnerships at an international level and work on sustainable projects with great supervisors.

What's up next for you?
Finishing my medical degree. I am also currently working on being able to kick-start a global health project by working with an international organization.

Nardin Farag is a McGill Global Health Scholar supported by the Joseph I. Wolfsdorf Fund for Global Child HealthFor more information about global learning opportunities, visit McGill Abroad. (Facebook and Instagram: @mcgillabroad
)
March 3 2020