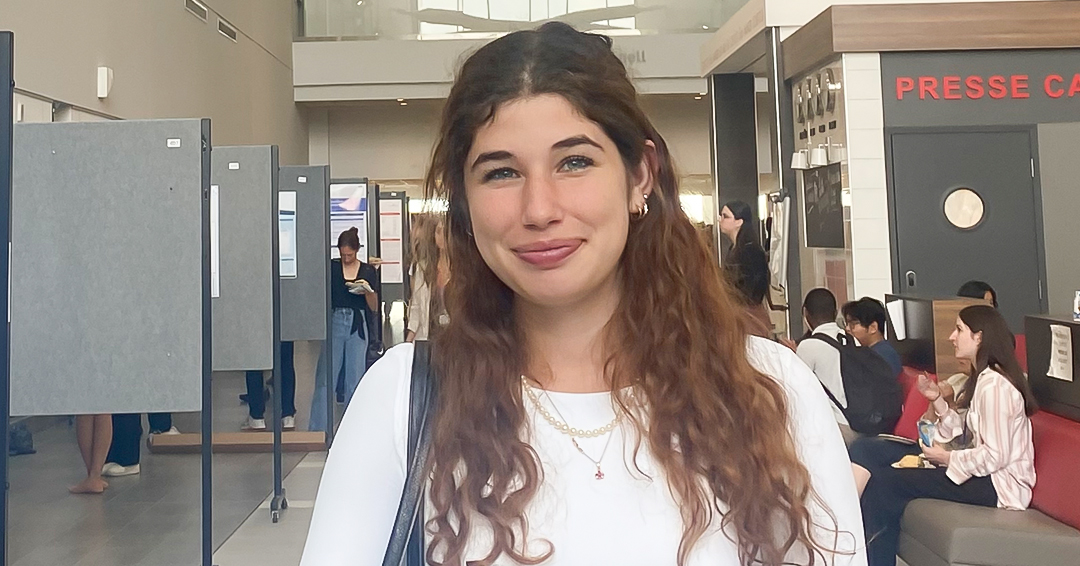 The chemical biology student from McMaster University is one of 17 undergraduates who honed their research skills at McGill's School of Biomedical Sciences this summer 
The 15-week McGill Biomedical Research Accelerator (MBRA) program is a funded opportunity for undergraduate students to work with world-renowned biomedical researchers and gain experience in professional laboratories and facilities in the School of Biomedical Sciences (SBMS), the Lady Davis Institute for Medical Research (LDI), the Research Institute of the McGill University Health Centre (RI-MUHC), or another affiliate research centre. This summer, it welcomed 17 students from across Canada. 
We spoke to Ella Boone, a student of chemical biology at McMaster University and a member of this year's MBRA cohort, about her experience of the program so far.  
Ella, who is beginning the final year of her undergraduate degree in Fall 2023, always dreamed of being a medical doctor. During her studies, her emerging passion for research expanded this goal. Now, she aspires to be a physician-scientist.   
"I fell in love with research, as well as the amount of impact you can make in any field of research. It's another way that we can help people out, and save and improve lives everywhere," she says. "I want to be on the frontline helping patients, but I also want to be behind-the-scenes, working hard to make therapies and diagnostics." 
Ella saw the MBRA program as a means of gaining experience in research before applying for an MD-PhD program.  
"Something I really wanted to do this summer was to take part in a research project, learn how the dry lab and wet lab skills work, be part of a group and learn how to work with everyone in that atmosphere," she recalls. "All the projects in the MBRA program looked really cool, and I loved that it was something to make sure you are interested in your graduate studies," she recalls.  
Leigh Dickson, MSc, MEd, Administrator at the SBMS, played a key role in the development of the MBRA program. 
"The MBRA program brings top-tier undergraduate students to McGill, where they gain hands-on research experience in a lab," Dickson says. "They will also be better prepared to apply for funding when they apply to graduate school, which sets them up for success." 
Seeing research come to life 
Ella's research project focuses on the use of nanoparticles to treat cystic fibrosis. Before joining the MBRA program, her lab experience had largely focused on chemical techniques, and she was eager to learn more about the biological aspect of research. With her two supervisors, John Hanrahan, PhD, Professor at the Department of Physiology, and Ashok Kakkar, PhD, Professor at the Department of Chemistry, she had the chance to do so.  
"At the start of the program, I had the opportunity to spend some time in chemistry, making nanoparticles. Then, I was able to do biological assays related to the project and those nanoparticles," she says. "Seeing both sides, and the collaboration between the two departments, was really cool. It was great to be immersed in that environment." 
"I hadn't really had the chance to test therapeutics in vitro and in vivo. I had the opportunity to do that at McGill and learn more about how it works in real life, rather than reading it in a textbook," she adds. "I've seen it come to life and apply to a project I find really interesting." 
Ella was also warmly welcomed by her new colleagues in the labs, with many inviting her to observe their work on other projects.  
Every Wednesday during the program, Ella and the other students in the program gathered together to share breakfast at weekly presentations from principal investigators and graduate students. Beyond introducing her to new skills and concepts, the Coffee and Science seminars helped Ella connect with other students with similar ambitions. 
"Sometimes, you are just in your own bubble at your home institution," she says. "It's amazing to see people like you from all across Canada and the world who have the same aspirations and motivations." 
Dickson adds: "It's been fantastic to have the support of the SBMS community in presenting to the MBRA students. I'm very grateful for the support of PIs, graduate students and others in our community for their contributions to the program."
Path to the future 
As she returns to McMaster, Ella says the MBRA program has convinced her that pursuing an MD-PhD program is her next step forward. McGill is on the top of her list of potential graduate schools. 
"It's fantastic to see research in a completely novel environment, and to realize that research is research wherever you go," she says. "It's still the same experience, there is still the same passion, and there are still people who love it just as much as you do."