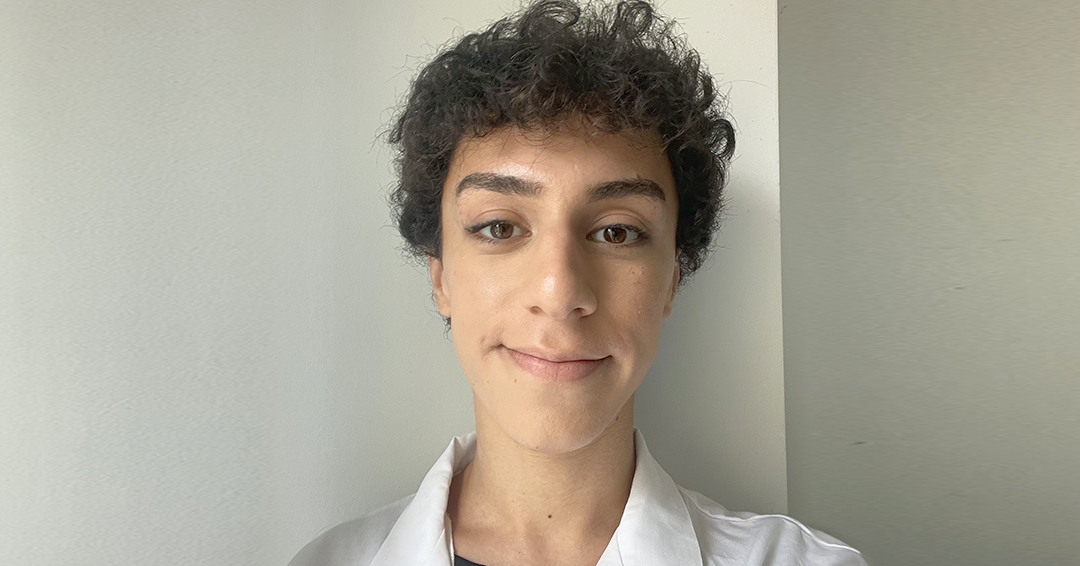 The biochemistry student was selected as the inaugural recipient of the Ambassador Divyabh Manchanda & Ms. Gayatri Manchanda Memorial Award for Biomedical Research 
The 15-week McGill Biomedical Research Accelerator (MBRA) program is a funded opportunity for undergraduate students to work with world-renowned biomedical researchers and gain experience in professional laboratories and facilities in the School of Biomedical Sciences (SBMS), the Lady Davis Institute (LDI), the Research Institute of the McGill University Health Centre (RI-MUHC), or another affiliate research centre. This summer, it welcomed 17 students from across Canada. 
We spoke to Omar As'sadiq, a biochemistry student at the University of Toronto and a member of this year's MBRA cohort.  
Alongside a major in biochemistry, Omar is also specializing in pathobiology and taking a minor in immunology. 
"My love for science has been growing more and more every day. I'm really excited for my career in science," Omar says. Omar's goal is to use this knowledge in drug discovery research, specifically in finding innovative treatments for patients with cancer.  
Omar recalls being drawn to the MBRA program because of its uniqueness in a highly competitive field. In this environment, students may encounter difficulties in finding a fulfilling research opportunity that connects with their area of interest. 
"The ordinary way of getting into research is a cold email," Omar explains. "You go to a faculty website, you cold email a lot of people, and hope they'll respond. But even if they like you, they might not be recruiting students." 
The openness of the program, combined with its diverse research domains and its location in Montreal, also convinced Omar to apply.  
Integral part of saving lives 
Omar's supervisor is Cecilia Costiniuk, MD, MSc, Associate Professor in the Division of Experimental Medicine at the Department of Medicine. Under her supervision, Omar worked in a research lab at a hospital site for the first time, at the Glen site of the McGill University Health Centre (MUHC).  
"Having a research centre at a hospital shows you how much of an integral part this is in saving lives," Omar says. "In clinical research, you need blood samples, biopsies and lots of other samples from cancer patients. Even when cancer patients are receiving treatment in the hospital, there is a whole other team working to make that treatment better." 
Recognised by inaugural honour 
As the top applicant of this year's cohort, Omar was selected as the inaugural recipient of the Ambassador Divyabh Manchanda & Mrs. Gayatri Manchanda Memorial Award for Biomedical Research. 
The honorary award was created by Arnav Manchanda, BA 2005, MA 2007, former Associate Director, Development at the Faculty of Medicine and Health Sciences, in honour of his parents. After seven years of raising funds for the Faculty, Manchanda understood how fulfilling creating such an award would be.  
"My parents believed deeply in higher education and its power to help one succeed. They were both holders of multiple degrees, as are many members of my extended family," he says.  
"The passing of my parents in quick succession really made me think about what is important, and establishing this award was one of those things," he adds. "I see the award as an asset, and I look forward to supporting students in the MBRA program every year." 
Omar notes: "I think receiving the award gave me a push to say that this field is what I really love, and that people can see that too. I really appreciate the donor for their support." 
A future at the forefront of developing new treatments 
Omar now returns to Toronto with valuable research experience and a love of Montreal, and a confirmed determination to go to grad school. After taking part in the MBRA program, McGill is one of Omar's top choices.  
"I've love to be at the forefront of making personalized medicine better," Omar says. "Right now, it takes a long time, it's very expensive and a lot of work is needed to ensure patients benefit from it. I don't think it should be so hard to get patient samples, read their DNA, find out the best treatment for them and screen them in efficiently. That's something I'm really interested in."