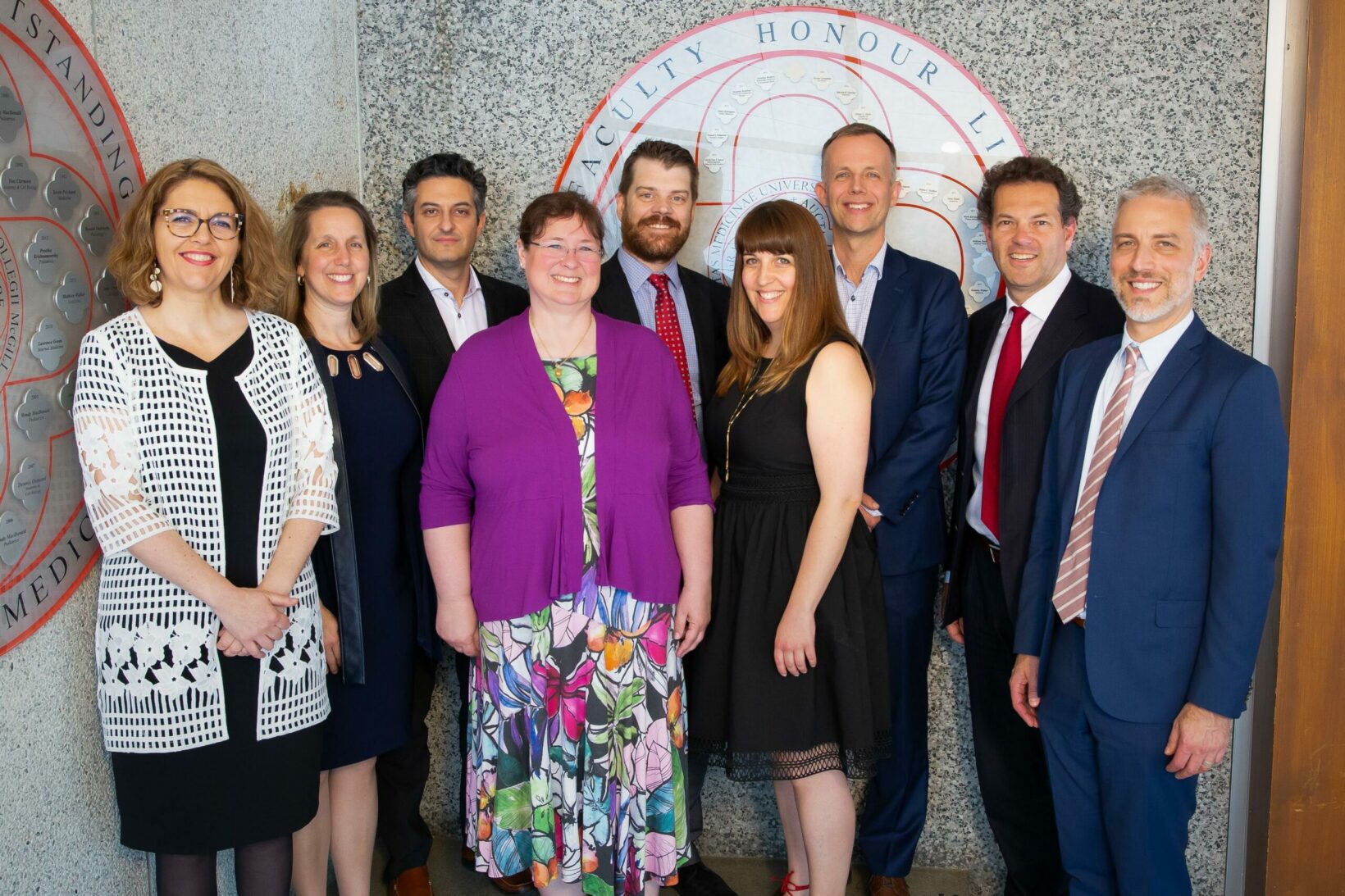 By Matthew Brett
This is part of an ongoing article series to raise the profile of education, teaching and learning in the Faculty of Medicine and to advance the Faculty's Strategic Education Plan (2017-22). 

Family, friends and colleagues honoured nine Faculty members during the 22nd annual Faculty Honour List for Educational Excellence symposium this past June, recognizing outstanding contributions to teaching and education in the Faculty of Medicine.

"This initiative is an expression of the importance of education for the Faculty," said Dr. David Eidelman, Vice-Principal (Health Affairs) and Dean, Faculty of Medicine. "I want to thank the leaders today who are being recognized for their work."

Dr. Annette Majnemer, Vice-Dean, Education, thanked the honourees for their leadership role in education. "You are now really serving as role-models and mentors," said Dr. Majnemer. She also thanked Drs. Miriam Boillat and Michelle Elizov, respectively Associate Dean and Assistant Dean, Faculty Development, for their invaluable roles within the Faculty.

Here is a glance at the recipients and their work through the eyes of students, residents and colleagues: 

Fanny Hersson-Edery

Department of Family Medicine
An Assistant Professor in the Department, Dr. Hersson-Edery is a practicing family physician and true generalist.

"Dr. Hersson-Edery is a perfect example of how to inspire residents' confidence and autonomy," said one of her students. "Her calm and respectful demeanor made me feel comfortable taking the lead and taking my place in patient management."

Dr. Hersson-Edery co-developed the competency-based model of Home Care teaching and created a revised Maternal Child Enhanced Skills Program, all while working at La Maison Bleue in the care of pregnant women and families who are at a high psychosocial risk. She is also Director of the Enhanced Skills Program in Family Medicine.

Matthew Hunt

School of Physical and Occupational Therapy
An Associate Professor at the School, Dr. Hunt is a physiotherapist who holds a strong belief that teaching is most effective when learners actively participate in the process and that learning is multi-directional.

"His dedication, availability and interest for my projects and academic success made him the kind of supervisor I would wish for all graduate students," said one of his students.

Dr. Hunt supports the training of rehabilitation providers in Haiti and collaborates on a train-the-trainers project for a rehabilitation program in Tamil Nadu, India.

Heather C. Lambert

School of Physical and Occupational Therapy
"Dr. Lambert teaches with her heart on her sleeve," said one colleague.

A Faculty Lecturer in the School and occupational therapist by trade, Dr. Lambert is dedicated to nurturing her students to become evidence-based and compassionate practitioners by grounding the courses she teaches in science and in patient experience.

"She really knows how to remind us of the lived experiences and realities of patients, so we become heart and spirit-centered future OT's, and not just robots driven by theory and research," said one of her students.

Sender Liberman

Department of Surgery, Division of General Surgery
Dr. Liberman is the first Program Director of the McGill Colorectal Surgery Residency Program, a Royal College accredited residency training program that Dr. Liberman initiated and leads.

"It became a labour of love because it was something that I was committed to and felt strongly that it should succeed," Dr. Liberman said of creating the residency. "It's really been one of my most rewarding career experiences."

He created a lasting collaboration to improve the General Surgery Residency in Rwanda and co-directed the long-standing annual McGill Enhanced Recovery after Surgery (ERAS) course (2011-2017) that attracted an international, multidisciplinary audience. 

"He is an excellent mentor, an excellent clinician – my favorite surgeon to operate with," said one resident. "It is always a great learning experience."

Stuart Lubarsky

Department of Neurology & Neurosurgery
A neurologist, educator and educational researcher, Dr. Lubarsky is a teacher with a tremendous ability to foster student and resident skills for reflective practice, interprofessional collaboration and reasoning under uncertainty.

A recipient of several teaching awards from both residents and medical students, Dr. Lubarsky has mentored over 300 students and residents, and was an Osler Fellow for eight years (2010-2018). He is also an active Faculty Member at the new Institute of Health Sciences Education.

"Working with Dr. Lubarsky was a very enriching experience," said one learner. "His empathy and communication skills with patients and families are remarkable."

In his own words, Dr. Lubarsky said, "my number one inspirations are my students. They are the ones who make me not only a better teacher, but a better learner."

Jean Ouellet

Department of Surgery, Division of Orthopedic Surgery
A pediatric spine surgeon and outstanding surgical educator, Dr. Ouellet also encourages continuing professional education and has taught over 70 courses in orthopedic medicine and spine surgery at the local, national and international level.

"I always look forward to operating with Dr. Ouellet because of the gradation of things he progressively lets me do, and because of his enthusiasm and respect for others," said one resident.

Over the past fifteen years, he has trained over 25 spine surgeons from Canada, North America and around the world.

"In order to be a good educator, you need to invest time," said Dr. Ouellet. "It's one of the commodities that we do not have."

Sophie Vaillancourt

School of Communication Sciences & Disorders
A speech and language pathologist and coordinator of Clinical Education for the School, Ms. Vaillancourt teaches a series of practicum and seminar courses in the first year of the speech language pathology Master's Program.

She uses a holistic approach to teaching that goes beyond the classroom and was instrumental in developing Speech-Language Pathology services in Eeyou Istchee, a region in northern Quebec represented by the Grand Council of the Crees.

"Thank you for being an excellent professor and an even better mentor," said one student. "Your teachings and words of advice will stay with us for many years to come."

Isabelle Vedel

Department of Family Medicine
A key teacher in the development and delivery of new courses for both the Master's and PhD programs in Family Medicine, Dr. Vedel has championed a range of innovative teaching practices.

"Dr. Vedel is so engaged and has a positive, inclusive attitude," said one of her students.

A testament to her teaching practices, a group of students attended the event wearing "Team Vedel" t-shirts.

Kevin Axel Waschke

Department of Medicine, Division of Gastroenterology
Dr. Axel Waschke is a clinical educator "par excellence" along the continuum of medical education from undergraduate studies through to residency, fellowship and continuing medical education.

He is the Director for Endoscopic Ultrasonography and Therapeutic Endoscopy at McGill, which includes clinical care, education and training, and research. He is the VP Education Affairs for the Canadian Association of Gastroenterology and President-Elect, and is recognized internationally as the leader in endoscopic education, with many invited lectures and presentations.

One student exclaimed, "everyone should have exposure to his teaching!"

July 4, 2019