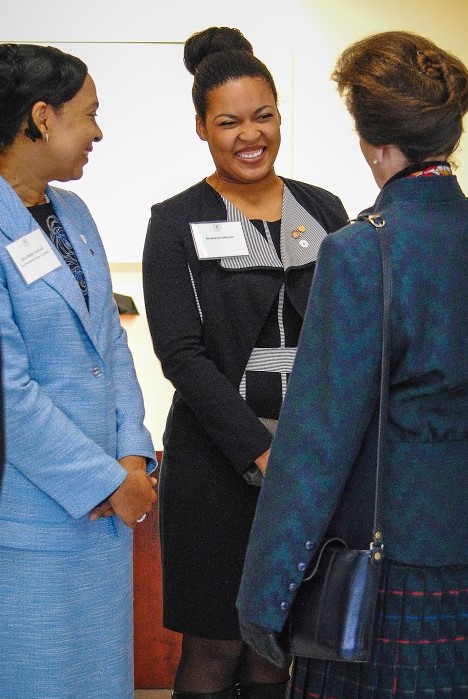 The Quebec Division Board of Directors of the Duke of Edinburgh's International Award recently announced the appointment of Dr. Anita Brown-Johnson to the position of Quebec Division President of the Duke of Edinburgh's International Award. Dr. Brown-Johnson, Assistant Professor in the Department of Family Medicine and the Department of Medicine, Division of Geriatrics at McGill University's Faculty of Medicine had previously served as Vice-President for Montreal. She will continue the work of outgoing President Grant Hamilton, who has held the position for the last six years.

The Duke of Edinburgh's International Award
The Duke of Edinburgh Award believes that not all learning happens in the classroom and aims to help equip young Canadians aged 14-24 for success in life. By recognizing all of the amazing things young people can do and learn outside the boundaries of formal education, the Award empowers them to discover hidden talents, develop untapped leadership potential, make a difference in their community and explore the wonders of great outdoors.

The personal journey to earn the Award requires young people to look beyond their comfort zone and tap into their sense of discovery. Participants set and achieve personal goals in activities they want to experience and develop, making each Award a unique journey. Simply put, they design a blueprint to transform their lives and we support them each step of the way.

"Having personally witnessed (and benefited from) the healing power of communities rallying in pursuit of the collective vision of empowering youths for the betterment of society – one child, one teenager at a time, I am deeply humbled and grateful for the vote of confidence of the Board of Directors of the Duke of Edinburgh International Award's Quebec division," says Dr. Brown-Johnson.  "I firmly believe that investment in our youth is key to achieving a kinder, healthier, smarter, more innovative society.  To this end, during my tenure, I hope to double our outreach efforts to French and English Schools (public and private), Indigenous and other underrepresented communities, including young offenders and persons with disabilities, among others, while consolidating the participation of Cadets and Junior Rangers, to enhance access to and participation in the Award Program for vulnerable youths.  I look forward to working with local, national and international constituents to strengthen our society, by challenging, engaging and supporting youths to acquire the habits and skills that will enable them to achieve their full potential in ever-changing times.  Why?  I believe that the future of our society is intricately intertwined with the Award program's objectives.  It is also fun and feels good to contribute!"

The Duke of Edinburgh's International Award recognizes participants' milestones at the Bronze, Silver and Gold levels during which they challenge themselves in the following areas:

Service – Give back

Skill – Find your genius

Physical Recreation – Break a sweat

Adventurous Journey – Get wild and explore

Residential Project (Gold) – Go away with others and find yourself

Dr. Anita Brown-Johnson
The first graduate of Concordia University's Science College, Dr. Brown-Johnson obtained a Bachelor of Science in Honours Biology with Distinction in 1983. She then completed one year of doctorate studies in Molecular Biology and Genetics at McGill before enrolling in Medicine in 1984 and participating in the Canadian Forces Medical Officer Training Program in 1985. In 1988, she earned her Doctor of Medicine and Master of Surgery degree, completed residency training in Family Medicine at the Montreal General Hospital and obtained Certification from the College of Family Physicians of Canada in 1990.

Dr. Brown-Johnson began her career as the sole physician providing medical services to the Cree population of Waskaganish in James Bay from 1990 to 1992. In 1992, she was appointed to the CPDP at the CHSLD de Gaspé, where she provided medical services to elderly patients for eight years and assumed administrative responsibilities, including Chief of Medicine. In 1997, she received the Royal Canadian Legion Fellowship Award, which facilitated focused training in Care of the Elderly at the University of Toronto's Baycrest Centre for Geriatric Care in 1998.

In 1999, Dr. Brown-Johnson was recruited by McGill University. Her teaching contributions have included developing the Transition Care Course/Workshop for final-year medical students during their Geriatrics rotation at the McGill University Health Centre (MUHC); supervising foreign medical graduates during observerships; supervising Family Medicine residents and third-year Family Medicine fellows; serving as Course Director for the Annual McGill Interdisciplinary Geriatric Seminar, attended by up to 150 interdisciplinary healthcare professionals across the health system, as facilitator for  Clinical Method I and Formation of the Healer and Professional Courses, OSCE examiner for Physical Examination component of the Longitudinal Family Medicine Experience, and as Co-developer and Site Coordinator for the Enhanced Skills Program in Hospital Medicine, in collaboration with St. Mary's Hospital Center and the Jewish General Hospital, among other things.

Dr. Brown-Johnson has led the MUHC's department of Family Medicine's Secondary Care division through several transformations during the past 15 years, including expansion of family medicine training at the MUHC, in collaboration with the Family Medicine Executive and departments of Medicine, Emergency Medicine, Psychiatry, Pediatrics and Surgery.

Appointed Fellow of the College of Family Physicians of Canada in 2005, Dr. Brown-Johnson is a passionate volunteer, mentoring students and sponsoring two annual academic scholarships. She has chaired or served on numerous committees and/or boards of directors, such as the Montreal Community Cares Foundation and the McGill University Health Centre.

Congratulations Dr. Brown-Johnson!

July 10, 2017