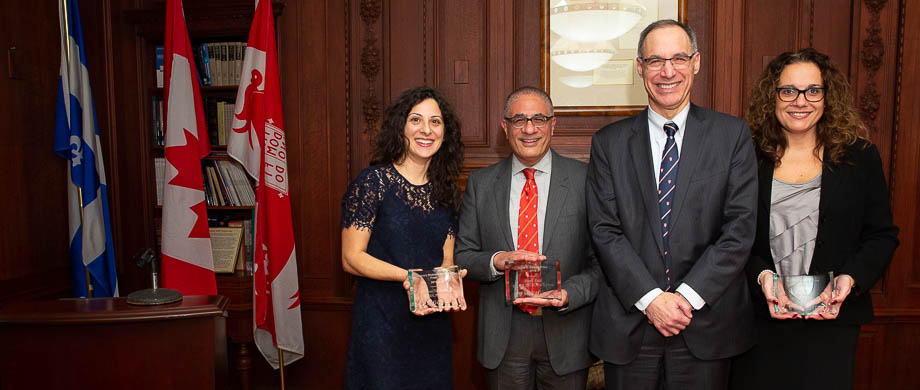 On November 13, McGill University's Faculty of Medicine celebrated its 2018 winners of the Maude Abbott, Haile T. Debas and Rosemary Wedderburn Brown Prizes. The laureates received their awards from Dr. David Eidelman, Vice-Principal (Health Affairs) and Dean of the Faculty of Medicine, during an event held in Holmes Hall. Each laureate had an opportunity to deliver a brief talk about their research.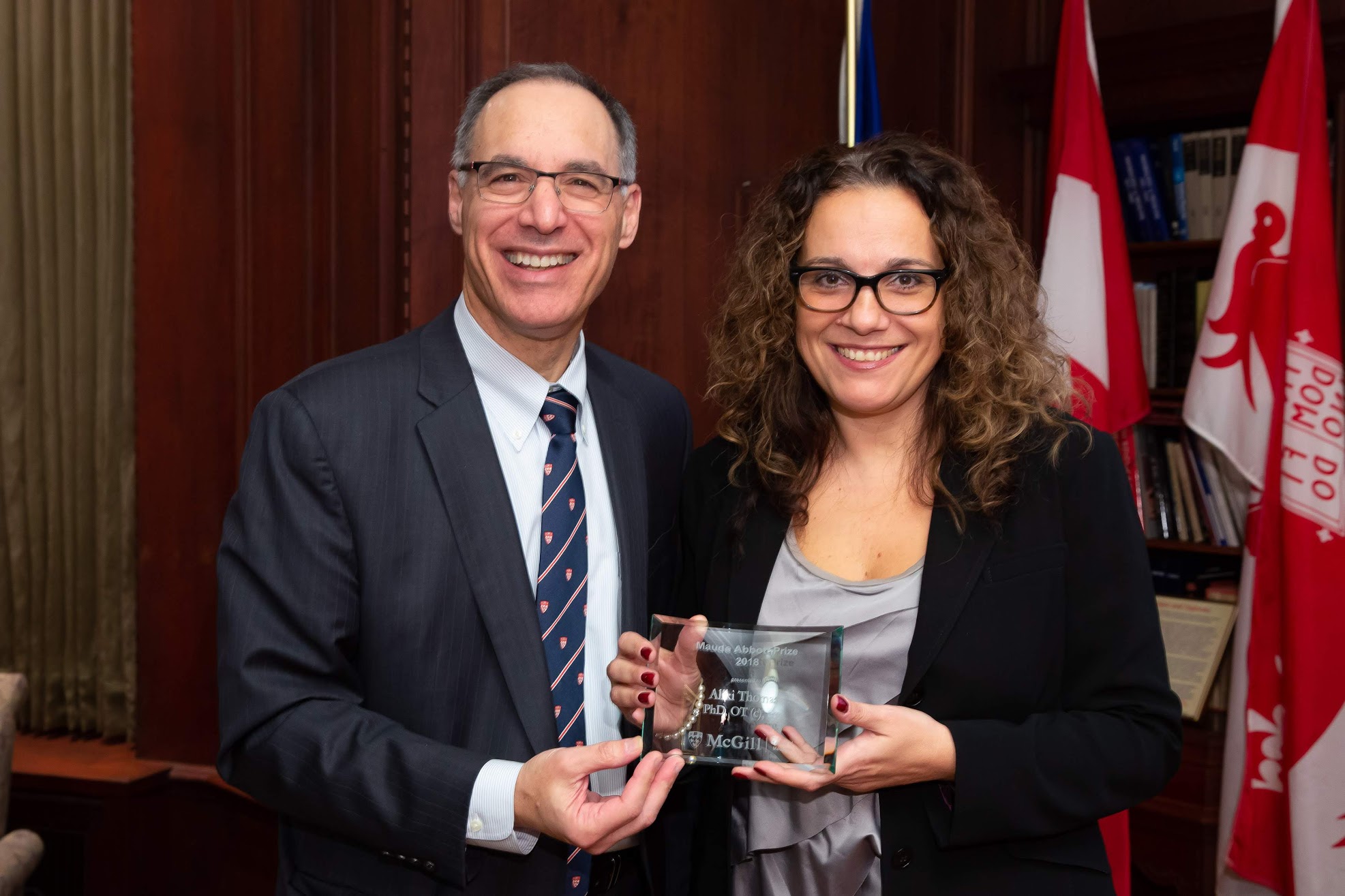 Dr. Aliki Thomas, Associate Professor at the School of Physical and Occupational Therapy and Research Scientist at the Centre for Medical Education (CME), is the 2018 winner of the Maude Abbott prize.  Dr. Thomas' research interests are in knowledge translation (KT) and health sciences education where she uses an educational psychology perspective to examine teaching and learning in complex areas such as evidence-based practice, clinical reasoning, expertise development, and evidence-informed health professions education. As an educational researcher and KT scientist at the CME, she is developing and evaluating the scholarship of implementation science in health professions education. She is leading KT initiatives provincially, nationally and internationally.
Dr. Thomas' current research projects span three major areas of rehabilitation education and practice: 1) admissions and selection; 2) professional education (teaching and assessment of evidence-based practice); and 3) professional practice and KT. In this last arm of her research, she investigates evidence-to-practice gaps in rehabilitation practices and is involved in studies on the use of theory in the design and delivery of effective KT interventions. Dr. Thomas is interested in the concept of the scholarship of practice and the outcomes of clinician-researcher partnerships on clinical practice. Dr. Thomas is a recognised expert in scoping review methodology.

The Maude Abbott prize was established in 2010 by the Faculty of Medicine to recognize outstanding female Faculty members who excel in Education, Research or Administration with a focus at the early career stage. Maude Abbott was one of the first women to obtain a bachelor's degree in arts from McGill University, and one of Canada's earliest female medical graduates, although from Bishop's. She was also an expert on congenital heart disease. "To be named the 2018 recipient of the Maude Abbott prize is the greatest honor of my career thus far," says Dr. Thomas. "Having my name associated with such an inspiring scientist and teacher though this recognition is a privilege in the greatest sense of the word."

---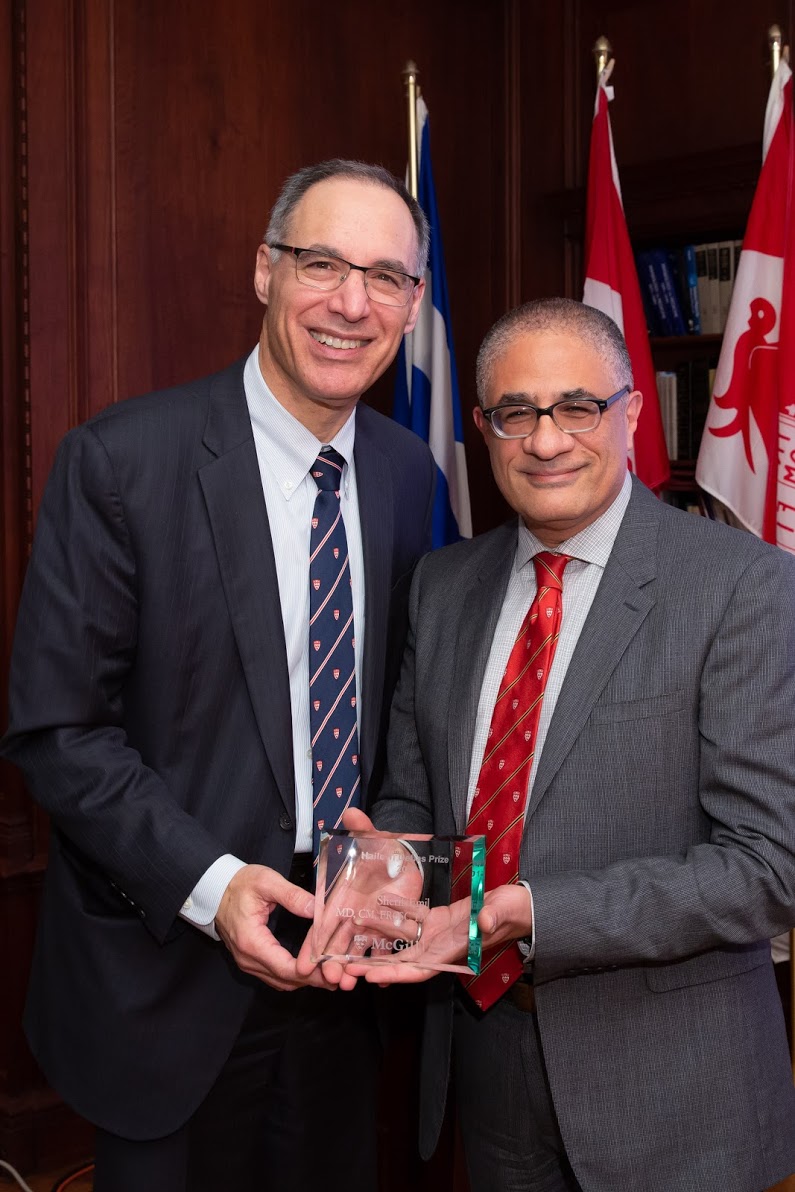 The 2018 Haile T. Debas prize was awarded to Dr. Sherif Emil, Professor of Pediatric Surgery, Surgery, and Pediatrics at McGill's Faculty of Medicine and Associate Chair for Education and Departmental Citizenship in the Department of Pediatric Surgery. He also co-directs Canada's first multidisciplinary Chest Wall Anomalies Clinic at the Shriners Hospital for Children.

Dr. Emil has been active in basic and clinical research, publishing more than 100 manuscripts and several book chapters on many topics in pediatric surgery.  His laboratory research on inhaled nitric oxide in the 1990s produced the first publications on this topic in the surgical literature.  His more recent laboratory research focused on finding alternatives to fundoplication for gastroesophageal reflux disease.  He is also actively engaged in several clinical research endeavors, looking at outcomes of a variety of pediatric surgical diseases. He is currently leading the creation of the first Canadian pediatric surgical research consortium.  Dr. Emil also has an ongoing interest in international surgery, and has participated in seven missions to Africa where he operates, teaches, and lectures. He has written about his mission experiences in The Globe and Mail, and his recent "Dispatches from Rwanda", "Dispatches from the Africa Mercy", "Dispatches from Benin", and "Dispatches from Douala" have been widely disseminated on line.

The Haile T. Debas prize was also established in 2010 to promote equitable diversity at all levels in the Faculty of Medicine by recognizing a Faculty member who helps promote diversity, which could be by acting as role a model or mentor, or by implementing new approaches to increase underrepresented minorities. Haile T. Debas is a McGill Alumnus recognized internationally for his pioneering contributions to academic medicine, as well as to global health. "I always considered Dr. Haile Debas a role model. My steps had followed his in many ways, from birth in North Africa to medical training at McGill to academic surgical practice in California," says Dr. Emil. "I believe Dr. Debas would approve of the values with which I have conducted my career." 

---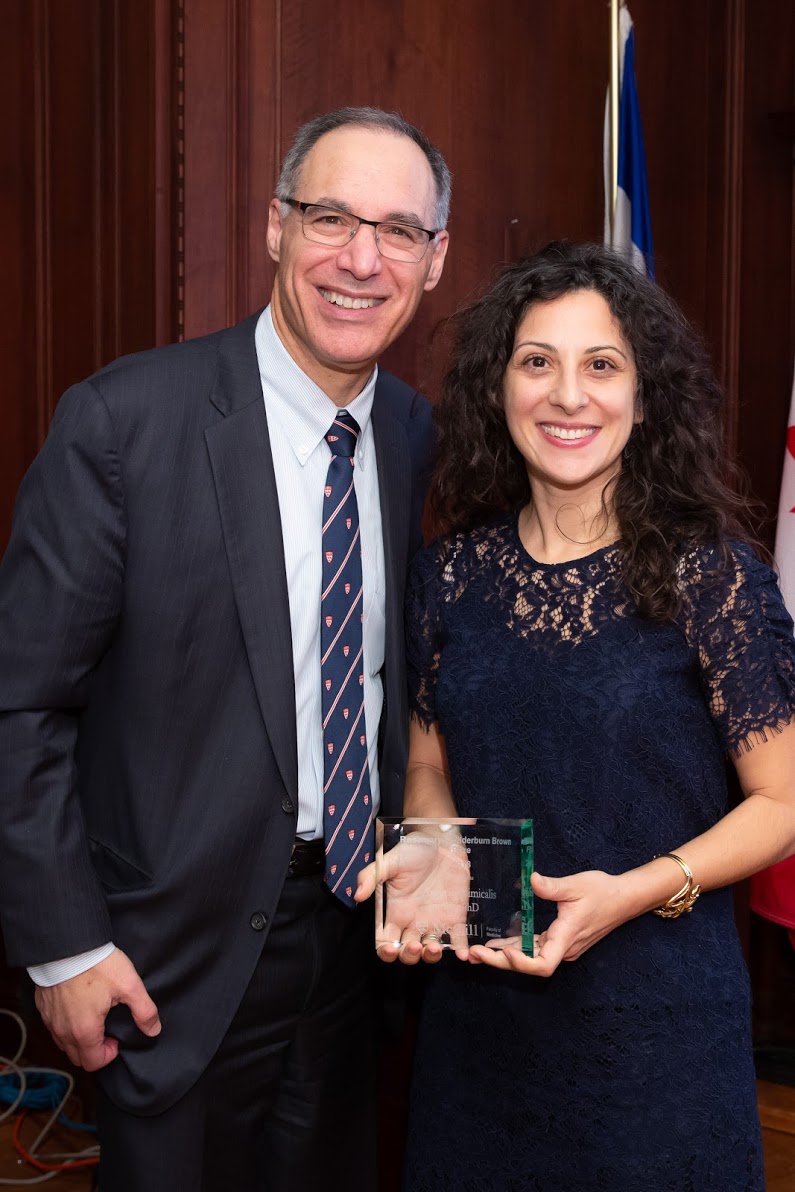 The 2018 Rosemary Wedderburn prize was awarded to Dr. Argerie Tsimicalis, Assistant Professor at the Ingram School of Nursing. Dr. Tsimicalis is interested in enhancing the supportive care of children, adolescents, and young adults with cancer by addressing the paucity of interventions available. By engaging multi-stakeholders, from onset of research development, Dr. Tsimicalis is seeking to develop, test, and translate innovative approaches to improve the quality of life of persons affected by cancer in a cost-effective manner.

The Rosemary Wedderburn Brown Prize recognizes Faculty members in the Schools of Communication Sciences and Disorders, Nursing and Physical and Occupational Therapy with outstanding scholarly potential and demonstrated research excellence in the early stages of their career. Rosemary Wedderburn Brown, also a McGill alumnus, was a renowned advocate dedicated to equality and rights for women, minorities and the disadvantaged. She was also the first Black Woman Elected to a Canadian Provincial Legislature.

"I am passionate about working with children, families, clinicians and agencies to create meaningful resources for improving the quality of life of chronically ill children and their families," says Dr. Tsimicalis. "For me, this award is shared with my local and global transdisciplinary team of collaborators. Together, we are showcasing our global connectedness, innovations, and the resiliency of these families we care for. I am honoured that McGill is recognizing our work with the Rosemary Wedderburn Brown prize. Ms. Brown was an outstanding leader in Canada. I am most humbled to hold this honour."

Congratulations to all three laureates!

November 16, 2018