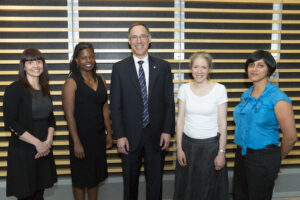 On June 12, 2014, McGill's Faculty of Medicine celebrated the 2014 winners of the Maube Abbott and Haile T. Debas prizes as well as both the 2013 and 2014 winners of the Rosemary Wedderburn  Brown Prize. During the event, held in the Atrium of the Bellini building, each laureate had the opportunity to provide a brief overview of their research after having been presented with their award by Dr. David Eidelman, Vice-Principal (Health Affairs) and Dean of the Faculty of Medicine.

Julie St-Pierre, Assistant Professor in the Department of Biochemistry and a member of the Rosalind and Morris Goodman Cancer Research Centre is the 2014 winner of the Maude Abbott prize. The Maude Abbott prize was established in 2010 by the Faculty of Medicine to recognize outstanding female Faculty members who excel in Education, Research or Administration with a focus at the early career stage. Maude Abbott was one of the first women to obtain a bachelor's degree in arts from McGill University, and one of Canada's earliest female medical graduates, although from Bishop's. She was also an expert on congenital heart disease.

The 2014 Haile T. Debas prize was awarded to Loydie Jerome-Majewska, Assistant Professor in the Department of Pediatrics and Associate Member in the Department of Human Genetics at the Faculty of Medicine, and a member of the Research Institute of the MUHC (Montreal Children's Hospital).  The Haile T. Debas prize was also established in 2010 to promote equitable diversity at all levels in the Faculty of Medicine by recognizing a Faculty member who helps promote diversity, which could be by acting as role a model or mentor, or by implementing new approaches to increase underrepresented minorities. Haile T. Debas is a McGill Alumnis recognized internationally for his pioneering contributions to academic medicine, as well as to global health.

The Rosemary Wedderburn Brown Prize recognizes Faculty members in the Schools of Communication Sciences and Disorders, Nursing and Physical and Occupational Therapy with outstanding scholarly potential and demonstrated research excellence in the early stages of their career. Rosemary Wedderburn Brown, also a McGill alumnus, was a renowned advocate dedicated to equality and rights for women, minorities and the disadvantaged. She was also the first Black Woman Elected to a Canadian Provincial Legislature. The 2014 Rosemary Wedderburn prize was awarded to Sylvie Lambert, Assistant Professor at the Ingram School of Nursing.

The 2013 winner of the Rosemary Wedderburn Brown Prize, Aparna Nadig, Assiatant Professor in the School of Communications Sciences and Disorders, was also on hand to receive her award and present her research, having been on leave in the Summer of 2013.

Congratulations to all of the winners!