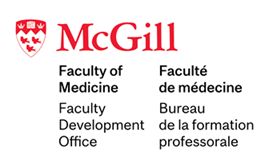 Dear colleagues,

We are pleased to enclose a program description for the Faculty Honour List for Educational Excellence. The goal of this program is to recognize outstanding contributions to education in the Faculty of Medicine, in the areas of teaching, educational leadership and innovation, faculty development, and scholarly activity.

We hope that you will take advantage of this program by nominating an individual who meets the program criteria. If you have any questions about the Faculty Honour List for Educational Excellence, please do not hesitate to contact the Faculty Development Office either by phone at 514-398-2698 or by e-mail at facdev-events.med@mcgill.ca.

The deadline for submission of the nomination form and supporting documents is January 31, 2020. For additional information about the nomination criteria and to access the nomination form, please visit our website.

Faculty Honour List for Educational Excellence 2020-2021
Regards,

The Faculty Development Office