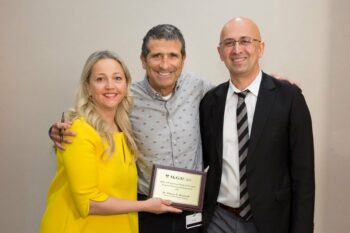 Dr. Thierry Benaroch, Assistant Professor of Surgery in McGill's Faculty of Medicine and Program Director of the Orthopaedic Surgery Residency Program was recently awarded the inaugural Office of Postgraduate Medical Education Program Director Leadership Award for 2017. This new award was developed to recognize the outstanding leadership at the Program Director level of a residency training program at McGill.

"Program Directors play a critical role in ensuring that our residents receive the best training possible during their residencies, and training programs must be prepared to provide a comprehensive approach to their needs. At times, all programs will experience difficulty, and need a leader who can steer them through this," says Dr. Armand Aalamian, Associate Dean, Postgraduate Medical Education and Professional Affairs at the Faculty of Medicine. "We are committed to supporting and enabling positive change.  Program Directors have transformative power, but often the leadership aspect of their role goes unrecognized.  We are hoping to change that with the creation of this new award. Dr. Benaroch is a most deserving inaugural recipient."

Dr. Benaroch completed his medical school and Orthopaedic residency at McGill, followed by a two-year fellowship specializing in Pediatric Orthopaedic Surgery at Hôpital Ste. Justine, Texas Scottish Rite Hospital in Dallas, and at the Boston Children's Hospital. He has worked both at the Montreal Children's Hospital and the Shriners Hospital for Children since December 1993.

In 2001 Dr. Benaroch became site director for orthopedic surgery at the Montreal Children's Hospital, a position he maintains today. He is also actively involved at the Shriners Hospital for Children where all of his elective surgery is performed. He became Program Director of the McGill Orthopaedic Residency Program in 2013 at a time when the program was struggling and its accreditation status was at risk. He embarked on effecting significant changes, combining innovation with a hands-on approach. Two years after his appointment, the program underwent a stellar accreditation reassessment visit by the Royal College of Physicians and Surgeons of Canada. In fact, the Surveyors deemed the Program to have "no weaknesses" – a rare accomplishment nationally.

Dr. Benaroch's clinical interests include club feet, developmental dysplasia of the hip and Cerebral Palsy. During the course of his career he has received a number of awards including the 2002 Teacher of the Year Award from McGill's Department of Orthopaedic Surgery, the Surgical Teaching Award for 2012-2013 from the Montreal Children's Hospital in recognition of his outstanding contribution to surgical teaching, and in 2016 he was the recipient of the Faculty's Transition to Clinical Practice Award for Excellence in Teaching for Surgery.  He delivers annual conferences to pediatricians and family doctors and is an avid biker averaging close to 15,000 km per season.

"Being named as the inaugural recipient of this award is a huge honour for me," says Dr. Benaroch. "I am especially proud because I feel it is an acknowledgement that I have succeeded in changing the culture of our program for the better. However, no leader can be successful without the buy-in of their team. My fellow staff and residents were as instrumental as I was in helping to turn this program around and the ongoing support from the PGME Office has been invaluable as I can always depend on them to provide guidance."

Congratulations Dr. Benaroch!

January 25, 2018