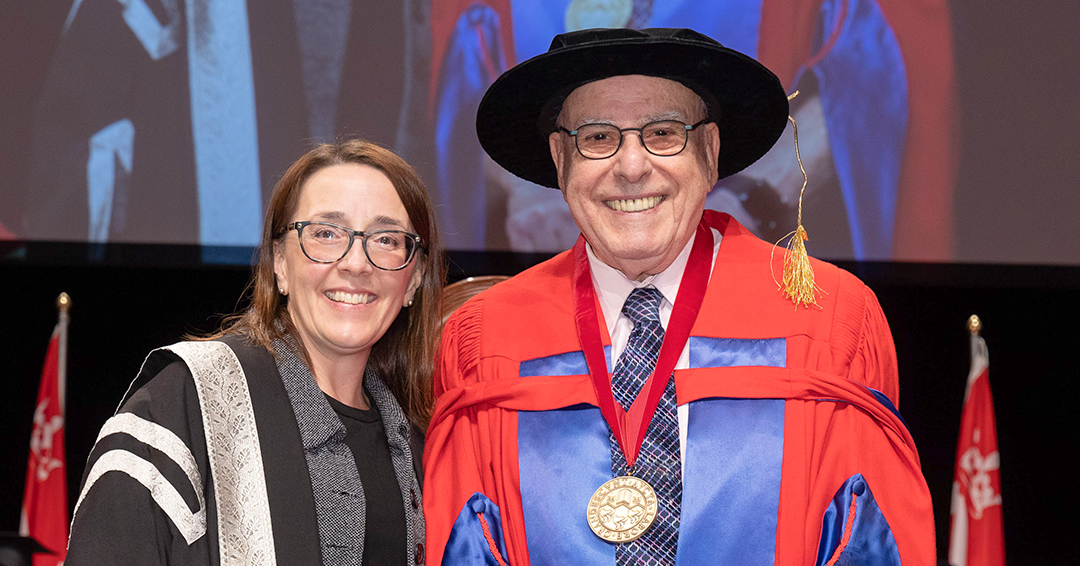 The Professor Emeritus and Canadian Medical Hall of Famer is the 15th person to receive this honour reserved for retired members of McGill's academic staff.
During the morning Fall 2022 Convocation ceremony, held yesterday in Places des Arts, Dr. Phil Gold received the McGill University Medal for Exceptional Academic Achievement. The McGill Medal, as it's known, acknowledges the outstanding contributions of "retired members of McGill University's academic staff who are uniquely deserving in light of their exceptional contributions to their discipline, to the University and to society at large."
The Medal was first awarded in 2010; Dr. Gold is the 15th McGillian to receive the honour. A list of past winners is available online.
Caring physician, groundbreaking researcher, inspirational leader
Born in Montreal, Dr. Phil Gold has lived, studied and worked in the city for most of his life. He obtained a BSc in Honours Physiology in 1957 and an MDCM and an MSc degree in Physiology in 1961, all at McGill. From 1963 to 1965 he spent time in the laboratories of the McGill University Medical Clinic of the Montreal General Hospital (now the Research Institute of the McGill University Health Centre), where he obtained a Ph.D.
Dr. Gold's co-discovery, with Dr. Samuel Freedman, of the Carcinoembryonic Antigen (CEA) ushered in the modern era of human tumour marker research. His discovery represented the first clinically-useful human tumour marker and one that is found in 70 per cent of cancer patients.
Yet, as accomplished as he is as a researcher, Dr. Gold also carved a career as an outstanding teacher. In fact, when he was appointed to the Canadian Medical Hall of Fame in 2010, it was noted that "perhaps Dr. Gold's most outstanding quality is related to what he loves best – teaching. Dr. Gold cares deeply about his students and residents. This attitude combined with his passion for medicine and science, means that no student ever forgets a session with him." As a teacher and mentor, he inspired, guided and supported generations of scholars, physician-scientists and discovery-researchers, making sure every individual had the tools necessary to reach their goals.
As a leader, Dr. Gold served as the first Director of the McGill Cancer Centre, now the Rosalind and Morris Goodman Cancer Research Institute, established in 1978 in large part due to the impact of his CEA research. Dr. Gold also served as Chairman of the Department of Medicine at McGill, Physician-in-Chief at the Montreal General Hospital, and, most recently, as the Executive Director of the Clinical Research Centre of the McGill University Health Centre.
Dr. Gold has been honoured with countless Canadian and international awards, including the E.W.R Steacie Memorial Award, The Gairdner Foundation Annual International Award, the Isaak Walton Killam Award in Medicine of the Canada Council, the National Cancer Institute of Canada R.M. Taylor Medal, Germany's Johann-Georg-Zimmerman Prize for Cancer Research, the Wilder-Penfield, Prix du Québec (2013), the Queen's Diamond Jubilee Medal, and appointment as a Grand Officer of l'Ordre National du Québec.
"The McGill Medal is a wonderful recognition of Dr. Gold's extraordinary achievements over more than a half century of service to the University," says Dr. David Eidelman, Vice Principal (Health Affairs) & Dean of the Faculty of Medicine and Health Sciences. "Over the course of his long career Dr. Gold has made exceptional contributions to McGill as a researcher, as a teacher and as a leader.  I welcome this latest recognition of his achievements with enormous enthusiasm."
"The Medal represents the culmination of over six decades of my life at McGill as a student and a staff member," says Dr. Gold. "It has been the ride of a lifetime."