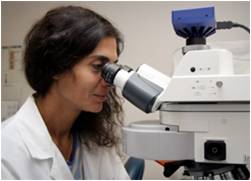 Dr Jabado is a hematologist, oncologist and researcher at the McGill University Health Centre Montreal Children's Hospital, an associate professor in the Department of Pediatrics and an associate member in the Division of Experimental Medicine of the Department of Medicine at McGill University.
She is also an international leader in the field of pediatric brain cancers. As an oncologist and geneticist specializing in pediatric cancer, her research and clinical work has been dedicated to the understanding and treatment of brain cancers in children. Her recent research has opened a totally new genetic profiling approach in the predicted outcome and future management of these children. 

The Maude Abbott prize, established in 2010, is given annually to female members of the Faculty of Medicine who have had an academic appointment of more than two years. Candidates must have an outstanding record of achievement in either teaching, research or by an exemplary commitment to the university or hospital.

The prize consists of $10,000. The laureate must be prepared to present her vision on research, education or administration at a Faculty Town Hall meeting.

June 6, 2012