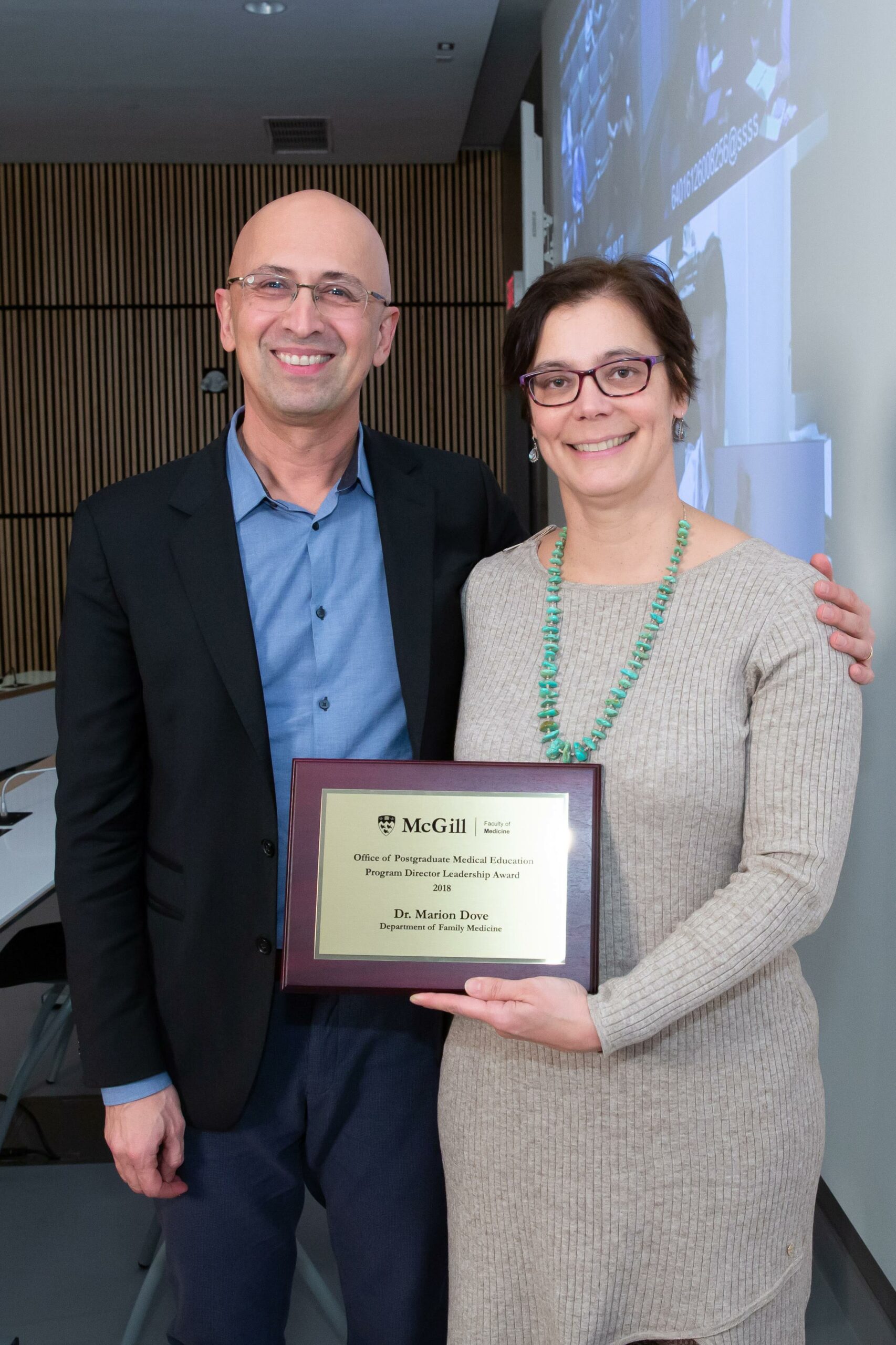 By Lisa Dutton

Dr. Marion Dove, a Family Physician, Associate Professor, Associate Chair (Education) and Director of Postgraduate Medical Education (PGME) for the Department of Family Medicine at McGill University is the recipient of the 2018 McGill PGME Program Director Leadership Award.  The award recognizes her outstanding commitment to enhancing residency education and her dedication to driving ongoing innovation to improve the program and the University. Dr. Dove runs the Faculty of Medicine's largest residency program, a bilingual program with over 250 trainees working at nine sites – six in Montreal and the others in Châteauguay, Val D'Or and at the Campus Outaouais in Gatineau.

"Dr. Dove has worked tirelessly over the last number of years leading the Department of Family Medicine's residency program during challenging times that included major changes to healthcare delivery in Quebec," says Dr. Armand Aalamian, Associate Dean, Postgraduate Medical Education and Professional Affairs at the Faculty of Medicine. "She has remained a steadfast believer in the core values of family medicine rooted in an educational paradigm that is learner-centered and focused on serving the needs of the Quebec population."

"Dr. Dove exemplifies leadership. She is a champion of the family medicine profession; she is an effective role model and advocate for students and residents and is a mentor to her peers," notes Dr. Howard Bergman, Chair of the Department of Family Medicine. "She is an advocate of WELL Office programs and has implemented several activities to help residents cope with stress and help reduce burnout. She has zero tolerance for intimidation. She is also committed to innovation in residency education and to making a lasting impact on the quality of residency training."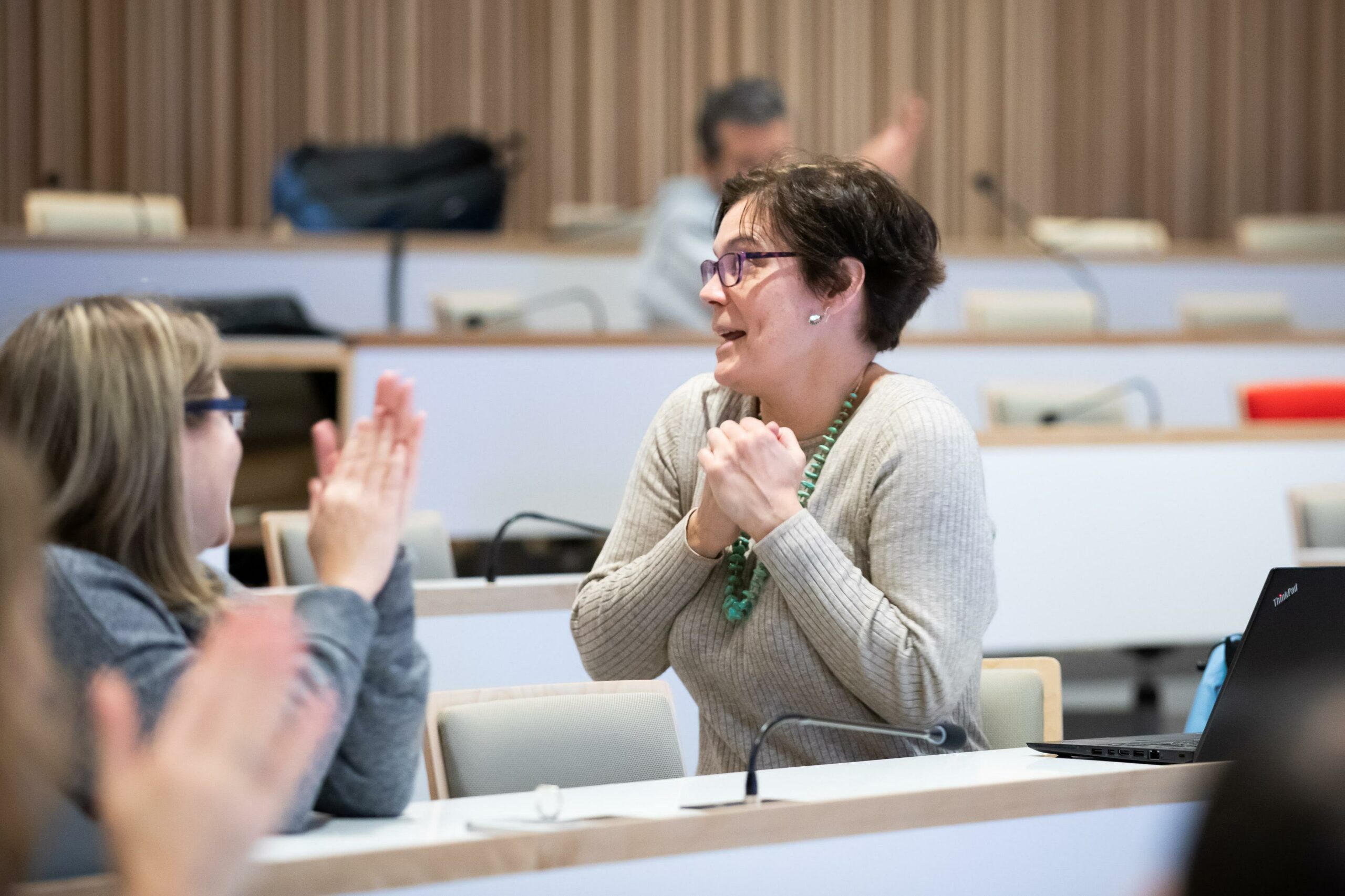 Dr. Dove is pleased to receive the acclaim, "It is a real honour to receive this leadership award. I am very fortunate to work with a great team:  the site directors, administrators, residents, members of the Residency Education Committee are all fantastic, dedicated individuals. Working with them has been a pleasure and great opportunity. Together we have accomplished great things."

Asked her thoughts on why she was selected for this award, Dr. Dove pauses before replying. "I think one reason is the effort I make to incorporate the concerns, feedback and perspectives of residents in all decisions. Their invaluable advice helps us improve the program, the curriculum and the organization of activities. I have created a feedback loop residents really appreciate."

"Personally, I nominated Dr. Dove for the PGME Leadership Award because she has made the wellness of her residents a priority. In the era of increased burnout, she has done much to spread awareness and to implement methods for our mental well-being," says Dr. Lida Alavi, PGY-2 Family Medicine. "As well, she rounds two times per year at all nine of the program's training sites and meets with local residents to discuss improvements that could be made to the program. She is very sensitive to residents' concerns and works with us to implement changes in order to improve our wellness as well as support our constantly changing needs in program development."

"What is most rewarding to me is sharing my love of Family Medicine and inspiring young physicians to become great family physicians. I totally love it," says Dr. Dove, a McMaster medical school graduate who completed her residency training in Family Medicine at McGill.  "My goal is to transmit my interest and passion for family medicine to students and residents."

Feedback from evaluations indicates Dr. Dove has had an impact on trainees. Medical students and residents consistently give Dr. Dove high grades for teaching. Comments from recent evaluation include: "(Dr. Dove is) the perfect example of how to inspire resident confidence and autonomy"; "She is a fantastic role model who made me feel supported while at the same time made me feel competent and good at what I was doing. I really wish I could have had more shifts with her!!"; "…always look forward to working with Dr. Dove. She is very kind, patient and keen to teach…"; "She really is a role model and I hope to be able to emulate her relaxed style in my future practice. Such a pleasure to work with her."

Congratulations Dr. Dove!