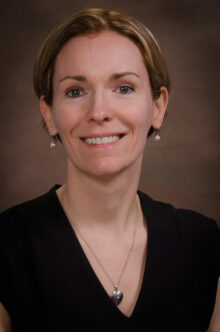 Dr. Évelyne Vinet, a rheumatologist and an Assistant Professor in the Division of Rheumatology at McGill University's Faculty of Medicine, has been selected as the 2018 recipient of the Canadian Rheumatology Association's (CRA) Young Investigator Award.  Dr. Vinet, who obtained her PhD from the Department of Epidemiology, Biostatistics and Occupational Health at McGill, focuses her research on reproductive issues in women with rheumatic diseases.

The CRA award recognizes a young Canadian Investigator who has contributed significant, original research in rheumatology. The candidate must be a CRA member in good standing and must be no more than seven years into becoming established as an Independent Investigator, who has performed outstanding, landmark, original research (clinical or basic science) in rheumatology as judged by peers and citations.

"I feel extremely privileged and honoured to be recognized by my peers for my research accomplishments," says Dr. Vinet. "It is an important milestone in my career, which I believe I could not have reached without the staunch support of my mentor, Dr. Sasha Bernatsky, and those who have always encouraged me to strive for success."

Dr. Vinet, who has been a researcher at the Research Institute of the McGill University Health Centre since 2014, has made substantial contributions to the field of reproductive issues in rheumatic diseases during the early stages of her career. Over the past few years, she has put together the world's largest cohort of children born to women with systemic lupus erythematosus (SLE) to evaluate long-term outcomes of children born to mothers with SLE. More recently, she expanded her work to study important drug exposures during pregnancy in rheumatic diseases. Notably, she assessed the risk of serious infections in rheumatoid arthritis (RA) offspring exposed in utero to TNF inhibitors compared to unexposed RA offspring and children from the general population, using a large U.S. database.

Last year, Dr. Vinet was awarded a CIHR Catalyst Grant in Musculoskeletal Health (ranking 1st out of 107 investigators) to establish an international prospective cohort of SLE pregnancies to study patterns of aspirin use and placenta-mediated complications. She has also received peer-reviewed funding to conduct a randomized controlled trial of an educational tool to improve preeclampsia knowledge and aspirin adherence in pregnant women with SLE.

Dr. Vinet is an active member of the American College of Rheumatology Reproductive Health guideline development group, being one of the only two Canadians (and non-Americans) involved in the guidelines. She also led the Pregnancy Working Group for the Canadian Recommendations for SLE Monitoring, which have been endorsed by the CRA and involve national lupus experts across the country. She recently received the distinction of being accepted as a member of the Systemic Lupus International Collaborating Clinics (SLICC).  This international organization of SLE research specialists is known throughout the world for their work on research methods in SLE. Dr. Vinet was inducted into this august group because of her unique expertise and international standing as a researcher in SLE reproductive issues and outcomes of offspring born to mothers with SLE.

Dr. Vinet received the Young Investigator award at the CRA Gala Dinner on Friday, February 23, 2018 in Vancouver, British Columbia.

Congratulations Dr. Vinet!

February 24, 2018