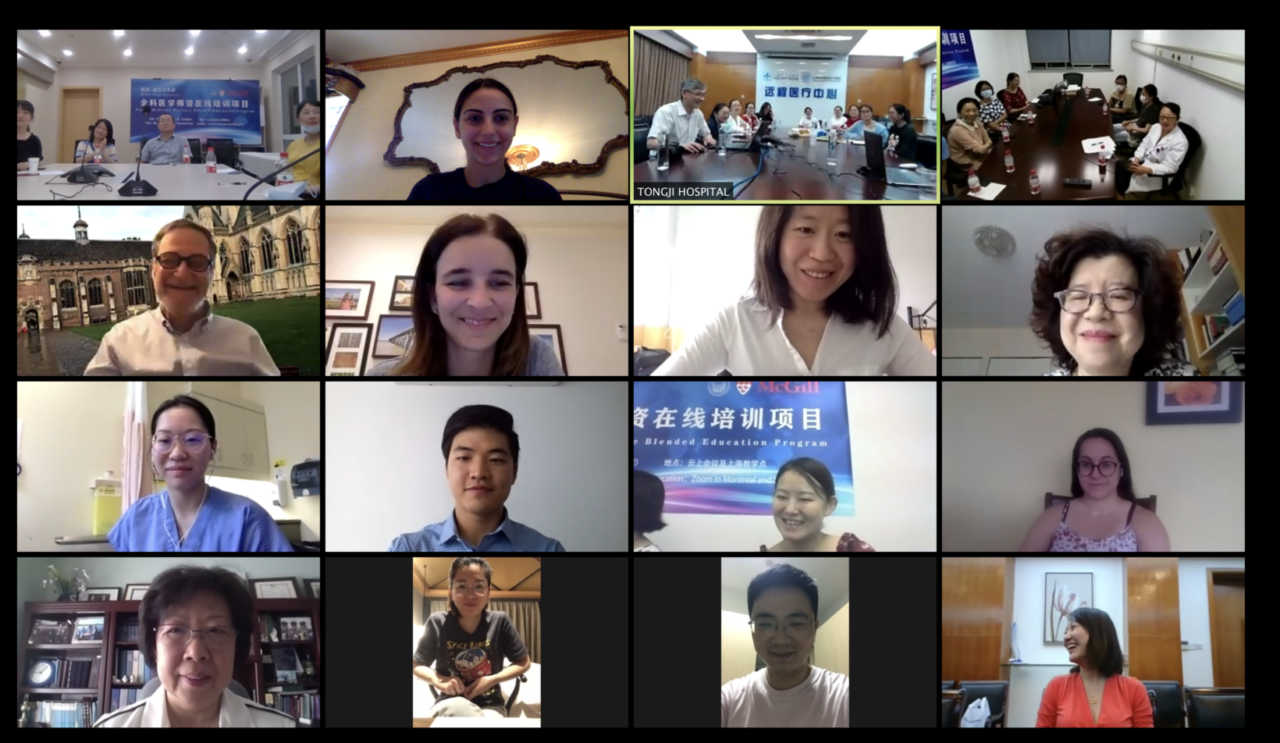 By Yasmine Elmir

On May 15 and June 10, colleagues from McGill University and Tongji University (Shanghai, China) came together through videoconference to exchange information and experiences on COVID-19. The meetings were organised by Dr. Howard Bergman, Professor in the Departments of Family Medicine and Medicine and Assistant Dean, International Affairs at McGill and Dr. Wang Hao, Education Lead from Tongji University for the Blended Learning Program. The meetings were part of a pre-module before launching the blended learning program developed for clinical teachers at the Family Medicine Department in Tongji University.

The first meeting, which occurred on May 15, provided an opportunity for Chinese and Canadian family doctors to discuss the role of Family Medicine (Family Medicine Groups in Quebec; Community Health Centres in Shanghai) during and after the pandemic. Dr. Marion Dove, Chair of McGill's Department of Family Medicine and Dr. Jialin Zheng, Dean of the Tongji University School of Medicine, delivered opening remarks. Dr. Gemma Cheng and Dr. Mylène Arsenault from McGill's Department of Family Medicine presented "Adapting Care at the Herzl Family Practice Centre during the COVID-19 Pandemic." Dr. Sen Yang from the Department of General Practice at Yangpu Hospital, affiliated to Tongji University, discussed being in the Leishenshan Hospital in Wuhan. Dr. Liang Liu and Professor Xudong Zhao from the Pudong New Area Mental Health Centre spoke about the psychological intervention in Wuhan during the COVID-19 Period. Finally, Dr. Xinglun Liang presented "Application of Traditional Chinese Medicine during the COVID-19 epidemic."

The second meeting, on June 10, was a Q&A and discussion session. Colleagues from McGill University and Tongji University joined the meeting with prepared questions with regards to the role of family physicians during the COVID-19 pandemic. The meeting was a success, as all questions led to active discussion from both sides. The main questions focused on telemedicine, with Dr. Mylène Arsenault leading the discussion as she has previously created a telemedicine guide. Questions about confidentiality, empathy and communication with the use of telemedicine were addressed.

The concluding statements confirmed that Canada and China have a lot to learn from each other and that this partnership is fruitful for the participants from both insitutions.

July 1, 2020