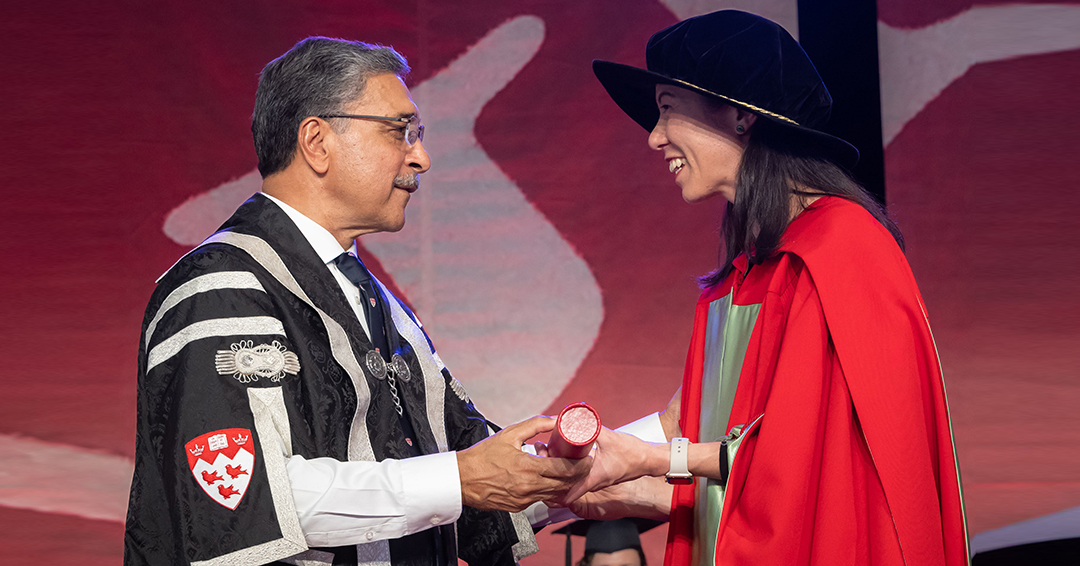 Congratulations to Stefanie Blain-Moraes, Associate Professor and Canada Research Chair in Consciousness and Personhood Technology, School of Physical & Occupational Therapy, who received the Carrie M. Derick Award for Graduate Teaching and Supervision at the Health Sciences B Convocation Ceremony on May 30.  
"She has been a devoted mentor to her students and an exceptional role model in her approach to teaching and research," said Lorraine Chalifour, Associate Dean, Graduate and Postdoctoral Studies, in her introduction. She went on to note that Prof. Blain-Moraes' unique multidisciplinary background that encompasses the fields of biomedical engineering, and anaesthesia and rehabilitation science provides her students with varied and personalized research opportunities. Her students especially value her for her advocacy and for supporting trainees pursuing unconventional academic trajectories.  
A gifted researcher, Prof. Blain-Moraes was honoured at the Spring 2022 Convocation with a Principal's Prize for Outstanding Emerging Researchers (read the story). 
Related:  
Health Sciences B Convocation ceremony recording (Prof. Blais-Moraes' award presentation at approximately the 1hr mark) 
McGill team's index predicts coma recovery with 100% accuracy: preliminary study