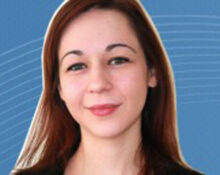 Vedrana Cvetkovska, Ph.D in Neuroscience at McGill University, is the award winner of the Fonds Santé, one of the three Fonds awards of the Fonds de recherche du Québec. Her award-winning publication "Overexpression of Down syndrome cell adhesion molecule impairs precise synaptic targeting" is published in Nature Neuroscience, 16, 677-682, 2013.
Her study has shown that dysregulation of a single molecule may lie at the heart of the improper neuronal connections in two different intellectual disabilities. Dscam is now identified as an important molecule involved in neural wiring and contributing to neural developmental disorders. In the future, Dscam may be used as a therapeutic target to help manage some of the disability associated with different and complex disorders.
Read the full article here.
In addition to promoting research careers in Québec, this competition recognizes the exceptional research contributions of college and university students (bachelor's, master's, doctorate), postdoctoral fellows and members of professional bodies who are enrolled in advanced research training programs in the areas covered by the three Fonds de recherche du Québec.
To learn more about the awards, click here.
December 13, 2013