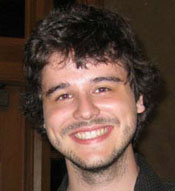 David Maillet, PhD student in Neuroscience is the first winner of one of the three Fonds awards, the Fonds Santé of the Fonds de recherche du Québec. His award-winning article entitled "Age-related changes in the three-way correlation between anterior hippocampus volume, whole-brain patterns of encoding activity and subsequent context retrieval" is published in Brain Research, 1420 (2011), pages 68-79.

The competition aims to promote careers in research and to recognize the exceptional research contributions of college and university students, postdoctoral fellows and members of professional bodies who are enrolled in advanced research training programs in the areas covered by the three Fonds.

For the first edition of this competition, the three Fonds received a total of 205 applications: 84 for the Fonds Nature et Technologies, 76 for the Fonds Santé and 45 for the Fonds Société et Culture.

"I am very pleased with the response from student researchers, and I would like to take this opportunity to congratulate the winners" noted Dr. Rémi Quirion, Québec's Chief Scientist.

Every month, each Fonds will award $1000 to a student researcher. An overview of the recipient's project and a photo of the recipient will be featured on the portal of the Chief Scientist of Québec at www.frq.gouv.qc.ca.

April 30, 2012