When Gérard Genest was a child, he spent more time at the Montreal Children's Hospital (MCH) than in school. That's because he was born with congenital afibrinogenemia, a rare medical condition which prevents the blood from clotting properly, causing both spontaneous and provoked bleeding with minor trauma.

"Just the small prick of a needle would cause nonstop bleeding," the 62-year-old recalls. "I'd have to hold my arm up for 30 minutes and I could expect to bleed for up to two days."

Afibrinogenemia required Gérard to receive blood transfusions since birth. But when he was growing up, experts hadn't yet discovered the ways in which blood transfusions could spread the Hepatitis C virus (HCV), a disease that attacks the liver. When Gérard was 32, he received the devastating news that he'd contracted HCV.

"In 1989, doctors hardly knew what HCV was," Gérard says.  "They told me to monitor my alcohol intake."

Years passed, and Gérard tried to resume a normal life despite his bleeding condition and HCV. At 41, he was referred to Dr. Marc Deschênes, specialist in hepatology and liver transplantation and head of the department of hepatology at the McGill University Health Centre (MUHC). Dr. Deschênes began Gérard's HCV treatment – a series of painful injections administered every two or three days. Gérard received these injections for five months, before they began causing him an excruciating rash all over his body.

"I marched into Dr. Deschênes' office, stripped my clothes and said, 'Look at me!' He knew right away – I had to get off those meds."

The longer HCV goes untreated, the more likely it is to cause other related ailments. And so, the next chapter of Gérard's fight consisted of trying different cocktails of medication. Nothing seemed to work. When Gérard was 51, his HCV had unfortunately progressed to the point of liver cancer. He found out that he would need a transplant in order to survive.

"I was crying like a baby when I called my wife," Gérard says.

Less than an hour after his diagnosis, Gérard was at home with his wife Johanne. When he came face to face with her, though, he experienced a vivid change of heart about his situation.

"I looked into her eyes and stopped crying. I said to her, 'We have a job to do, and we're going to do it.'"

An uphill battle
It took six months before Gérard was called for a possible organ match. Fraught with adrenaline, he rushed to the hospital and began prepping for life-saving surgery. Just half an hour ahead of the procedure, though, Gérard received the crushing news that the donated liver was no good.

"The doctor explained that I would have more problems with that liver than my own," Gérard recalls. "I was disappointed, but strangely, relieved as well. Actually, I thanked the doctor – he gave me confidence that he and his team wouldn't just give me a quick fix.  They really did have my best interest at heart."

Gérard unfortunately endured one more false alarm before finally getting the green light. He and Johanne were busy cleaning the kitchen one wintry evening in January 2009 when the phone started to ring.

"We left all our pots and pans behind and raced to the hospital!" Gérard laughs.

The couple spent the night cocooned in a bed at the Royal Victoria Hospital (RVH). Meanwhile, Dr. Molly Warner – director of the MUHC Hemophilia Treatment Centre (HTC), who was already following Gérard – was hard at work coordinating a critical pre-surgery fibrinogen infusion to correct his deficiency and thus high risk of bleeding. The next morning, Gérard was successfully operated by Dr. Prosanto Chaudhury, transplant surgeon and member of the MUHC's Multi-organ transplant program. It took almost three days before doctors could fully close up the incision due to intense swelling, but ultimately, Gérard fully healed and recovered – and not just from cancer, but afibrinogenemia too.

"When they removed my old liver, they also cured my afibrinogenemia because the new liver made normal donor fibrinogen. This corrected a severe bleeding problem I'd lived with my whole life!"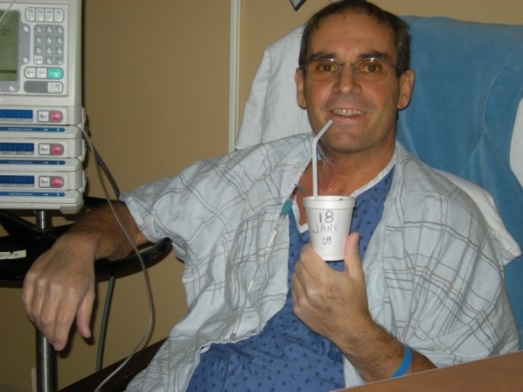 The Genest household was in a spirit of celebration. Unfortunately, though, the high didn't last long: Gérard experienced a transplant rejection a week later and his dosage of anti-rejection meds was upped. At the same time, HCV became aggressive and he was diagnosed with type 2 diabetes.

"I had to take four insulin injections every day and limit foods I really enjoyed," he says.
A few years later, Gérard endured another blow when he was forced to leave a job that he loved in computer sciences.

"That really devastated me. But I was getting too weak. I needed to stay alive so that I could see the day HCV finally had a cure."

Gérard continued fighting – and, in 2013, when he was 56, an intriguing opportunity came his way.

"Dr. Deschênes had gone to Boston for a conference and found out about an experimental medication in its last stage of testing," explains Gérard. "The company was offering two MUHC patients the treatment. I agreed without hesitation."

Gérard was instructed to take one pill per day, for 24 weeks. After just two weeks of treatment, Gérard had no more detectable traces of HCV in his blood. After 24 weeks, he was fully cured.

"I felt fantastic!" Gérard exclaims through giddy laughter. "A disease I had for decades was cured in weeks! My diabetes improved drastically too. I was able to stop the insulin injections and take one pill a day instead."

Healthiness became Gérard's new normal. His energy and concentration improved, and the aches in his body subsided. He had his life back – and now, a say in what he wanted to do with it.

"I asked Dr. Deschênes if I was healthy enough to travel. He said yes! By noon that same day, I was sitting in front of a travel agent with my wife Johanne, booking our dream trip to Italy."

A second chance
A few months later, Gérard and Johanne found themselves basking in the shimmering sunshine of Rome, Italy, on a picturesque spring day. For years, this moment had seemed like nothing more than a pipedream – but there Gérard was, recovered and healthy, travelling the world with the woman who'd seen him through it all.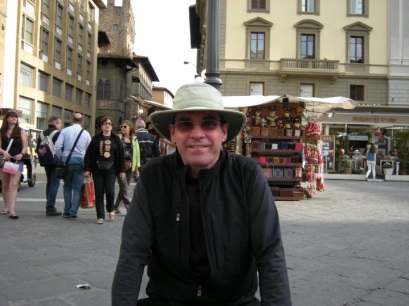 "Going to Italy was a dream come true," Gérard reminisces.

"We stayed in Rome, travelled to Florence, then ended our trip in the sweet serenity of Venice. We saw breathtaking sites and ate exquisite foods. I practiced my Italian with the locals."
Filled with renewed joie-de-vivre, Gérard and Johanne have since traveled to Italy again, and have also visited France. When Gérard isn't perusing the globe, he spends his days in the comfort of his own home reading up on all the wondrous treasures this world has to offer.

"I'm alive and well," the 62 year old says.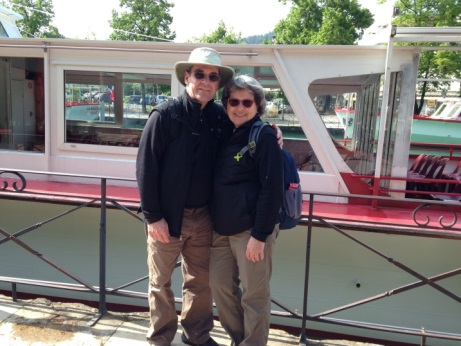 Today, Gérard is grateful for the researchers who never gave up on finding a cure for HCV and for the MUHC staff, who did everything they could to make his hospital stays as comfortable as possible. Above all, Gérard extends a huge thank you to Dr. Deschênes, Dr. Chaudhury and Dr. Warner, as well as their dedicated teams. With such unwavering support from his doctors, Gérard never felt like a lost cause, no matter how hopeless the situation seemed.

"I have confidence in our doctors and the care they give us," Gérard says with conviction. "Through many ups and downs, they found my solution to good health – and for that I say, grazie mille!"
September 5 2019