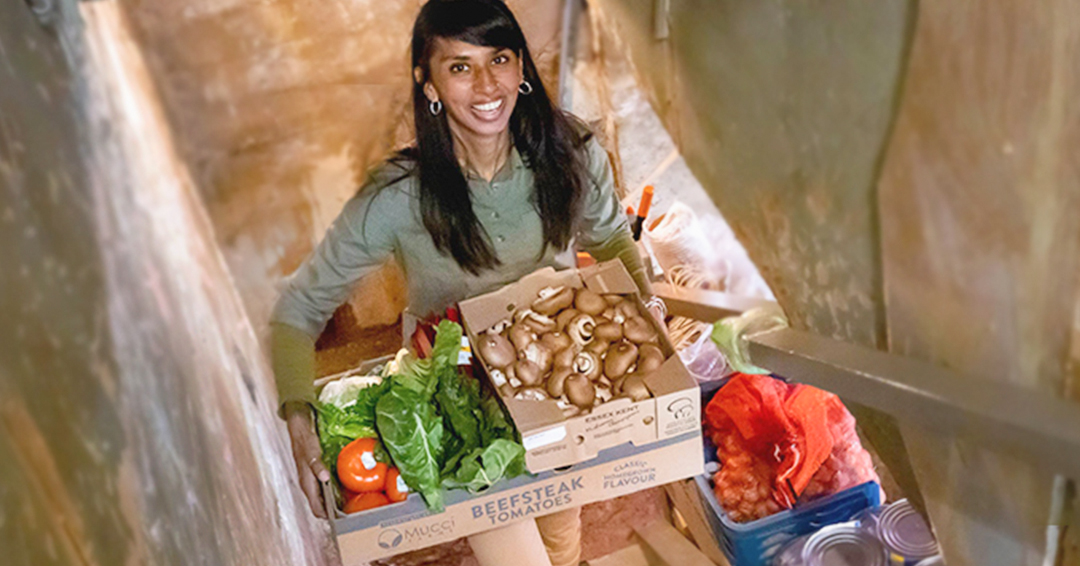 In the early days of the pandemic, Leonora Indira King, MSc'17, was hosting online workshops for Parc-Extension's Afrique au Féminin, a Montreal women's centre that helps newly arrived immigrants get on their feet.
The sessions covered topics like how to access community resources, navigate the healthcare and immigration systems, and deal with language and employment barriers. The meetings could feel heavy, and King and her fellow facilitators were looking for something to lighten the mood at the end of each session.
Participants were overwhelmingly interested in cooking tutorials. So, every week, a different woman started cooking from the comfort of her kitchen, using her own ingredients and spices, and sharing a recipe from her culture with the rest of the group.
Parc-Extension is home to a large South Asian community and many of the dishes being shared were from India, Pakistan and Bangladesh. "This was a strength of theirs," says King. "I saw the joy that cooking brought them and the way it brought them together."
Many of the immigrant women King was working with are living without status as they wait for their paperwork to go through, a process that can drag on for years. In the meantime, they have limited access to employment and crucial government services like subsidized daycare. As the workshops came to an end, King saw an opportunity for some of these women to make an income and gain financial autonomy by doing something they love.
At the time, restaurants were closed due to public health measures and King had grown tired of cooking for herself. She knew she would happily buy these meals and, after asking around her network, she learned that plenty of other people were excited about the prospect of supporting their neighbours in exchange for homemade dinners.
King worked with six women to assemble a menu. Last spring, the Parc-Ex Curry Collective was born.
The mutual-aid catering service now provides about 50 meals to Montrealers every Friday. Eight regular chefs—Deepali, Parveen, Chetna, Kamal, Sunita, Taranjit, Promila and Naila—take turns cooking in bulk out of their homes. They provide their own ingredients, and they prepare a different set of dishes each week, from Aloo Gobi and Palak Paneer to Idli Sambar and Chicken Nihari.
"They see that there's a lot of appreciation that goes into the food that they're cooking," says King. "And they have something they can rely on despite not being able to put their kids in daycare and being stuck at home and not being able to have work."
Meals can either be picked up in Parc-Ex or delivered to customers who live in surrounding areas. There are many repeat customers, and about half of the people who order from the collective also take advantage of the pay-it-forward option. This allows clients to purchase meals for community members in need, including elders and families experiencing food insecurity and exhausted nurses who could use a break from cooking.
In the beginning, King made all of the deliveries herself, but she now has a roster of volunteers who are excited to help out. Clients have also shared their web-design services with the collective and donated appliances, kitchen supplies and tupperware. In the spring, the local solidarity café La Place Commune started sharing fresh vegetables from their gardens with the chefs to help minimize their costs.
Outside of her community organizing, King is pursuing a PhD in psychiatry at McGill, specializing in family and maternal health. "There are ways that we can support people as an institution, and as a system, but there is also the importance of community and family in raising healthy children and healthy families," she says.
In Parc-Ex, many vulnerable residents either don't have access to institutions or don't feel understood by them. "We need community-led initiatives to reach those populations."
A former candidate for Parc-Ex city councillor, King wants the government to do more to support non-status people who have limited access to key services like healthcare, subsidized childcare and job training. In the meantime, the nature of the collective's work is expanding to meet various needs. Some of the chefs have formed a daycare collective and this summer, a few of the women will work together in a community garden plot donated by a neighbour.
"The initiative is growing into other things and we're allowing it to evolve as long as they're empowered and feeling like they're contributing in some way," says King. "I've seen women come to life in terms of their confidence, feeling more integrated, and feeling more hopeful about their lives here."