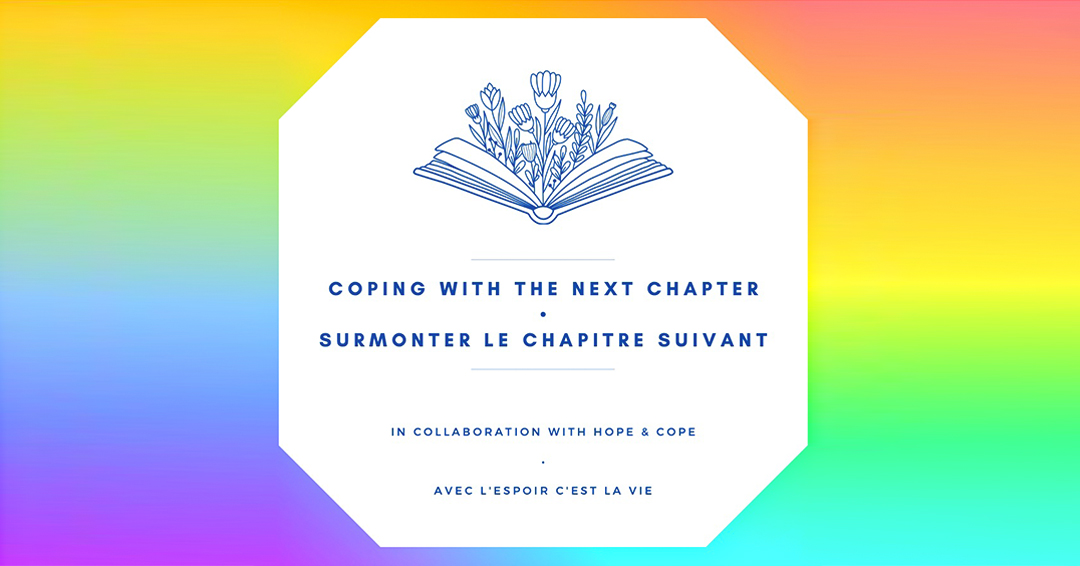 Research shows that 40% of people living with cancer experience distress. Given that cancer patients have compromised immune systems, this distress has been compounded by the COVID pandemic itself and, more recently, by the lifting of mandatory mask mandates.  
Developed by a group of Ingram School of Nursing (ISoN) students, Coping with the Next Chapter is a unique project that aims to help people cope with cancer through storytelling. 
In the fall of 2022, undergraduate students Justine Dumais, Emilia (Millie) Pintin, Olivia Purohit and Justine Tremblay did their clinical placement at Hope & Cope, a pioneering volunteer-based cancer support organization at Jewish General Hospital (JGH). Founded in 1981, Hope & Cope provides a vast array of psychosocial support and cancer wellness programs free of charge to patients and their families at every stage – from the moment of diagnosis through treatment, survivorship, recurrence and end-of-life care. 
Under the guidance of Hope & Cope Wellness Centre Manager Marcelle Kecman and ISoN Clinical Supervisor Lilly Luan, the students' task was to identify a priority issue and develop a project to address the issue. After speaking with the Centre's clients, they decided to focus on bibliotherapy – storytelling as a tool to help manage distress. Throughout the project, the students used the Strengths-Based Nursing in Healthcare approach to help clients discover and build on their strengths. 
Coping with the Next Chapter consisted of three components. The first of these was a Book Club featuring three small group interactive weekly workshops, where the students used a technique known as guided reflection, asking specific questions to help participants write their own short stories. After participating in these workshops, 90% were able to name two ways to cope with stress, 90% said the workshops helped them to socialize with others, and 90% reported that they used at least one coping technique they learned from the workshops in their day-to-day lives. 
The second component was the creation of a podcast series that delves deeper into the issues facing cancer survivors and their caregivers. Episode 1, Caregiving, features mother-daughter duo Elaine and Stephanie Glicksman, who talk about their experiences as both cancer survivors and caregivers. In Episode 2, Surviving, Deborah Bridgman, a 5-time cancer survivor, Hope & Cope volunteer and advocate for the needs of young adults with cancer, discusses her cancer journey over a period of close to three decades. The series concludes with Episode 3, Healing, featuring Dr. Gerald Batist, Director of the JGH Segal Cancer Centre, who talks about his experiences working in medical oncology, shares advice for people struggling with a cancer diagnosis and highlights the importance of psychosocial support, clinical trials, and finding meaning during life-threatening illness.  The students were pleased to report that by January 2023, 422 people from all over the world had downloaded the podcasts. 
Finally, the students created a website called Coping with the Next Chapter, where they uploaded the workshop stories, a podcast forum, story-telling guides and a bibliography for further reading.  
Wellness Centre Manager Marcelle Kecman notes that the partnership between Hope & Cope and the ISoN, which began in the fall of 2021, is a win-win for all concerned. "The students have been fabulous – beyond our expectations. They come here to learn but we learn just as much from them." 
Clinical Supervisor Lilly Luan agrees. "It is extremely gratifying to work with Hope & Cope. The members of the cancer community here really open up to our students." 
The last word goes to the students themselves, who came to Hope & Cope eager to learn from people experiencing cancer. "This has been such an impactful experience for us and it is so special to see the reach and impact of our project."  
To listen to the podcast series, click here: Coping with the Next Chapter – Episode 1: Caregiving | RSS.com 
To visit the website, click here: Home | Coping With The Next (oliviapurohit1.wixsite.com)