At what age should we start screening for colorectal cancer? New research by a McGill grad suggests that the answer is "younger than you'd think."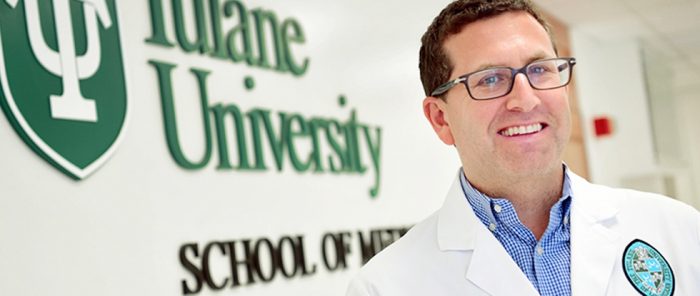 By Philip Fine

Age 50 has long been recommended as the time to start screening for colorectal cancer (CRC) because of the higher risk to those in the 50–54 category. But a study published early this year by Jordan Karlitz, MDCM'00, shows a steep CRC rate rise from the age of 49 to 50, putting that recommendation into question. Karlitz, Associate Clinical Professor of Medicine at Tulane University in New Orleans, identified a huge rise in that one-year cohort among a large US database of CRC diagnoses. He and his colleagues calculated a 46.1-percent jump of primarily invasive tumours in that one-year age transition alone. These findings support a large number of previously undetected CRC cases diagnosed with screening initiation at age 50.

"We estimate that from 2000–2015 alone, there were approximately 129,000 cases of CRC in those in the US aged 45 to 50. A lot of those cancers could have been completely prevented or at the very least caught at an earlier stage," says Karlitz, Director of Tulane's GI Hereditary Cancer and Genetics Program, whose study was published in JAMA Network Open.

"I was trying to figure out if there was an inflection point on where rates started to rise in younger people," and he discovered that point occurred between ages 49 and 50. "The reason we wanted to assess this age transition is because in the United States there's debate over whether we should start out for screening at 45 or 50," said Karlitz, whose work gives more credence to lowering the age of screening. According to Karlitz, "a novel aspect of our study is that we looked at cancer incidence rates in one-year age intervals as opposed to five- or 10-year age blocks. This allowed us to get a high-definition assessment of what is happening as patients approach screening age."

Two years ago, the American Cancer Society (ACS) began to recommend 45 as a screening age for those with average risk of the disease, but the U.S. Preventive Services Task Force, which sets that country's screening standards, as well as the Canadian Cancer Society, still recommend a starting age of 50 for people at average risk.

The reason why many of the current guidelines call for the age of 50 to start screening is because of the differing rates for the two five-year cohorts. From 45–49, there are 34 CRC cases per 100,000 while those aged 50–54 see 60.2 per 100,000.

But the two are not proper comparisons, says Karlitz. A person in the first group would have received a diagnosis due to experiencing symptoms of the disease or because family history of CRC had them screened younger, while those in the second group had an extra advantage of being at an age where regular screening begins. That additional opportunity to spot the cancer would raise the case count. "So, you're comparing two completely different populations," says Karlitz.

The rise in younger people getting the disease received widespread attention this summer with the death of film star Chadwick Boseman, who died of colorectal cancer at the age of 43, four years after diagnosis. A recent Lancet study looking at rates among 143 million people in seven industrialized countries showed rises in CRC of those under the age of 50, with Canada seeing 3.4 percent more cases per year. It also found decreases in the 50–74 age range, likely due to those being the ages when screening is recommended.

Karlitz, a steering committee member for ACS National Colorectal Cancer Roundtable, says it's still not completely clear what the risk factors are for those younger rates rising, with some suggesting that sedentary lifestyles, obesity and environmental factors play a role. Nevertheless, more screening will decrease incidences of cancers and all the inherent challenges that go along with a diagnosis, says Karlitz. "While we're figuring out what the cause is, I believe we need to lower the screening age."

Sender Liberman, BSc'96, MDCM'00, PGME'05, Program Director of the Colon & Rectal Surgery Residency Program at McGill and a former classmate of Karlitz's, appreciates what this study could do for saving lives. "When you have some new data that shows people are at risk and you get out some of that information, that will kick into gear some patients' desire to actually get tested."

But Liberman says an emphasis has to be put on getting people to see their doctors. "It's a pretty small percentage that actually get screened," he says, referring to both colonoscopies and the less invasive method of testing stool samples.

Karlitz's paper has been highly cited and is likely catching the attention of those who set recommendations for screening age. He has also done groundbreaking work on the Cajun population in Louisiana, showing how they have amongst the highest rates of colon cancer in the US. As the Cajun population is a founder population, descended from the Acadian population of northeast Canada, Karlitz is in the process of exploring the possibility of a genetic etiology, including a possible founder effect.

The US-born physician credits his training at McGill and its case-based approach for how he looks at clinical statistics. "That way of learning shaped the way I think about things and made me try and look creatively at a problem when I was out in my clinical practice. It made me more inquisitive."

To read the study: https://jamanetwork.com/journals/jamanetworkopen/fullarticle/2759846

To follow Dr. Karlitz: @jkarlitzMD

Photo credit: Cheryl Gerber. Provided by Dr. Karlitz.
November 11 2020