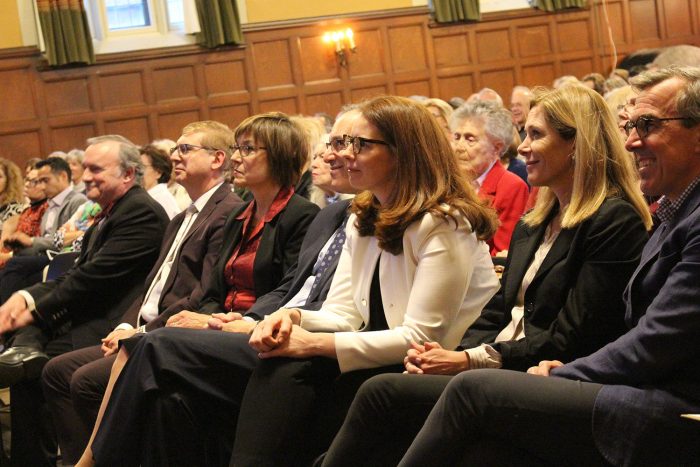 By Diane Weidner, Steinberg Centre for Simulation and Interactive Learning

As the number of dementia cases increases with our aging population, more and more families will be called upon to manage an array of challenging behaviours and cope with the progression of declining cognitive and physical functions of their loved one. To educate and empower its citizens, the City of Westmount partnered with McGill University's Faculty of Medicine and Caregiver Crosswalk Inc. to offer a free public lecture on May 15th, Understanding and preparing for the reality of dementia.

Leading experts came together to share their knowledge and expertise with the community and to provide essential information that will help families understand and access the resources needed to navigate Alzheimer's and other dementia-related diseases. Dr. Serge Gauthier, Director of the Alzheimer's Disease Research Unit at the McGill University Research Centre for Studies in Aging discussed the medical aspects and impact of the disease including the behavioural and psychological symptoms; Dr. José A. Morais, Associate Professor and Director of the Division of Geriatric Medicine at McGill University shared his advice on aging well and discussed risk and prevention strategies in dementia; and former caregiver and Certified Alzheimer Care Consultant Claire Webster shared her personal journey and lessons learned.

"Westmount is proud to bring this discussion to the forefront. The care of our seniors needs to be part of all our decision-making, from the community services we offer to the roads we build," said Mayor Christina M. Smith, emphasizing the importance of this event. "We are very grateful to McGill's Faculty of Medicine and to Claire Webster for educating us on how we can improve the lives of those battling with this disease, as well as provide support to their caregivers."

"The key to navigating the journey of dementia is education and support," explains Claire Webster.  As a former caregiver to her late mother, she has firsthand experience in dealing with the overwhelming emotional and physical impact that the disease places on the individual and family members. Claire firmly believes that from the moment a person receives a diagnosis, they need a prescription of care: "A caregiver who is properly educated and well supported will ensure the quality of care and safety of their loved one as well as their own health and well-being."

This public lecture provides a snapshot of what is being taught during monthly community dementia caregiver education workshops that are offered in both French and English and take place at McGill's Steinberg Centre for Simulation and Interactive Learning. Adopting a multidisciplinary approach, the workshops focus on the most important elements that caregivers need to know regarding dementia and its associated behavioural and psychological symptoms. A theory component helps family members prepare for the journey of caring for someone who has the disease, including best practices for ensuring their own well-being as caregivers. The workshops also include a real-life scenario component in the simulated apartment to educate caregivers on how to create a safe home environment. Simulation provides the ideal venue for caregivers to gain experience and manage difficult and delicate situations such as those encountered by patients with dementia.

This public lecture was recognized at the National Assembly by Jennifer Maccarone MNA-Députée, Westmount, Saint-Louis.

The lecture was recorded and can be viewed on YouTube at westmount.org/dementiastream and on Facebook.com/mcgillsim
Photos by Sebastian Samuel, City of Westmount
May 17, 2019