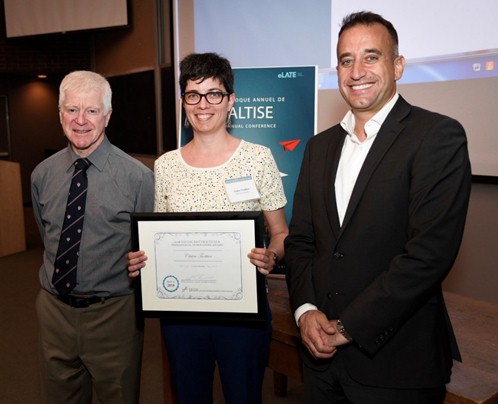 On May 31, Dr. Claire Trottier, an Academic Associate working as an Education Specialist at McGill University's Department of Microbiology and Immunology was presented with the SALTISE (Supporting Active Learning & Technological Innovation in Studies of Education) Best Practices & Pedagogical Innovators Award during the seventh SALTISE conference, an event hosted at McGill which brought together over 300 educators from across 55 post-secondary institutions in Québec and Canada. The award recognizes educators who stand out as leaders in the promotion of academic excellence, use of innovative pedagogies and support their academic communities.

"Winning this award is meaningful for me because it acknowledges the dual roles I play in advancing pedagogy at McGill as both a teacher and as a change leader," says Dr. Trottier on being selected for this award. "Leading change is not easy, and I'm really lucky to have a very strong group of colleagues who believe in the importance of McGill's educational mission, and who support me and are willing to get out of their comfort zone to challenge themselves to look at things differently."

Dr. Trottier joined the Department of Microbiology and Immunology three years ago with the mission to transform its undergraduate program in order to align it with evidence-based pedagogy. Her leadership has brought teaching and learning to the forefront of the Department. Since her arrival she has led changes to several courses, carried out a curriculum mapping exercise and organized a teaching retreat that resulted in several key decisions to make further changes, which she is now in the process of leading the implementation of, including two new courses and renewed approaches in existing courses. Dr. Trottier has also co-chaired a working group that proposed an academic vision for teaching spaces in the basic science departments of the Faculty of Medicine and successfully built the case for new investments in teaching lab equipment.

Dr. Trottier's students in particular have benefited from her arrival, with one Introductory Immunology student noting that "she truly elevates the standard for STEM educators." The student aspect to the award is not lost on her. "I think the greatest compliment I've ever received from students is when they tell me that they can tell that I genuinely care about them and about their learning," she says. "I really do care a lot. By giving me this award, SALTISE is telling me that the broader community recognizes the value of the work that I do, and more importantly, this award in general signals that caring about education is valued."

Congratulations Dr. Trottier!

(with files from SALTISE)
June 1, 2018