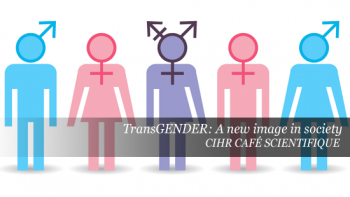 "Trans: A new image in society"
This discussion between the general public and a panel comprised of key players involved with the transgender communities in Montreal, will aim to demystify what gender variance is, differentiate gender identity from sexual orientation, break down societal preconceptions, inform us about latest research, and identify and debate daily challenges for people with gender variance and for their families.
When: Wednesday, June 4, 2014 at 6 p.m.
Where: Monument National, 1182 St. Laurent Boulevard, Montreal
The discussion will be moderated by Dominique Forget, science journalist at Québec Science magazine.
Our panel:
GABRIELLE BOUCHARD, Peer support and Trans advocacy Coordinator, Centre for Gender Advocacy
DR PIERRE BRASSARD, Director of the Centre Métropolitain de Chirurgie Plastique
DR PIERRE CÔTÉ, Family physician at the Clinique médicale du Quartier latin
DR SHUVO GHOSH, Director of the Gender Variance Program, The Montreal Children's Hospital, MUHC
SOPHIE LABELLE, Author and liaison for Gender Creative Kids Canada
FRANÇOISE SUSSET, Clinical psychologist and co-founder of the Institute for Sexual Minority Health
The event is open to people from all walks of life and all generations, from any sexual orientation and gender identity. Come one, come all!
Free entrance – Snacks and beverages will be served – Bilingual discussion
This event is co-organized by Dr. Jean-Pierre Routy and Dr. Bertrand Lebouché, MUHC clinician-researchers.
Contact: 514-843-1560 or cafe.scientifique@muhc.mcgill.ca

For more info about the CIHR Cafés scientifiques, click here.

May 22, 2014