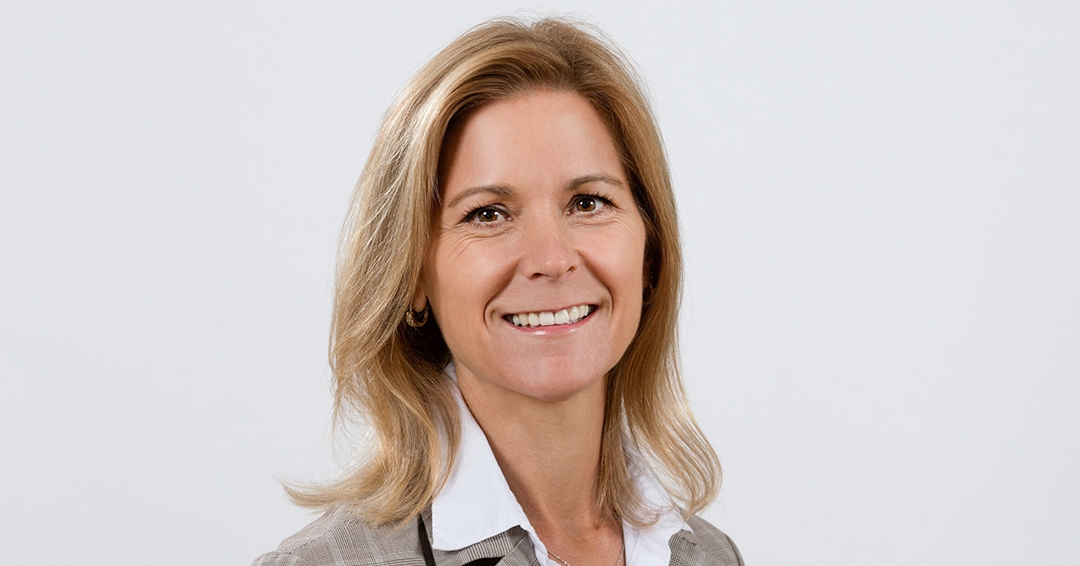 Improving quality of life for cancer survivors is the goal of Prof. Christine Maheu's research program on post-cancer issues such as returning to work after cancer and fear of cancer recurrence.
This is the second in a series of articles about research at the Ingram School of Nursing entitled How Nursing Research Improves Lives.
When Christine Maheu began working as a nurse at the age of 19 after graduating with a DEC from John Abbott College, graduate school was the last thing on her mind. Five years later, upon realizing that promotions were out of reach without a college degree, she enrolled in university for the first time and, surrounded by books and eager students, felt immediately at home. She quickly developed an interest in research and completed a master's degree, a doctorate, and two post-docs, where she discovered her calling as a cancer survivor researcher. "I don't like routine, and I find that research provides me with this ongoing feeling of movement, change, edge, and excitement! Every day offers the chance to learn something new," she explains.
Associate Professor and researcher at McGill's Ingram School of Nursing (ISoN) since 2012, Professor Maheu is also a Clinical Scientist with the Cancer Program at the McGill University Health Centre Research Institute. Her research program focuses on post-cancer issues such as returning to work after cancer, fear of cancer recurrence, stress, uncertainty, coping, and the transition of post-cancer follow-up from tertiary oncology to primary health care.
It was while she was a postdoctoral student at the University of Toronto that Prof. Maheu was surprised to learn just how common and how devastating the fear of cancer recurrence can be. "Anywhere from 50 to 90 percent of cancer survivors will experience different levels of fear of recurrence, from mild to clinical," she notes. Her post-doctoral studies consisted of developing and pilot testing a six-week intervention called FORT – fear of recurrence therapy – where she then tested FORT within a randomized controlled trial with women with breast and ovarian cancer (Maheu et al., 2023). FORT involves many strategies to manage the fear of cancer recurrence, including cognitive reframing, calming self-talk, and relaxation. She explains, "The idea is not to avoid the negative thoughts but to face them and reframe them into more realistic and likely outcomes after considering the evidence that supports or refutes them." For example, if shoulder pain appears suddenly, participants are taught to assess possible reasons for the pain other than recurrence, such as starting a new fitness program or overuse of the shoulder. The next step would be to develop a self-management restructuring plan: "I'm not going to worry about this pain now, but if the pain doesn't go away in a week, I'll call my doctor."
Prof. Maheu and her research team have evaluated FORT in multiple settings over the years, publishing their findings in journals such as the Canadian Oncology Nursing Journal, Health Psychology (American Psychological Association), Psycho-Oncology, Current Oncology, BMC Cancer, and the European Journal of Oncology Nursing.
Prof. Maheu's research program also addresses the need for support with post-cancer return to work – a significant unmet need among cancer survivors that impacts their quality of life. Along with BC Cancer's vocational rehabilitation counsellor, Maureen Parkinson, and a team of content experts, Prof. Maheu created Cancer and Work (www.cancerandwork.ca), a website featuring over 500 pages of content, eight online tools, webinars, and testimonial videos. Since its launch in 2016, this evolving, evidence-based site has averaged 850 visits per week.
In addition to being a Canadian resource on the subject of cancer and work, the website serves as a platform for research by Prof. Maheu and her graduate students. Two recent studies examine the effects of cancer on self-employed Canadians, one of which focuses on the effects of cancer on their financial, business, and professional well-being. With funding from the Canadian Partnership Against Cancer, Prof. Maheu, Maureen Parkinson, and a team of primary care providers and nurse practitioners developed an online accredited module to support the return to work of cancer survivors.
As Professor Maheu notes, a research career is not for the faint of heart. Grant funding can be extremely competitive. For example, only 13% of the 2,000 research proposals submitted to just one competition program at the Canadian Institutes of Health Research (CIHR) are funded. Another challenge involves finding the time to publish one's findings and publishing in prestigious and specialized journals. "Knowledge translation and dissemination of research findings is an important part of what we do," she says.
Ultimately, Professor Maheu believes that the benefits of research greatly outweigh the obstacles. Having the opportunity to work with interdisciplinary teams, supervising master's and doctoral students, and contributing to the advancement of nursing science are all rewarding facets of a researcher's career. "There is so much to investigate and many ways to make a difference in nursing research. It is incredibly gratifying to know that our interventions are improving the quality of life of cancer survivors and their loved ones."