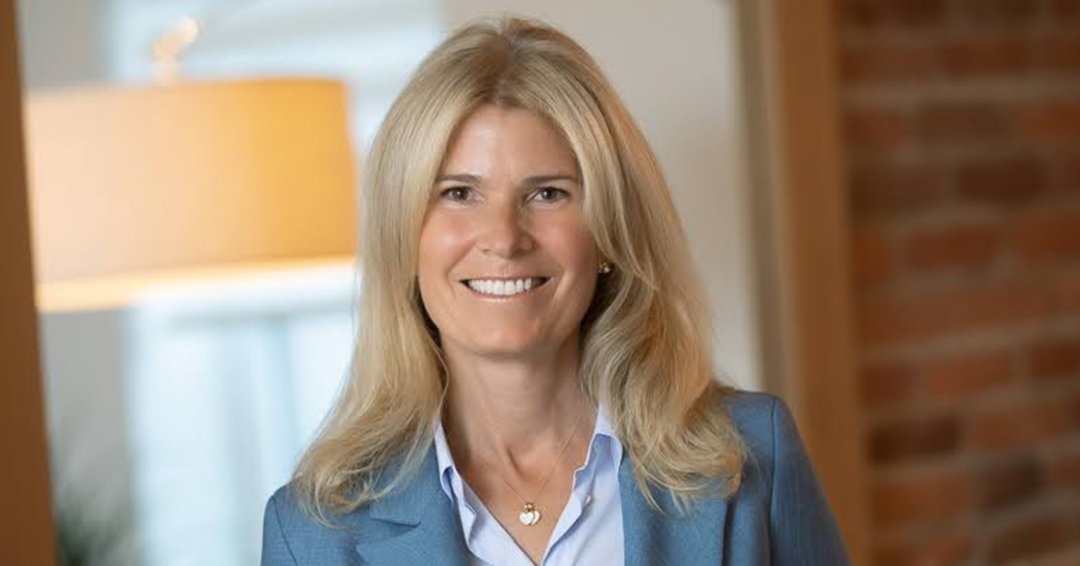 Claire Webster, recipient of this year's Honora Shaughnessy McGill Ambassador Award, shows the world how to do right by those caring for a loved one living with dementia.
It all began with Claire Webster telling her story. An advocate for improved patient and family care, and an active member of an Alzheimer's support group, she was asked to speak to students about the difficulties she faced caring for her mother, Vieno Leskinen, whose final years were greatly impacted by the disease.
Since then, Webster has helped make workshops for caregivers—or, as is now the preferred term, care partners—of dementia patients an important McGill offering. She has also provided momentum to the health professions and society at large to recognize and ease the plight of this under-recognized, underserved group.
That work has led to Webster being recognized at the McGill Alumni Association Honours & Awards Ceremony during Bicentennial Homecoming this September with the Honora Shaughnessy McGill Ambassador Award. The award is given to a person who has made an exceptional contribution to the University as a role model and in fostering friend-raising, loyalty, professionalism and team spirit.
"I'm incredibly grateful," Webster says. "It's a privilege to be working with one of the best universities in the world. The fact is that they took a chance on an ordinary citizen like myself."
In 2011, Webster was invited by Prof. Dana Anaby to guest-lecture at the School of Physical and Occupational Therapy (SPOT). She had been spending much of her time taking care of her mother (who died in 2016), and had been frustrated by a system that seemed to offer little navigational help to those caring for people with dementia.
She has been invited back each year since and has been using the lectures as an opportunity to teach the importance of compassion and care, and anchors them in an emotional connection to the subject. "I found it difficult to get through the lecture without crying," recalls Webster of her first one. She wanted the students to understand her mother's situation but also for them to empathize with the care partner. "At the end of the lecture, the students were lining up to give me a hug."
SPOT Associate Professor Isabelle Gélinas, PhD'95, suggested she share these lectures with other students in Medicine and Health Sciences. Webster, who following her mother's diagnosis was sent off with a "Good luck, Mrs. Webster" and little advice for the many challenges she would face, had resolved to take action against the gap in resources for care partners.
At the Faculty of Medicine and Health Sciences, it was decided to set up a meeting with Claire and then director of the Steinberg Centre for Simulation and Interactive Learning (SCSIL), Dr. Raj Aggarwal.
"So, Raj gives me the tour and says 'Are you ready?' He opens a door and says 'This is where you will be teaching. Here is your classroom.'" It was a simulated apartment, with an adjacent observational room. She was impressed. "I said, 'What is this?'" referring to the appliances and furniture that would be used in educational scenarios. Webster would eventually work with the team at the SCSIL to write the scripts for those playing a mother with Alzheimer's and her daughter who is caring for her. The scenarios would bring to life, in a learning environment, the challenges faced by people with dementia living on their own.
The Dementia Education Program (DEP) is now a mainstay of the Faculty's community outreach. Two leading Alzheimer's authorities, Dr. José A. Morais, Director of the Division of Geriatric Medicine at McGill, and Dr. Serge Gauthier, Emeritus Professor in Neurology and Neurosurgery, McGill University, co-lead the program with Webster.
"As a doctor, when a problem goes beyond your scope, it's good to have this other place to refer them to," says Morais, who adds that Webster brings to the workshops a lived and relatable experience.
When COVID-19 hit, the DEP launched McGill Cares, a webcast series that features interviews with leading experts on topics related to caring for a loved one with dementia. They also partnered with the Alzheimer Society of Montreal to create The Sharing Room, a virtual support group that provides a safe space for care partners to connect and share their experiences.
Last month saw the launch of a free educational resource for care partners, Dementia, Your Companion Guide, thanks to a donation from the Grace Dart Foundation.
The leaders of the DEP have also made strides academically. Alzheimer's Disease International (ADI) asked McGill to deliver two editions of the World Alzheimer Report on the topics of diagnosis and post-diagnostic support, the first of which was presented in September.
"You got a real winner," says her workshop co-leader Serge Gauthier. "We need more like her, people with a passion."
Webster has also been instrumental in McGill raising nearly $2 million in philanthropic commitments towards the DEP.
"Claire is a dynamo," says David Eidelman, MDCM'79, Vice-Principal (Health Affairs) & Dean of the Faculty of Medicine and Health Sciences. "She brought this Program into existence, and continues to work very hard for it, especially as an ambassador."
Webster continues to dream big for the Program. She would like it to one day provide training to an even larger audience, including first responders, workers in long-term care residence and security training staff at airports; to develop an accreditation program for private residences and homecare agencies; and to advocate for a provincial public awareness campaign.