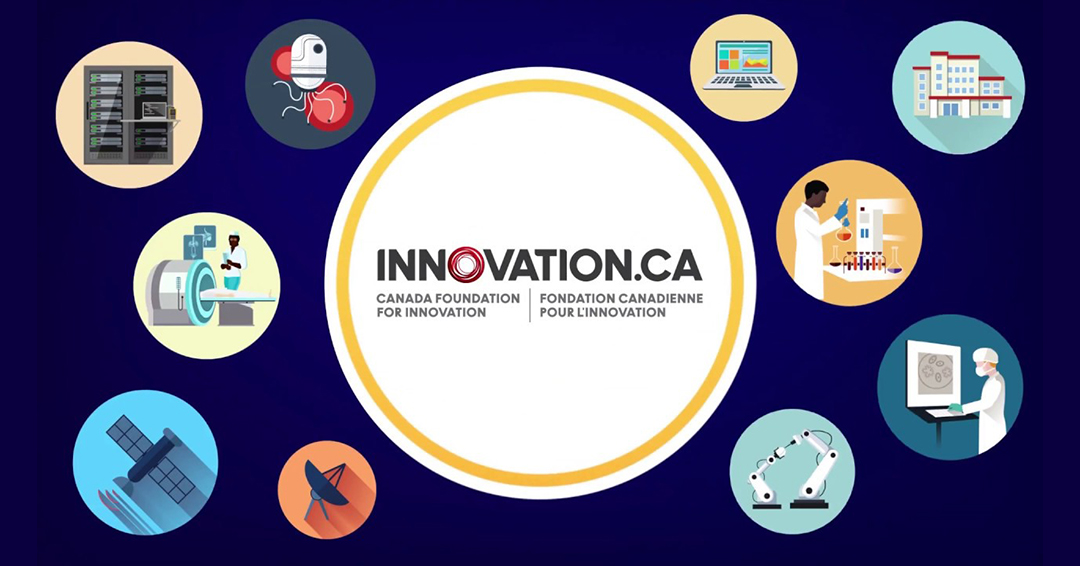 15 projects are funded through the John R. Evans Leaders Fund to tackle global challenges, including developing better treatment programs for complex diseases
Announced today by the Honourable François-Philippe Champagne, Minister of Innovation, Science and Industry, 15 McGill researchers received a total of $3.9 million from the Canada Foundation for Innovation's John R. Evans Leaders Fund (CFI JELF). The Quebec government will provide matching funds for these awards. Across 40 Canadian institutions, Champagne announced $64 million to support 251 research infrastructure projects.
CFI's JELF was created to help institutions recruit and retain outstanding researchers and to support them to build or acquire the necessary tools or infrastructure to lead cutting-edge research programs. This enables McGill to remain internationally competitive in areas of research and technology development that align with the university's strategic priorities.
"Each of the fifteen projects funded today are excellent examples of how strategic investment in university infrastructure and cutting-edge instruments benefits the public," said Martha Crago, Vice-Principal, Research, and Innovation. "The Canada Foundation for Innovation together with the Government of Quebec has ensured that McGill's researchers have what they need to push the frontiers of knowledge and to address global challenges, such as those posed by complex and chronic diseases."
State-of-the-art tools for transformative cancer therapies
According to the Canadian Cancer Society, an estimated 225,800 people in Canada were diagnosed with cancer last year, and 200 die from cancer every day. McGill's Hanadi Sleiman is working to change these sobering statistics through precision therapies that target cancer-specific mutations and leverage the patients' own immune system to kill tumour cells. Therapies for breast cancer would particularly benefit from this strategy.
"Nucleic acids (DNA and RNA) are a new form of therapeutics— they can engage targets that are otherwise "undruggable," says Sleiman. "Unfortunately, their clinical use is hindered by things such as poor stability and lack of effective delivery into organs other than the liver.  With the purchase of this state-of-the-art infrastructure made possible by the CFI and provincial grants, my lab will be able to optimize nucleic acids for precision oncology."
Apples or ice-cream?  
Why do we eat the way that we do, and how can we maintain a healthy diet? These are questions McGill Assistant Professor Daiva Nielson of the School of Human Nutrition is seeking to answer. With the support of the CFI and the Government of Quebec, Nielsen will establish the Sensometric Lab to investigate what influences human eating behaviour, for example, genetic predispositions, the role of price promotions and advertising, as well as other sensory stimuli, like smell. The lab will be equipped with novel wearable devices to monitor and map the brain's activity related to eating. The accumulated data will shed light on how genetic backgrounds and retail experiences shape our food choices. This experimental research will be complimented by a first-in-Canada community food pharmacy initiative that will test the concept of "food as medicine" for the management of type 2 diabetes. Much as one can get a prescription to treat a medical condition, the food pharmacy pilot project will prescribe personalized nutrition for disease management.
Stretching the global communications link
Since the start of the COVID-19 crisis, when many people were suddenly forced to work and study online, calls for increased Internet performance and reduced costs have grown louder. Video streaming and cloud storage applications have only exacerbated the voracious demand for bandwidth. This is a call McGill Engineering Professor David Plant is working to answer. Every time Canadians access the Internet, the optical transmission systems that form the backbone of the global communications network are engaged at incredible speeds. Optical fibre transmission systems are used to transmit information over distances ranging from half a kilometre to thousands of kilometres.
Plant is pursuing scientific and engineering breakthroughs to advance the fundamental design of these systems, thereby increasing their capacity. So optimized, Canadians could expect increased Internet download speeds and reduced costs for usage. "Thanks to the funding from CFI and Quebec, we are in a position to advance the technologies of the ever more important optical fibre transmission systems that power the Internet," said Plant.
Complete list of CFI Funded Projects in this round (all projects receive Quebec matching funds):
Pouya Bashivan, Department of Physiology
Building a Generalized Model of Working Memory in Human Lateral Prefrontal Cortex
$103,422
Thomas Durcan, Department of Neurology and Neurosurgery (The Neuro)
An Automated High Content Platform for the Rapid Imaging of 3D Brain Organoids
$788,188
Gregory Fonseca, Division of Experimental Medicine
Application for a FACS for Human Cell Selection
$100,927
Daniele Malomo, Department of Civil Engineering
A Virtual Reality-compatible Mobile Research Lab for Field-informed Seismic Analysis of Old Buildings
$80,000
Romina Mizrahi, Department of Psychiatry
Molecular Neuroimaging in Psychosis and Substance Use Disorders
$262,301
Alessandro Navarra, Department of Mining Engineering
Virtual Reality of the Mining Ecosystem
$91,800
Daiva Nielsen, School of Human Nutrition
Development of a Sensometric Lab and Community Food Pharmacy
$116,900
David Plant, Department of Electrical and Computer Engineering
Systems and Technologies for Ultra-high Capacity Optical Fiber Transmission Systems
$420,333
Natalie Reznikov, Department of Bioengineering
Cryo-SEM/Cryo-FIB/SEM Preparation System
$155,060
Selena Sagan, Department of Microbiology and Immunology
Laboratory for the Study of Viral Biomolecular Condensates
$99,700
Xujie Si, School of Computer Science
Scalable Neuro-Symbolic Reasoning for Software 2.0
$82,891
Jonathan Sievers, Department of Physics
A Deployable Back-end for Radio Astronomy
$452,199
Hanadi Sleiman, Department of Chemistry
DNA Nanostructures for Precision Cancer Therapy
$228,403
Michael Witcher, Division of Experimental Medicine
Platforms to Monitor DNA Damage Repair in Cellulo and Identify Clinically Relevant Biomarkers
$799,793
Elizabeth Zimmermann, Faculty of Dentistry and Oral Health
Oral Rehabilitation Research Unit of Montreal (ORUM): Advancing Clinical Research in Restorative Oral Healthcare
$187,758