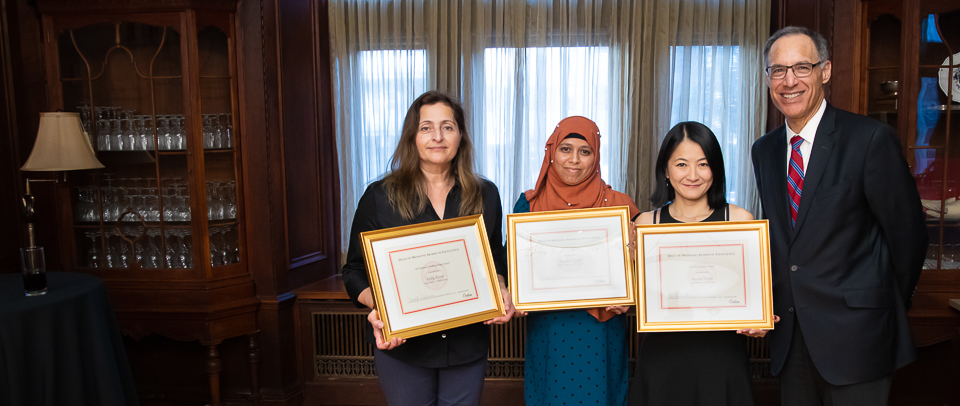 On Thursday, September 19, the 2019 edition of the Ovation Awards was held in Holmes Hall, honouring the year's winners of the Dean of Medicine Awards of Excellence, meant to applaud the outstanding contributions of permanent administrative support staff and technicians from across the Faculty and its Schools. The awards recognize high performance, above and beyond expectations, creative problem-solving, initiative, dedication, motivation and contribution to morale of Faculty staff classified as Clerical (C), Technical (T) or Management (M) with three awards.

"Our administration teams are the heart and soul of the Faculty of Medicine, across our departments and schools," noted Dr. David Eidelman, Vice-Principal (Health Affairs) and Dean of the Faculty of Medicine, who served as host of the ceremony. "The three people we are celebrating today are recognized for going above and beyond expectations. Their initiative, dedication and motivation are crucial components to the Faculty's success. Each of them personifies excellence in administration and are most deserving of these awards."

The Priyabrata "PB" Mukhopadhyay Award, for the T classification, was given to Vicky Kottis, Lab Coordinator in the Department of Biochemistry; the Anne McCormick Award, for the M classification was presented to Rowshan Akhter, Administrative Officer in the Faculty of Medicine's Human Resources department; and the Pamela Chase Award, for the C classification was given to Kazué Narita, Senior Administrative Coordinator at the Department of Psychiatry.

"I feel truly privileged to work with such an incredible group of colleagues within the Faculty of Medicine," said Rowshan Akhter. "I am extremely honoured to be selected as this year's recipient of the Anne McCormick Award. The recognition makes me feel that I am an essential component to the Faculty's success while providing a great boost to my personal confidence."

"Working in the Department of Psychiatry alongside those who are passionate advocates for mental health and development of psychiatric research is a true source of pride for me," added Kazué Narita. "Celebrating the department's 75th anniversary last year with those who I admire and respect was a highlight of my time at McGill, as is being both nominated and selected for the Faculty's Pamela Chase Award. I'm fortunate to be a member of this incredible team and look forward to future challenges."

Congratulations Vicky, Rowshan and Kazué!

September 20, 2019