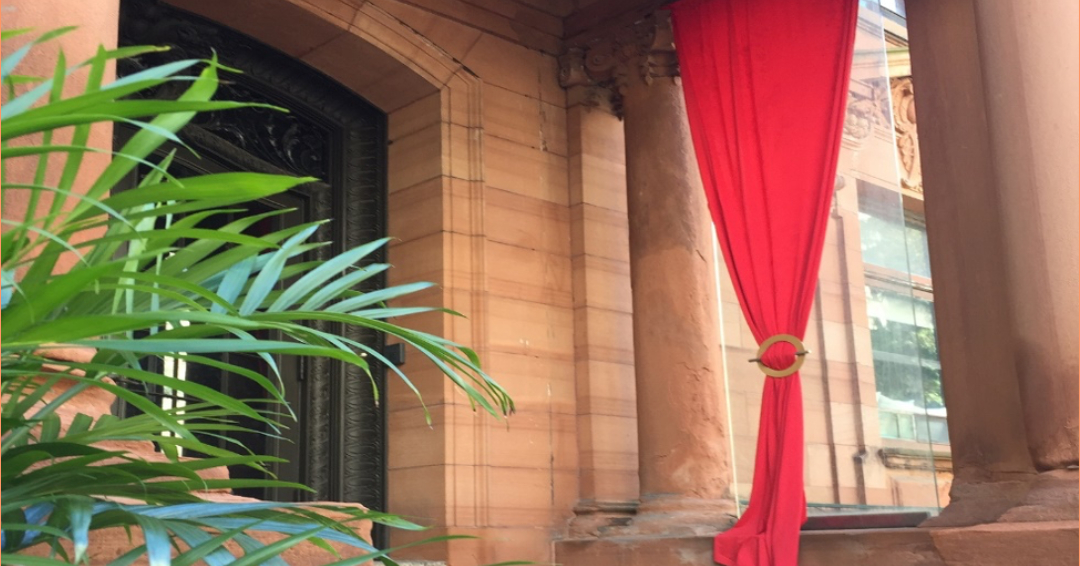 SPOT's annual Strawberries & Champagne Reception took place at Convocation and included the inaugural Max Folkersma Prize for Perseverance. Congrats to all the award winners!  
At the School of Physical and Occupational Therapy (SPOT), the month of May is a time to celebrate our graduates and give kudos to those who have distinguished themselves. SPOT offers students several awards, prizes, and fellowships at various points of their studies in the eight programs to honour academic excellence and exceptional achievements. The awards are presented each year at the School's Strawberries & Champagne Reception on the day of Spring Convocation. A photo gallery from the reception is here. 
In 2023, a new award was bestowed, the Max Folkersma Prize for Perseverance. It was established in 2022 in memory of Max Folkersma, BSc(PT) 1997, an incredible human, physiotherapist, mentor, and inspiration to those who knew him. The award is given on the recommendation of classmates to a student who has demonstrated resilience and perseverance over the course of their time at McGill, despite obstacles in their academic, professional, or personal life.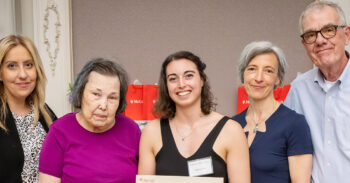 The first recipient of this new award was Noémie Tito a graduate of the Masters (Applied) in Physical Therapy program. During her time at SPOT, Noémie was a student leader of the 2021 edition of the Interprofessional Global Health Course, a communication assistant for the Global Health Rehabilitation Initiative, and occupied various leadership positions in the SPOT student community. She was the representative for the National Student Assembly – Canadian Physiotherapy Association, the Association Québécoise de la Physiothérapie, and the Sports Physiotherapy Canada – Quebec chapter.  When asked about her memorable experiences at McGill, she explains, "They have been within the Global Health Rehabilitation Initiative and being able to connect with like-minded students across the university, about how they perceived rehabilitation in global health contexts and interacting with different experts in the field.  My curiosity about global health was piqued and this led me to do international clinical placements, one in Nunavik and one in India which have been extremely rewarding and educational." 
A warm and sincere congratulations to all SPOT graduates and 2023 award recipients! 
Judith Kornbluth Gelfand Pediatric Fellowship: Mallory Ryan  
Barbara Rosenthal Prize: Zoë Edger-Lacoursière 
Kavita Kulkarni Memorial Prize in Rehabilitation Science: Palak Vakil  
Margherita Rapagna Memorial Prize in Rehabilitation Science: Azba Shaikh 
Gloria Gilbert Chronic Pain Award: Emily Crowley, Adriana Ferreira, Anthony Lopez  
Dr. Beverlea Tallant Occupational Therapy in Mental Health Research Award: Valerie Boileau, Mégane Foucault, Katherine Martakis, Erika Parent 
Patricia Ann MacDonald Wells Van Daele Memorial Award: Kenya Morales Fajardo 
Dr. Alice Chan Yip Multiculturalism Award: Mathieu Simard  
Kay Rothman Amor Wolofsky Travel Award (PT): Noémie Tito 
SPOT Alumni Travel Award (OT): Cassandra Maffei  
Helen M. Gault Award (OT): Elliot St-Pierre 
Helen M. Gault Award (PT): Noémie Tito 
Canadian Association of Occupational Therapists' Award: Sara Michelle Doyle  
Edith Aston-McCrimmon Professional Award (OT): Tamara Sogomonian 
Edith Aston-McCrimmon Professional Award (PT): Mariama Keita  
Max Folkserma Prize for Perseverance: Noémie Tito 
Nicol Korner-Bitensky Altruism Award (OT): Alex Dam  
Nicol Korner-Bitensky Altruism Award (PT): Amy Gan, Erin Keough 
Carol Rutenberg-Silver Memorial Award: Thaninna Hamadou  
Sandra Perlman Memorial Prize: Byungjin James Kim 
L'Ordre professionnel de la physiothérapie du Québec (OPPQ) Clinical Prize: Bianca Tomoiaga 
Association québécoise de la physiothérapie (AQP): Gloria Di Iorio  
CAMPT Award: Byungjin James Kim 
Canadian Physiotherapy Association Award: Arielle Simard  
Canadian Physiotherapy Association Leadership Award: Noémie Tito 
Canadian Physiotherapy Association Cardio-Resp Division Student Award: Zun Zhu  
CPCRS CPA Cardioresp Society Award: Noémie Tito 
L'Ordre des ergothérapeutes du Québec Award Clinical Prize of Excellence: Julia Saracino 
Canadian Occupational Therapy Foundation-Future Scholar Award: Chelsea Bloom, Noa Hitterman, Tina Ivanov, and Arianne Senecal