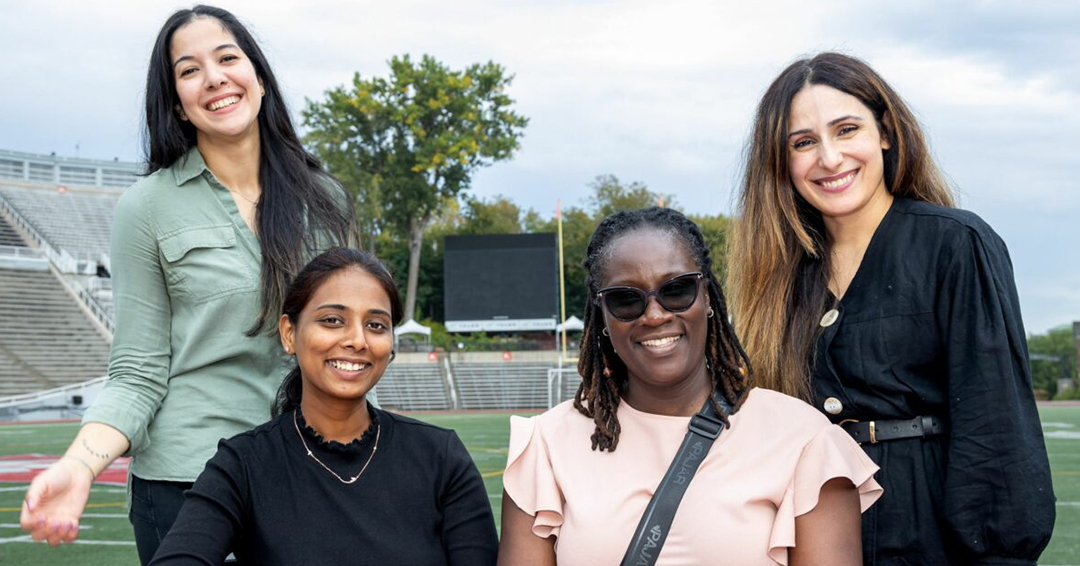 On Tuesday, September 13, 2022, the Faculty of Medicine and Health Sciences hosted its first-ever Community Celebration Breakfast to say a huge thanks to its outstanding administrative and support staff for their incredible contributions, resilience and commitment to the Faculty.
All smiles
Breakfast, specialty coffees and smoothies were on offer on the field at the Percival Molson Stadium, along with a photobooth and sports activities. With the sun peeking through the clouds and a bit of drizzle here and there, more than 350 people attended the event, bringing along their good cheer, ear-to-ear smiles – and umbrellas!
The event was the brainchild of Demetra Kafantaris, Executive Director of Administration and Operations and leader of the event organizing committee. "I thought it was very important to create something safe and fun for our admin and support staff to come together in a spirit of connection and celebration," she says. "With so much of the last two and a half years spent apart and isolated, I wanted to give our team members a chance to interact and enjoy tasty food and drinks. The breakfast event was a simple expression of thanks for everyone's hard work and resilience, and the smiles and laughter I witnessed that morning were truly gratifying. I know that I was smiling all morning and got in many healthy steps in the process!"
Attendee and FMHS newbie Maxime Pirenne, Program Administrator for the Department of Family Medicine, says the event hit the mark for him, and was a great opportunity to meet his new colleagues and have some fun. "I met people from many different departments, got dragged to do a McGill photoshoot and played some frisbee with the IT crew," he says. "Overall the event was…eventful!"
Mingling in the rain
The Community Celebration Breakfast was a milestone event in many ways: it was a first of its kind recognition event that brought together administrative and support staff from all six of the Faculty's Schools; it was the first large-scale in person Faculty event since COVID-19; and it was a closing event of our Faculty's Bicentennial celebrations.
Several members of the Faculty leadership were on hand to volunteer and thank our stellar FMHS admin and support staff, including VP-Dean David Eidelman and Associate V-P and Vice-Dean, Samuel Benaroya, among many others. Between handing out coffee and chatting with staffers, Dr. Benaroya remarked, "In spite of the many pandemic related challenges, we all, often in isolation, gave ourselves to support our Faculty. It was wonderful to greet all of you – and to be able to play frisbee with you once again!"
Thanks to all who attended and to all our volunteers!
Please click on the photos below to launch our Community Celebration slideshow.