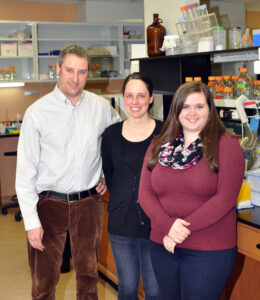 IRCM researchers discover a new function of the bone associated with energy and glucose metabolism
A team of researchers at the IRCM led by Mathieu Ferron, PhD, an Adjunct Professor in the Department of Medicine (Division of Experimental Medicine) at McGill University,  in collaboration with researchers at Columbia University, discovered a new function of the skeleton associated with diabetes and obesity. The scientific breakthrough, published today in the scientific journal The Journal of Cell Biology, reveals how a hormone produced by bones, and controlled in part by vitamin K, can influence the whole body's energy and glucose metabolism.
Dr. Ferron's team studies osteoblasts, the cells responsible for bone formation. More precisely, the researchers are interested in a hormone produced by these bone cells, called osteocalcin, which is involved in controlling insulin and glucose.
"Our previous work had shown that osteocalcin can improve glucose intolerance in diabetic mice," explains Dr. Ferron, Director of the Integrative and Molecular Physiology research unit at the IRCM. "In fact, we demonstrated this hormone increases the production and secretion of insulin by the pancreas, as well as sensitivity to insulin in peripheral tissue such as muscle and body fat."

Click here for the full press release.