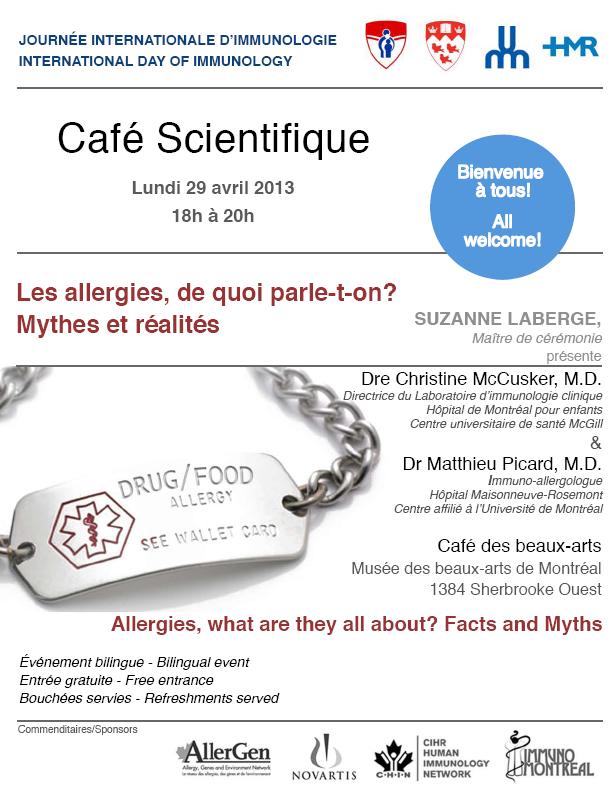 Did you know that allergic diseases have increased significantly over the past two decades? In Canada alone, 30 to 35 per cent of individuals suffer from allergies.

Sufferers and their families experience a significant decrease in their quality of life, and reduced productivity at home, school and work place. The impact can be devastating and, at times, life threatening. But what are allergies and how can medical research help us better understand them?

On Monday, April 29 2013, International Day of Immunology, join Montreal leaders in health research and clinical care from the Research Institute of the McGill University Health Centre(RI-MUHC)/McGill University and Hôpital Maisonneuve-Rosemont/University of Montreal, for a discussion surrounding allergic diseases, being organized in collaboration with the CIHR Human Immunology Network (CHIN) and Immunology-Montreal.

This is your opportunity to learn about allergy facts and myths, and about the latest in medical research and new treatments.

WHEN: Monday April 29th, 2013 from 6pm to 8pm

WHERE: Café des Beaux-Arts, Musée des Beaux-Arts de Montréal, 1384 Sherbrooke West

WHO:

Dr. Christine McCusker

M.D. Director of the clinical immunology laboratory

Montreal Children's Hospital, McGill University Health Centre

Dr. Matthieu Picard

M.D. Immunologist-Allergist

Maisonneuve-Rosemont Hospital, Centre affiliated to the University of Montréal

Suzanne Laberge, ex-journalist and news broadcaster at Radio-Canada, will moderate the discussion.

FREE ENTRANCE – BILINGUAL DISCUSSION – REFRESHMENTS SERVED

For more information, please contact Julie Robert at 514-934-1934 ext. 71381 or julie.robert@muhc.mcgill.ca

April 12, 2013