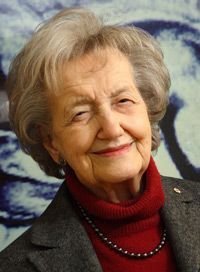 November 21, 2012 – Dr. Brenda Milner is being inducted into the Canadian Science and Engineering Hall of Fame. The induction ceremony takes place at the Canada Science and Technology Museum in Ottawa. Other inductees are physicist and educator Dr. Ursula Franklin and aviation pioneer J.A.D. McCurdy.

Dr. Milner, an active researcher at the age of 94, is the Dorothy J. Killam Professor at the Montreal Neurological Institute and Hospital of McGill University and the MUHC.  Dr. Milner has had an extraordinary influence on the shape of neuroscience, unraveling the mysteries of the brain during her six-decade long career. Working with HM and many other patients, her fundamental discoveries about memory and brain function created the field of cognitive neuroscience.  Her discoveries on hemispheric interactions and the crucial function of specific brain regions such as the hippocampus have directly impacted the lives of patients undergoing neurosurgical procedures around the world.

Dr. Milner remains active in the field and continues to teach and mentor the next generation of scientists and doctors. In 2007, she created the Brenda Milner Foundation to support and foster young researchers in the field of cognitive neuroscience through postdoctoral fellowships at The Neuro.

Read the full story on The Neuro's website

To learn more about the Canadian Science and Engineering Hall of Fame, click here
November 21, 2012