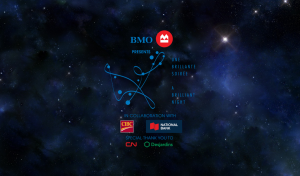 By Shawn Hayward, The Neuro
Brain cancer begins in stem cells, targeting them may prevent tumour growth

Researchers at the Montreal Neurological Institute and Hospital (The Neuro) have found an exciting new way of treating brain cancer.

Late stage brain cancer cells are heterogeneous — they differ down to the molecular level. This makes developing treatments at this stage difficult, because a drug that may be effective against one cell may not be effective against another.

Researchers found a common pattern of organization in all cancers. Targeting cancer cells based on this common pattern is a promising way around the heterogeneity problem. To unravel the complex patterns which make up heterogeneity, they performed the largest single-cell RNA sequencing project in cancer history. They mapped cancer cells to normal human brain cells and found that cancer mirrors the developing brain. This ambitious project was made possible with funds from The Neuro's annual brain cancer fundraiser, A Brilliant Night.

Using this RNA sequencing, the researchers determined that brain cancer cells diverge from normal healthy cells at the stem cell stage. Stem cells are special cells that can become any cell in the brain. The equivalent cells in cancer give rise to all the cancer cells and drive tumour growth. Identifying and targeting these cells is an exciting new avenue of brain cancer treatment. The researchers plan to apply these findings to clinical trials in human patients in the next one-to-two years.

"This discovery is significant because it is the key to developing new therapeutic targets to prevent cancer cells from duplicating and spreading," says Dr. Kevin Petrecca, Chief of Neurosurgery at The Neuro and head of its Brain Tumour Research Centre. "This concept, that just a short time ago seemed like an impossibility, is now a reality."

Since 2015, A Brilliant Night has raised more than $2.5M for brain cancer research at The Neuro. The fourth edition will take place on Oct. 18, 2018, at the Windsor Station in downtown Montreal. For more information, visit: https://www.abrilliantnight.com/english

This year's A Brilliant Night is sponsored by BMO Financial Group, CIBC, National Bank Financial, CN, Desjardins, ABB, Agropur, Caisse de Dépôt et Placement du Québec, CGI, Construction CAL, Courchesne Larose, Fednav, KPMG, Logistec, Metro, Oxford, Rossy Family Foundation, Transcontinental, Bell, Ivanhoe Cambridge, Jammers and Telus.

October 15, 2018