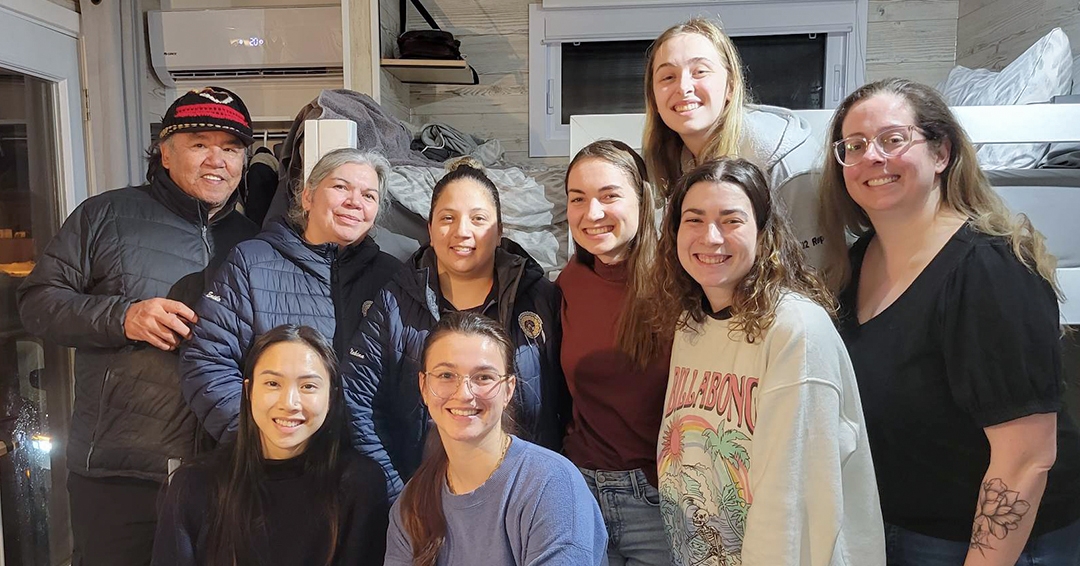 Unique program provides clinical learning experiences in local and remote Indigenous communities in Quebec.
Recognizing health disparities that exist in underserved populations, the Ingram School of Nursing (ISoN) has a rich history of commitment to health equity, global health and social justice. In 2018, thanks to a three-year Quebec government bursary managed by McGill, this commitment expanded with the introduction of the Ashukin program, offering students a unique opportunity to participate in clinical learning experiences in local and remote Indigenous communities in Quebec.
Ashukin was the brainchild of Professors Françoise Filion and Jodi Tuck, who served as co-chairs of Global and Indigenous Health Nursing at the ISoN, and Glenda Sandy, a proud Naskapi-Cree woman, who served as Indigenous Nurse Consultant to the ISoN. It was Ms. Sandy who suggested the name Ashukin, a Naskapi word meaning "bridge".
The first step was to recruit Indigenous partners to collaborate with ISoN students on projects directly benefitting their communities. Partners have included the Kahnawake Survival School, the Kateri Tekakwitha Elementary School, the Seskitin Elementary School and Nikanik High School of Wemotaci, and the Native Friendship Centres of Montreal and La Tuque.
Students accepted into the program worked in small groups, visiting the communities to which they were assigned, performing a needs assessment in partnership with community members, and then carrying out a health promotion or primary prevention project that they presented to the community. In addition to cultural and knowledge exchanges with members of Indigenous communities, students learned and practiced cultural humility, cultural safety and built clinical competencies such as health promotion, health education and primary prevention care.
Examples of past projects include, to name a few:
videos about career paths in nursing as well as fundraising for a one-time bursary for students who demonstrated an interest in pursuing nursing at the CEGEP or university level (Kahnawake Survival School);
booklets and kits on basic care for Indigenous families covering topics such as fever, choking, eczema (Centre Amitié Autochtone de La Tuque);
an interactive workshop and activity booklet promoting sleep hygiene (Kateri Tekakwitha Elementary School)
Once the grant ended, the Brebner Family generously continued funding the program beyond its original three-year mandate. In expressing their heartfelt gratitude to the Brebner Family, one of the student teams noted that, "This project was a major part of our final year of undergraduate studies. Without your generosity, it would have been much more difficult for our team to travel to and from the Indigenous community. We are so grateful for this learning experience and the greater positive impact that was made possible by your support."
Now that the Office of Social Accountability in Nursing is up and running at the ISoN, the Ashukin Program will be reviewed in the context of available resources and sustainability.