Physician-Geneticist to Receive Award at ASHG 2015 Annual Meeting
BETHESDA, MD – The American Society of Human Genetics (ASHG) has named Charles R. Scriver, MD, Alva Professor Emeritus of Human Genetics, and Professor of Pediatrics, Biochemistry (Associate), Biology (Honorary), and Human Genetics at McGill University; as the 2015 recipient of the annual Victor A. McKusick Leadership Award.

This award, named in honor of the late Victor A. McKusick, MD, recognizes individuals whose professional achievements have fostered and enriched the development of human genetics as well as its assimilation into the broader context of science, medicine, and health. ASHG will present the McKusick Award, which will include a plaque and monetary prize, to Dr. Scriver on Friday, October 9, during ASHG's 65th Annual Meeting in Baltimore.

Dr. Scriver has worked at McGill University in Montreal for more than 50 years, having founded the deBelle Laboratory for Biochemical Genetics in 1961. He has dedicated his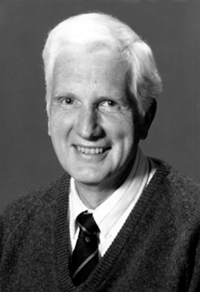 career as a clinician-scientist to discovering, training, treating, and educating the public about inherited metabolic and other genetic diseases.

After a year of clinical work at Children's Medical Center, Harvard, followed by two years in the laboratory at University College Hospital Medical School, London, Dr. Scriver unexpectedly encountered a recurrent seasonal epidemic in Quebec, which affected thousands of infants and children with Vitamin D deficiency. Along with colleagues, he instituted a combination of epidemiological, regulatory, economic, political, demographic, and cultural approaches to address the problem. Over the following years, he studied inborn errors of metabolism in the newly created deBelle Laboratory, where he and colleagues discovered of a variety of inborn errors affecting enzymes, metabolic pathways, and membrane transport systems in humans.

Dr. Scriver also helped develop pediatric genetic screening programs, including one for thalassemia and another for Tay-Sachs disease, both targeted at high school students, which were shown to have lasting effects on personal and public health in Quebec. Follow-up evaluation of the program found that most students who were tested recalled their carrier status and used this information to inform their later reproductive choices, contributing to a reduction of more than 90% in the incidence of these two diseases. He was also involved in implementing a province-wide newborn screening program for phenylketonuria (PKU) and hypothyroidism.

In addition to promoting public health, Dr. Scriver has been a leader in human genetics education and research. He served as lead editor of the 6th, 7th, and 8th editions of The Metabolic and Molecular Bases of Inherited Disease and is currently an emeritus editor of its online edition. He developed a Quebec-wide database tracking the incidence of genes that cause metabolic disorders, and his laboratory hosted the online phenylalanine hydroxylase locus knowledgebase, or PAHdb, a resource for scientists and clinicians. Since the late 1980s, he has advocated for the development of databases and sharing of information to move genetics research forward.

For these achievements and others, Dr. Scriver has received numerous awards, including the ASHG William Allan Award in 1978 and the Society's Award for Excellence in Human Genetics Education in 2001. He was appointed as Officer of the Order of Canada in 1985 and promoted to Companion in 1996. He was elected to the Royal Society (UK) in 1992 and in 2010 he received the Pollin Prize for Pediatric Research. In honor of Dr. Scriver and his family, the Canadian Gene Cure Foundation and in 2007 its partners established the Scriver MD/PhD Scholarship for students whose research focuses on genetics.

ASHG also recognizes Dr. Scriver's contributions to the Society and his field. A member since the 1960s, he was part of ASHG's Committee on Genetic Services from 1975-1979, chaired its Awards Committee from 1979-1980, and chaired its Editorial Committee from 1985-1987. He also belonged to the Society's Board of Directors from 1971-1974 and from 1985-1988, including a year as President in 1986. In addition, he has served as president of the Canadian Society for Clinical Investigation (1975), the Society for Pediatric Research (1976), the Society for the Study of Inherited Metabolic Diseases (UK) (1988), and the American Pediatric Society (1995).