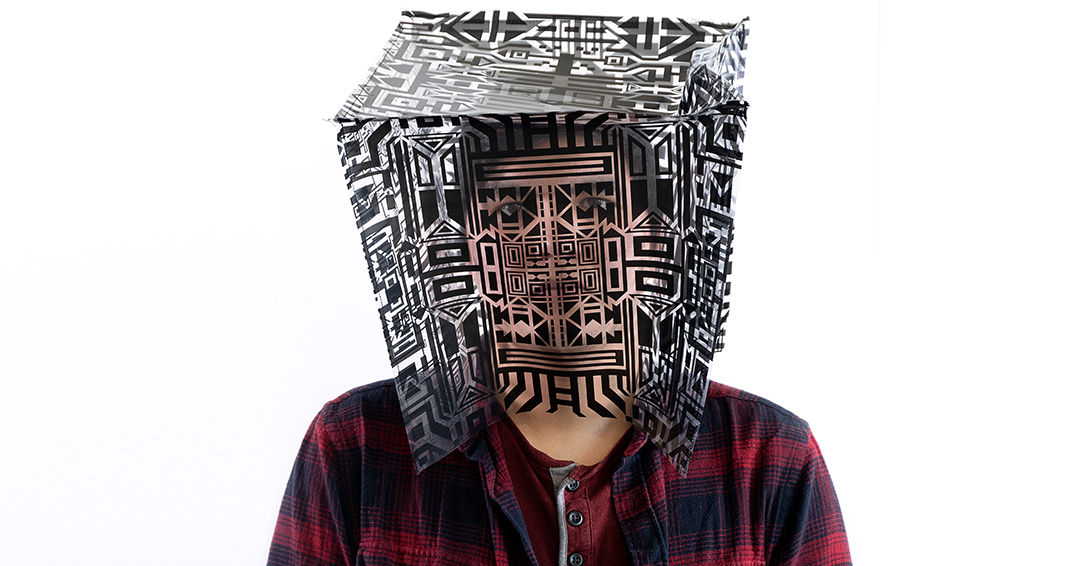 This article originally appeared in FMHS Focus
Campus Outaouais wants to give all its students a first-hand understanding of the realities of Indigenous communities, while inspiring future Indigenous students to join its ranks—one piece of art and one visit at a time.
Campus Outaouais, the western arm of the McGill School of Medicine, is one of the few institutions that can boast of owning a Monnet—though this one has two n's. At 37, Caroline Monnet, who is of Franco-Anishinaabe (Algonquin) descent, has already established a reputation as one of the most versatile—and most-talked-about—Canadian artists of her generation. "This is a bit of a homecoming for me. I'm very happy about it," says the multidisciplinary artist, who grew up in Gatineau, just north of Ottawa.
The work, a photograph entitled "Alexandre," (pictured above) is featured prominently in the reception area of Campus Outaouais. It represents a young Atikamekw man with a cubic mask resting on his shoulders. The cube is a lacework of black and white shapes, which represent traditional Indigenous motifs superimposed on the layout of seigneurial lands from the former colonial regime. "It's about the lenses we all have. We all see the world through our experience," says Gwendolyn Owens, director of the McGill Visual Arts Collection:
"When we invest in a piece, I put it in my office to see if I can look at it for many days. I did not want 'Alexandre' to go away."
For Vice-Dean and Director of Campus Outaouais Gilles Brousseau, the work is another way to strengthen the regional presence for the McGill School of Medicine. The gift from the Ed Brunet Foundation that made the acquisition possible is also being used to fund student familiarization trips to Kitigan Zibi, an Anishinaabe community located near Maniwaki, less than a two-hour drive from Gatineau. "Our students go there regularly. It's important for them to gain an understanding of the life and customs of Indigenous communities."
The $12,000 donation is part of the Foundation's mandate to support causes related to education, poverty and health in the region. "From the outset, the Foundation was determined to fund a project that involved the region's Indigenous people and the Faculty of Medicine and Health Sciences," explains Sophie Brunet, project manager at Ed Brunet General Contractor, who supervised most of the construction site when the company was building Campus Outaouais.
An award-winning artist
Sarah Konwahahawi Rourke [D.Ed.], director of the Indigenous Health Professions Program at the Faculty of Medicine and Health Sciences and a member of Akwesasne Kanien'kéhaka Nation, says McGill Visual Arts Collection couldn't have made a better choice. "I am a big fan of Caroline Monnet's work. It is beautiful and stunning. It's a powerful statement that reminds us that our space is very colonized. Indigenous people were not accepted in the medical world, but today, we are not standing in anyone's shadow. We are unafraid, unabashed and unapologetic. This is what I see in her work."
As Owens explains, interest in Monnet's work extends far beyond Canada's borders to the United States and Europe, where it is also exhibited. Monnet produces painting, sculpture and photography using materials ranging from cement to insulating wool and polystyrene. She has also made a dozen films since 2009, mostly shorts, several of which have won awards, as well as a feature-length fiction film, Bootlegger, which was filmed entirely in Kitigan Zibi—her maternal home community.
"Caroline is a fountain of ideas. She tries everything," says Owens. "She is not afraid to take a global view of Indigenous heritage and contemporary art. She doesn't see her art as having limits."
Monnet was born to an Anishinaabe mother and a French father and grew up with one foot in Quebec, and the other in Brittany. She went on to study communications at the University of Ottawa and then sociology in Granada, Spain. Like her older sister, playwright Émilie Monnet, she was immersed in a cultural universe of music and cinema. As she explains:
"We are living proof that assimilationist policies have failed."
Although Monnet seemed destined for a career in journalism—she began her career working at Radio-Canada—she instead became a self-taught visual artist and filmmaker with a wide range of skills. "Writing intimidates me," she says, "but objects speak to me." Monnet explains that she chooses her medium according to her purpose. "When I wanted to touch on cultural and linguistic dispossession, I felt I had to use sculpture."
As an artist, Monnet is aware that her work can be interpreted in multiple ways:
"I wanted to mix physical features and geometric shapes to see how the two interact with one another. The message is that even with a mould on your head, you can choose your own identity."
Yet, she says, the fact that her artwork is hanging in a school of medicine today provides another key to its interpretation: "You can see the opposition between cubic science and Indigenous philosophy, which is circular. In Indigenous thinking, everything starts from the circle." She adds:
"Our relationship with others and our lives are non-linear. We start life as children and we return to being children. The past, the present, the future, everything is connected."
Indigenous art at McGill
Monnet's relationship with McGill encompasses a number of "firsts." In 2021, she was the University's first Indigenous artist in residence, a program funded by the Andrew W. Mellon Foundation. "It was a wonderful gift, a beautiful recognition of my work, but COVID was the less pleasant part, with all the online meetings replacing in-person meetings." The residency culminated in the acquisition by McGill of not just one but six pieces from Monnet's Fragments series, which now hang in four other units on the downtown campus in Montreal (the Schulich School of Music, the Faculty of Arts, the Faculty of Law and the Desautels Faculty of Management) in addition to at Campus Outaouais.
"By putting the work on campus, we send the message that Indigenous people are here," says Owens, who doesn't recall any mention of Indigenous artists during her own studies. "Fifty, seventy years ago, Indigenous art was considered the domain of anthropologists. This was art that was either woven, on skin or beadwork. It was assumed that this had no appeal to non-Indigenous people."
Owens adds that putting forward Monnet is part of a more systematic effort to give more visibility to the work of women artists and racialized people. "And more visibility to arts in general. Not everybody has the time to go to the museum and not all art should be in a museum anyway. We want to bring more art where people work and live."
First-hand experience
Monnet says she is touched by the fact that the same donation that allowed McGill to acquire her work is also being used to organize student trips to Kitigan Zibi:
"It's a great initiative. It's important to have students go to the community, and not have the members do all the shuttling back and forth. For it to be a real exchange, it has to come from both sides."
Sophie Brunet says that the whole Brunet family was very keen on the initiative, especially since the century-old company—Ed Brunet General Contractor was founded in 1901—has a long history of working with, and on Indigenous communities. "We are in a joint venture with a general contractor from Kitigan Zibi, Decontie Construction, and we encourage the hiring of Indigenous labour on our sites."
For Rourke, this type of familiarization trip sets a great example as students in medicine and the health sciences need to become familiar with the nuances of Indigenous cultures:
"Not all communities are the same, and neither are the people in each community. Some value very Western-style medicine, for instance, and some value a more holistic approach."
Monnet has never lived in Kitigan Zibi, but she has often spent time there, with cousins, visiting and going to weddings and funerals—and while making her latest film. Though not an expert on medical issues, per se, she is passionate about two issues fundamental to Indigenous health: housing and clean water.
"Homes should be treated like human bodies," she says. "A substandard house is going to have a big impact on the physical and mental health of the people living in it. And I cannot accept that the tap water is not drinkable in Kitigan Zibi, while in Maniwaki, right next door, it is. Kitigan Zibi is less than two hours away from the federal capital. It's totally unacceptable, scandalous!"
Of the 360 Indigenous students attending McGill, about 50 are enrolled in programs at the Faculty of Medicine and Health Sciences, where they have the support of the Indigenous Health Professions Program.
"A lot has been done. In my opinion, our focus should not be about what is wrong, but about what is right," says Rourke, who describes herself as an idealist. "It's about creating a safe space for Indigenous people and for non-Indigenous people, and learning how to be a good ally. Bundled arrows are stronger."
Adapted from the original French